Woody Harrelson SuccessStory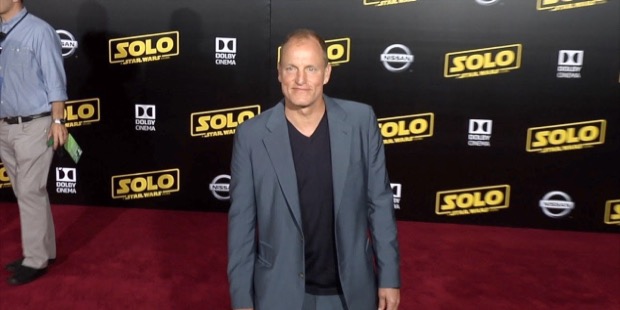 An acting portfolio that spans over three decades, Woody Harrelson continues to be one of the most in-demand actors in the business today. He is a Primetime Emmy winner and also a multiple Oscar and Golden Globe nominee. Currently, Harrelson stars in "Venom: Let There be Carnage" which is expected to be one of the biggest blockbusters in 2021.
Childhood and Education
Woodrow "Woody" Tracy Harrelson was born in Midland in the state of Texas, the United States on July 23, 1961. His mother Diane raised him and his two brothers after their father Charles was convicted of murder and sentenced to life imprisonment in 1979. Charles was involved in the killing of federal judge John Wood, Jr. who was serving at the Western Texas district court at the time of his death. Despite Woody acknowledging the mistakes of his father, he has mentioned that he still holds on to the good memories they had together when he was still a child.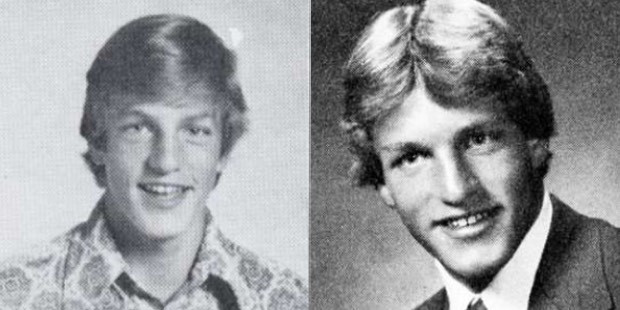 Diana and his three sons had already moved to Ohio in 1973 where young Woody attended Lebanon High School. At the age of 21, he was arrested for disorderly conduct and resisting arrest but was later released on bail. He then moved to Indiana where he attended Hanover College taking a degree in theatre and English. While at Hanover College, he joined the Sigma Chi fraternity and crossed paths with future Vice President Mike Pence. Harrelson graduated in 1983.
Acting Debut
After graduation, Harrelson moved to New York but struggled to get any roles. He then decided to participate in a regional theater where he would land a job 14 months later, working as an understudy in a Neil Simon play.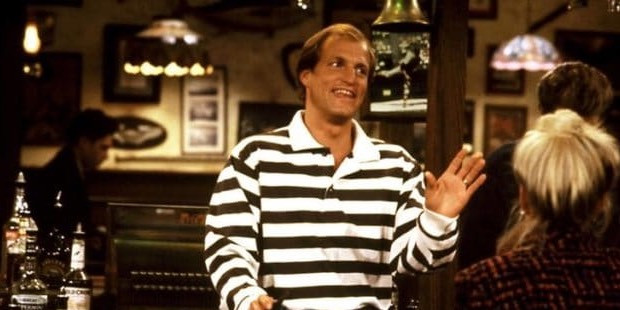 In 1985, Harrelson landed his first-ever role in the popular T.V. show "Cheers", portraying a bartender named Woody Boyd. He debuted in the fourth season and would stay on until the show's 11th and final season in 1992. One of the most popular television shows in the 1980s, Cheers secured 28 Primetime Emmy wins from 111 nominations. It won the Emmy for Outstanding Comedy Series four times (1983, 1984, 1989, and 1991) and also earned a Best Supporting Actor in a Comedy Series win for Harrelson for his role as the dull yet charismatic Boyd.
Early Film Career
While filming Cheers, Harrelson made his film debut in the 1986 football comedy "Wildcats" alongside Goldie Hawn, Swoosie Kurtz, and Wesley Snipes. Harrelson and Snipes would team up two more times; in the basketball comedy "White Men Can't Jump" (1992) and action-comedy "Money Train" (1995). White Men Can't Jump received critical acclaim and is considered one of the best sports films of all time.
In 1993, Harrelson starred in his first blockbuster "Indecent Proposal" opposite Robert Redford and Demi Moore. The romance drama went on to gross $265 million worldwide. With a growing portfolio of drama and comedy roles, Harrelson had begun catching the attention of Hollywood execs.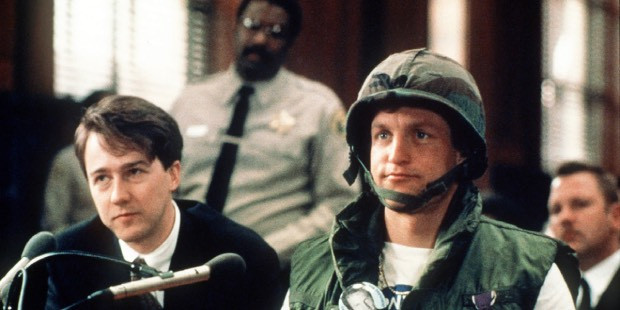 The rest of the 1990s and early 2000s saw Harrelson continue to take on multiple lead and supporting roles, including "Natural Born Killers" (1994), "The People vs. Larry Flynt" (1996), "The Thin Red Line" (1998), "Anger Management" (2003), and "North Country" (2005). Harrelson earned Oscar nominations for his role as Hustler magazine editor Larry Flynt in "The People vs. Larry Flynt" and Sgt. Keck in "The Thin Red Line". The latter would also be nominated for seven Oscars including Best Picture and Best Director for Terrence Malick.
Blockbuster and Other Notable Roles
In 2007, Harrelson starred in the 2007 Oscar-winning action thriller "No Country for Old Men" alongside Josh Brolin, Tommy Lee Jones, and Javier Bardem. Critics praised Bardem's Anton Chigurh and Harrelson's Carson Wells and tagged them the stand-out performances of the film. Directed by the Coen brothers Joel and Ethan, the film won four Academy Awards including Best Picture and Best Supporting Actor for Bardem, and is also listed in multiple best films of all time lists.
In 2009, Harrelson was cast in "The Messenger" in what critics consider to be his best role to date. He portrays Captain Tony Stone, a veteran officer tasked to mentor army staff sergeant Will Montgomery portrayed by Ben Foster. The film earned Harrelson multiple Best Actor nominations. Later that year, Harrelson starred in the surprise zombie hit "Zombieland" alongside Jesse Eisenberg and Emma Stone. Earning $102 million from a $23 million budget, it also became one of the best-reviewed films of 2009.
Harrelson would portray Haymitch Abernathy in the highly popular "The Hunger Games" franchise. The four-part movie franchise (2012-2015), which also launched the career of Jennifer Lawrence and co-stars Josh Hutcherson, Liam Hemsworth, Elizabeth Banks, and Donald Sutherland, grossed a total of $2.9 billion worldwide.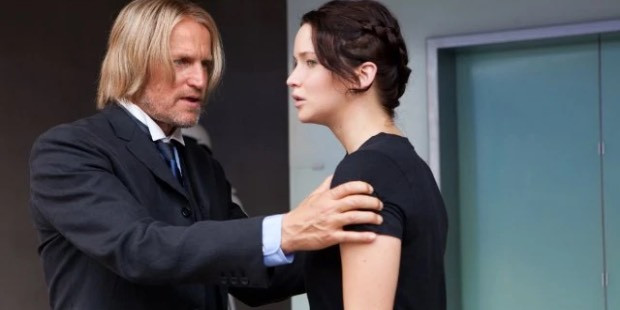 Another Academy Award nod would be added in Harrelson's already long list of accolades as he was nominated for his role as Bill Willoughby in the critically acclaimed 2017 crime drama "Three Billboards Outside Ebbing, Missouri". He was later cast in the Star Wars spin-off "Solo: A Star Wars Story" and the third movie of the "Planet of the Apes" trilogy "War for the Planet of the Apes", and despite the films receiving mixed reviews both still went to gross $393 million and $490 million respectively.
Harrelson will next appear as the main antagonist in "Venom: Let There be Carnage" set for release on October 2021. He portrays Cletus Kasady and Kasady's alien "symbiote" form Carnage; Venom and Spider-Man's biggest nemesis in the Marvel comic books. Tom Hardy is set to reprise his role as the film's titular character.
Aside from his career-defining role in "Cheers", Harrelson also gave memorable performances in several other television shows including political drama "Game Change" (2012) and detective thriller "True Detective" (2014). All in all, Harrelson has over 100 acting credits from over three decades of film and television roles.
Personal Life
Harrelson is married to Laura Louie whom he initially hired as a personal assistant in 1987. They married in 2008 and have three daughters together. He was previously married to Nancy Simon (daughter of playwright Neil Simon) in 1985.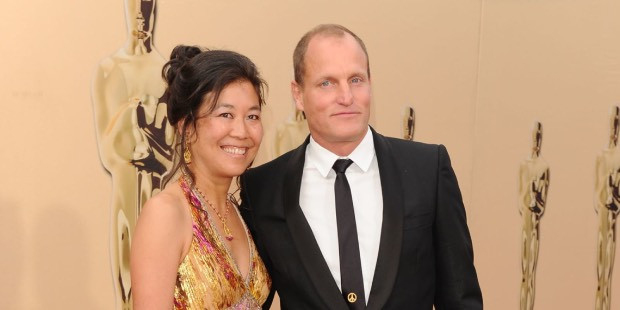 After his first arrest, Harrelson was arrested two more times; in 1996 for planting Cannabis and in 2002 for resisting arrest. He was also an alcoholic in his early acting days. He has since taken significant steps to change his lifestyle which he credits his wife and children.
In Closing
Woody Harrelson is one of the most accomplished actors in Hollywood today. From comedic to serious roles, it seems that there is no character that the Oscar nominated actor cannot play.
Want to Be Successful?
Learn Secrets from People Who Already Made It
Please enter valid Email