Alex Morgan Quotes
Alex Morgan is a highly talented soccer player born in California, America. She is the youngest woman soccer player in the National Women's soccer team which participated in the FIFA Women's world cup. She is a skillful soccer player who won a gold medal in the Olympic games and the championship in the FIFA Women's World cup. She has also authored four books about soccer along with Simon and Schuster. Her book saving the team was seventh in the New York's best selling list. Want to read more quotes from Alex Morgan? Here is a collection of her beautiful quotes.
1. Under Pressure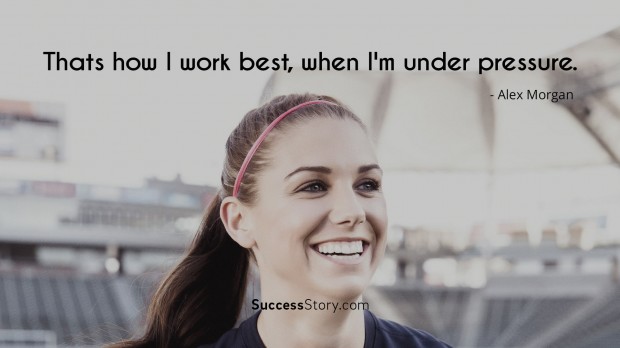 "Thats how I work best, when I'm under pressure."
2. Critique Me More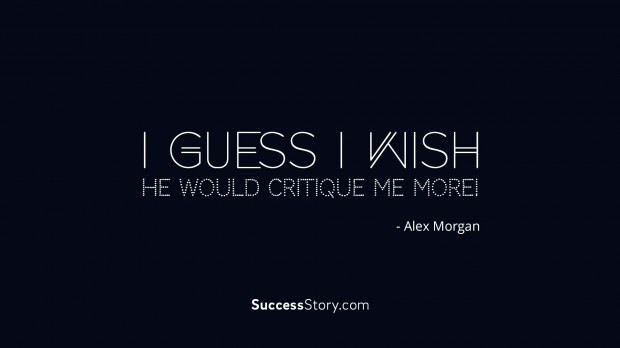 "I guess I wish he would critique me more!"
3. Hope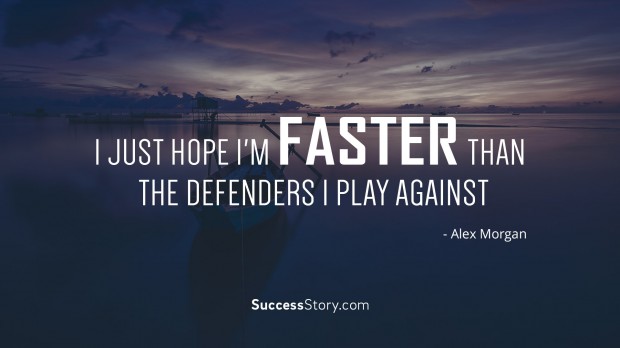 "I just hope I'm faster than the defenders I play against."
4. Vision of Game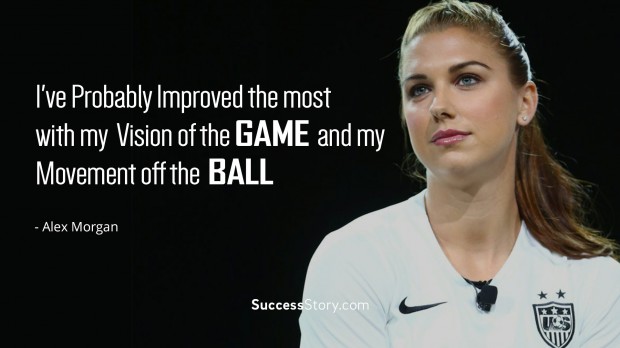 "I've probably improved the most with my vision of the game and my movement off the ball."
5. Love to Sweat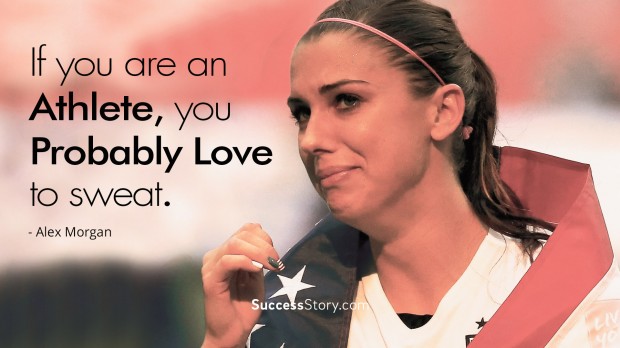 "If you are an athlete, you probably love to sweat."
6. Run Straight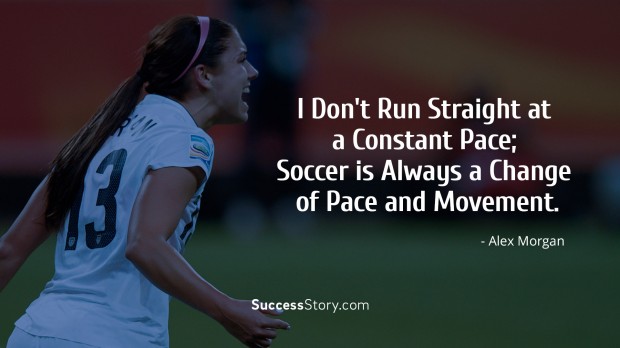 "I don't run straight at a constant pace; soccer is always a change of pace and movement."
7. Goal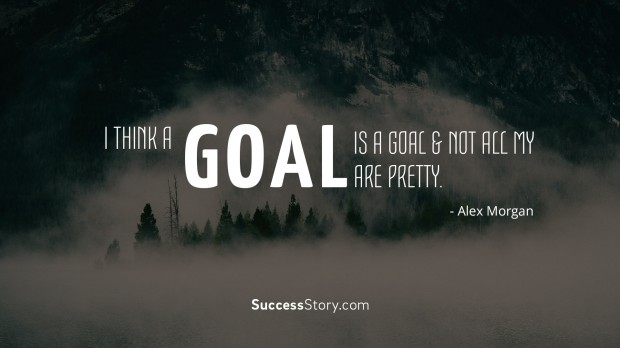 "I think a goal is a goal and not all my goals are pretty."
8. Keep Working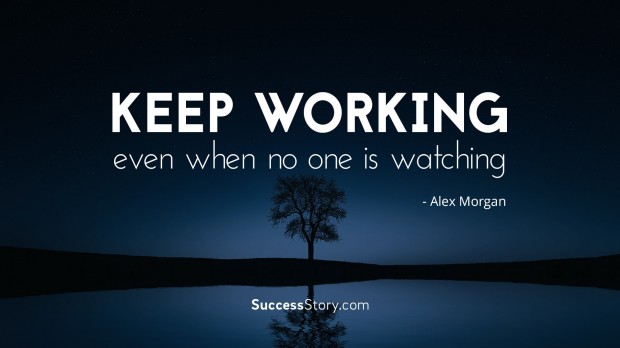 "Keep working even when no one is watching."
9. Make You Strong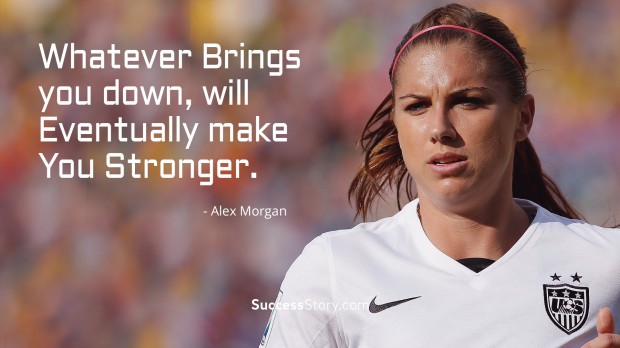 "Whatever brings you down, will eventually make you stronger."
10. Talent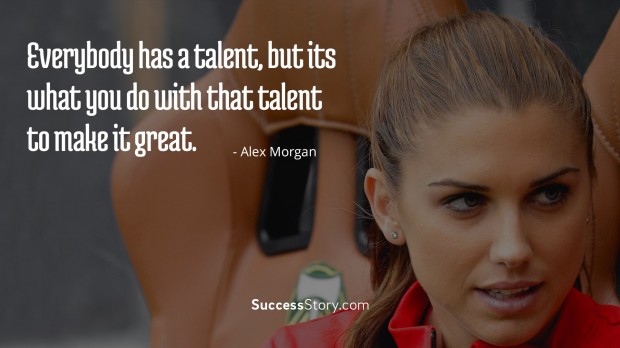 "Everybody has a talent, but its what you do with that talent to make it great."
11. Never Over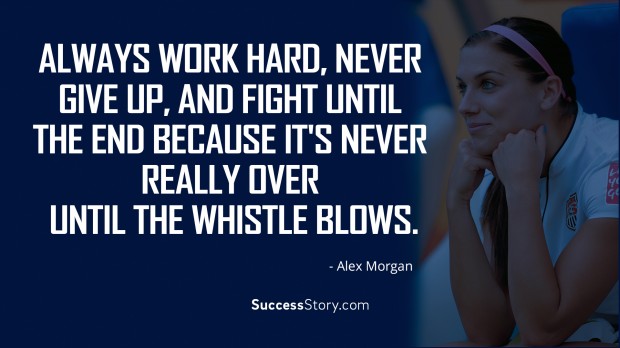 "Always work hard, never give up, and fight until the end because it's never really over until the whistle blows."
Almost all her quotes are related to Soccer. In her quote about when she will work best, she has said that she gives her best when under pressure. About her playing skills, she says that she is swifter than the defenders in the play. She advises young players to sweat a lot to achieve more because the more you sweat the more you achieve. Athletes should work hard to earn a name for themselves.
In the soccer game, nobody should remain static in one place to score a goal. She says that she also changes the speed or pace in order to score a goal. That will ultimately make you win. Players should work constantly, even when nobody is looking at them. Appreciation is not what matters. It is the continuous improvement which matters. Work for achieving perfection and not to get claps. She strongly believes in the fact that the things which pull you down will make you stronger in the course of time.
Want to Be Successful?
Learn Secrets from People Who Already Made It
Please enter valid Email