Saina Nehwal Quotes
Saina Nehwal made India proud when she bagged the success crown in world badminton championship. The silver medal which she won in the tournament has made every Indian proud for the highly talented badminton player. Her victory makes every Indian cheer for her success. People express their gratitude for having a renowned badminton champion amongst them.
1. Normal Girl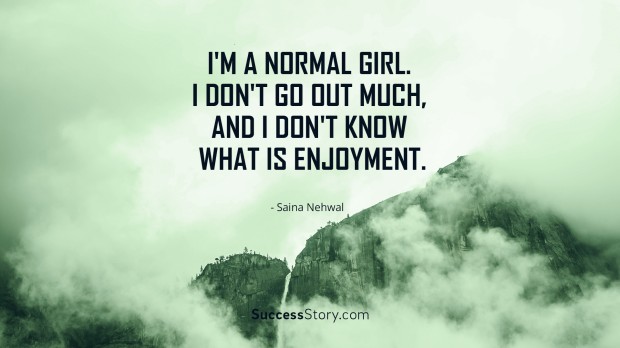 "I'm a normal girl. I don't go out much, and I don't know what is enjoyment."
2. overwhelming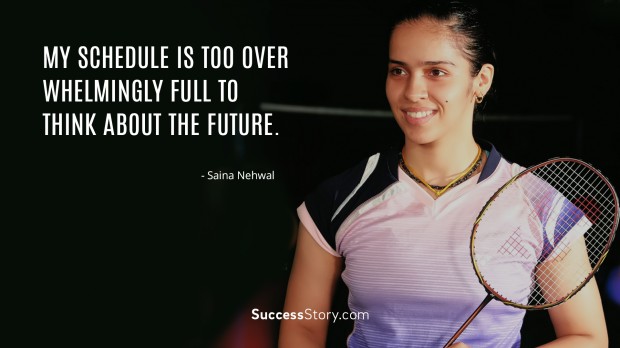 "My schedule is too overwhelmingly full to think about the future."
3. Happiness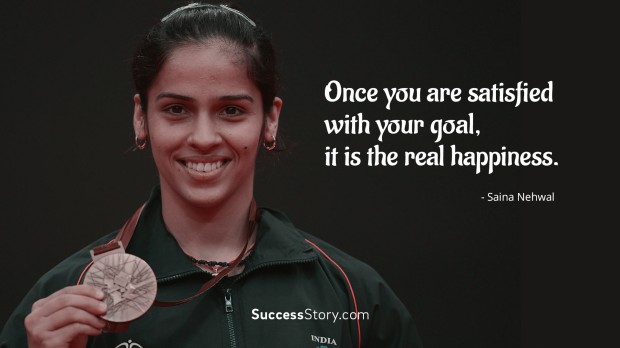 "Once you are satisfied with your goal, it is the real happiness."
4. Philosophy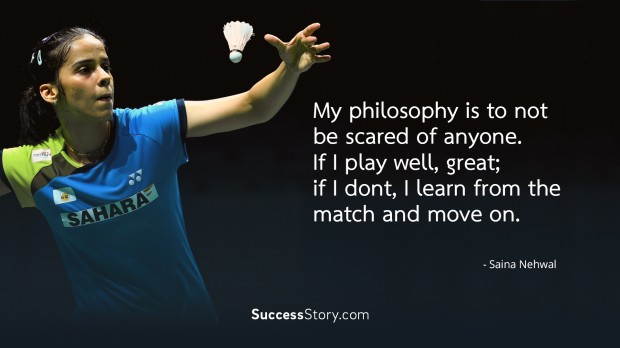 "My philosophy is to not be scared of anyone. If I play well, great; if I dont, I learn from the match and move on."
5. Best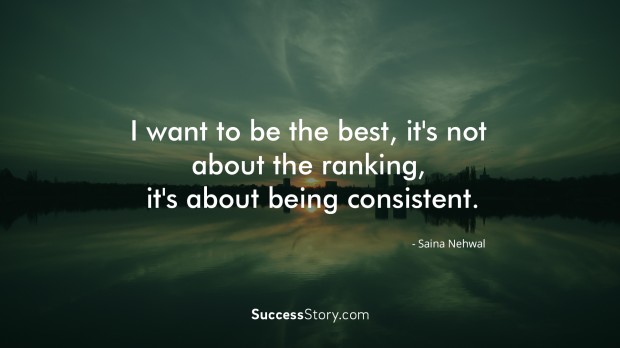 "I want to be the best, it's not about the ranking, it's about being consistent."
Saina Nehwal, the name only inspires the whole nation and its every youth. The Olympic medalist is the proud of our nation and inspires the every youth of our country. One of the best badminton players of the world is an inspiration to every girl of our country and teaches them to be a fighter and motivate them to fight for their goals.
Her quotes not only inspire Indian youth but the whole world. She inspires every youngster to follow their dreams and work hard to achieve them. Her life and quotes inspires us to work hard without losing hope and enthusiasm. Her quotes encourage every youth to excel in every field and they can achieve whatever they want. Her quotes show us fighting spirit which is stronger than steel and motivate us to be having that spirit too.
She is proud to be Indian and her quotes show her love towards her country. A great personality without any controversy in her whole career inspires us to achieve the great heights through sheer hard work and dedication. She has got numerous National and International awards to her name and then also she is down to earth and teaches us modesty. Her quotes motivate us to dream and then achieve those dreams. The quotes on life show us her enthusiastic nature and inspire us to be enthusiastic always. Her quotes are exemplary and teach us to respect our country and be proud of it and everything you do. She inspires us that anyone in this whole world can achieve great heights.
Some of the selected quotes of Saina Nehwal have fired up the lost energy in many people. Her quotes boost positive energy in every person. While having a glance over the quotes, it makes all of us extremely elated to know that the quotes which we are reading are of a person for whom we have respect in abundance. The achievements which she gained are truly commendable. The idea of how a person reaches at the peak of success is indeed encouraging. It inspires all of us to hit our goals and meet our daily challenges.
Saina Nehwal epitomizes self-control. She is a woman of dedication. Her dedicated services have made her a role model for several men and women. She never got dissuaded by the failures she met her in life. The country celebrates her victory, but no one knows the sacrifices and hard work she had to make during the course of her sports journey.
She takes failures in her stride and surmounts her defeat successfully. She personifies the modern woman who has the potentiality to bring changes in the sport world. The eight quotes of Saina depict the bitter reality of India, the atrocities of a girl child and negative approach towards sports. The quotes made on cricket are truly an eye-opener for all. Unfortunately, people are so obsessed with cricket that they have lost the sight of seeing that other sports have equal potentialities to make their mark in the field of sports in India.
Want to Be Successful?
Learn Secrets from People Who Already Made It
Please enter valid Email