Rodrigo Duterte: 16th President of the Philipines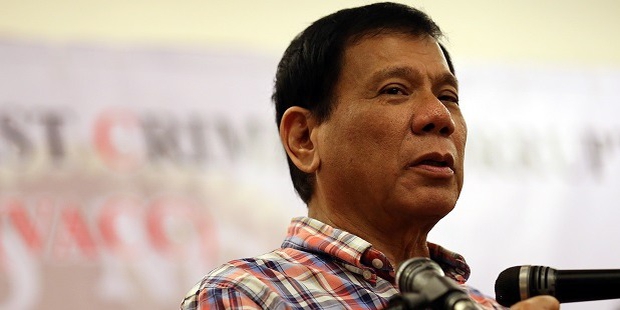 Profile
Rodrigo "Rody" Roa Duterte rose to prominence as the Mayor of Davao City, Philippines. A politician-cum-Filipino lawyer, Duterte has held the chair of the Mayor for 22 long years. As of right now, he is the 16th President of the Phillippines.
Rodrigo Duterte With Manny Pacquiao
He was a Congress man and the vice-mayor of Davao city. Duterte is instrumental is converting Davao, a city ridden with crimes to "the most peaceful city in Southeast Asia", no mean feat indeed!
Rodrigo Duterte is contesting the Philippines' presidential elections 2016. He has surged ahead of his rivals according to the latest opinion poll.
Childhood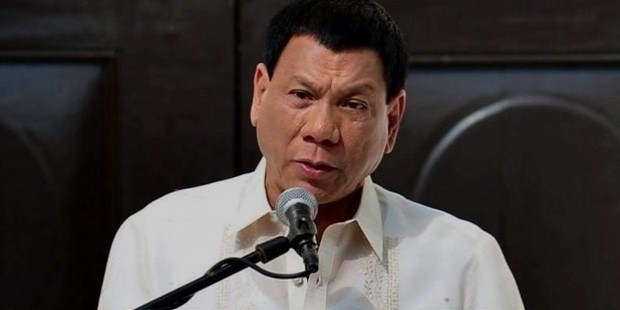 Rodrigo Duterte was born on March 28, 1945, in Maasin City, Southern Leyte, Philippines to Vicente G. Duterte and Soledad "Soleng" Roa-Duterte. The family shifted to Davao in 1951. Duterte's father was a civic leader and a school teacher.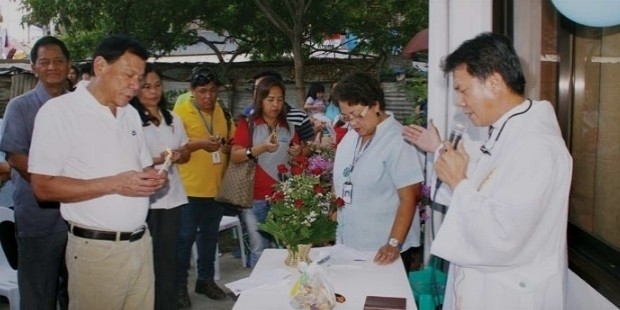 He was the Governor of the then undivided Davao and Soledad Roa. Rodrigo's mother was the Provincial Governor of Davao for six long years. He has a brother, Benjamin "Bong" Duterte and a younger sister, Jocelyn Duterte.
Education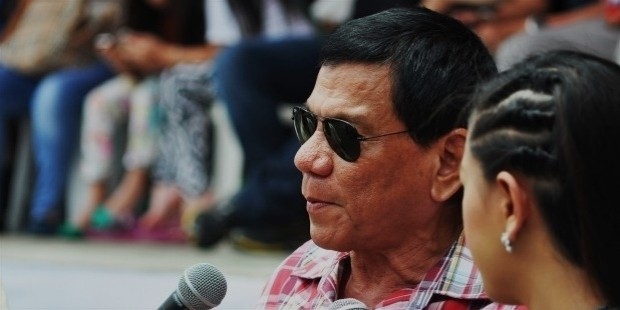 Rodrigo attended the Sta. Ana Elementary School in Davao City. He went to various schools for his secondary education. Duterte did his Bachelor of Arts from Lyceum of the Philippines University in Manila. He has a degree in law from San Beda College, Manila. Duterte was a part of the Lex Talionis Fraternitas while studying at the San Beda College.
He has always been an activist and has always stood up for what he believes is right. He shot a fellow student for making racist and lowly ethnicist remarks. Since the victim survived, Rody was allowed to continue and complete his law degree. however, he wasn't allowed in the graduation ceremony.
Early Career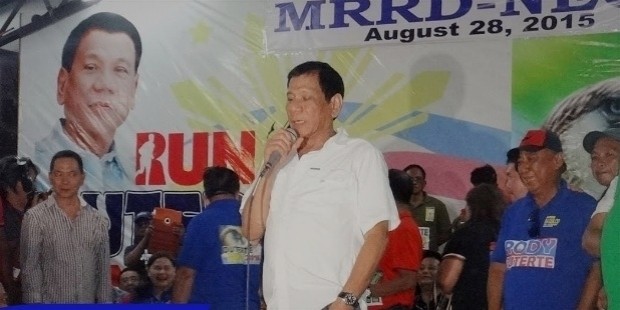 Rodrigo Duterte started his Law career as a Special Counsel at the City Prosecution Office, Davao City in 1977. Swiftly climbing the ladder of success, he became the second Assistant City Prosecutor within a span of just six years in 1983.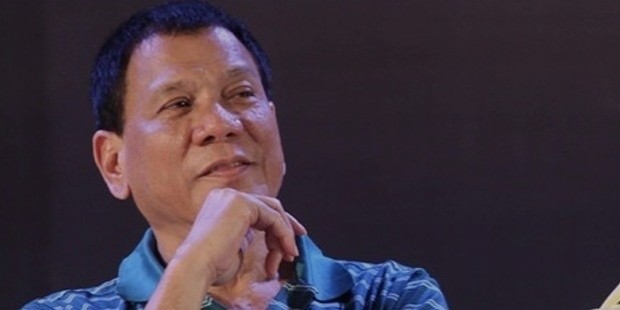 Duterte assumed the office of officer-in-charge Vice Mayor in 1986. Focused and committed, Rodrigo contested for the post of mayor in 1988 and won. He served as the Mayor for 10 long years. He had a vision and started out by appointing deputy mayors to take care of the interests of the Lumad and Muslim communities.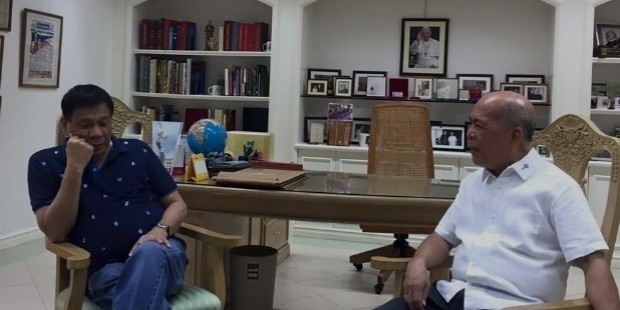 Duterte contested the House of Representatives elections and came out victorious as the Congressman of Davao City's 'first' district. Success smiled on him again when he won the elections for mayor in 2001.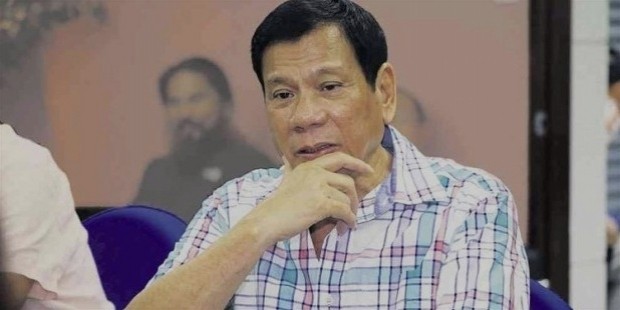 Duterte had made his mark and was re-elected in 2004 and 2007. It is no mean feat that he reigned supreme as mayor, Davao City for seven terms, meaning 22 long years.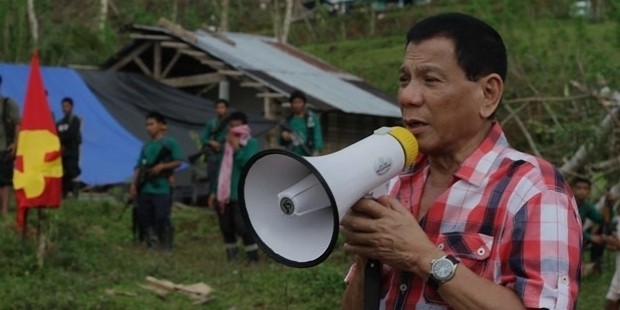 Duterte was elected as Vice-Mayor in 2010. His fortitude and commitment can be adjudged from the fact that he refused to be selected for the World Mayor Prize, given by an international body.
Heights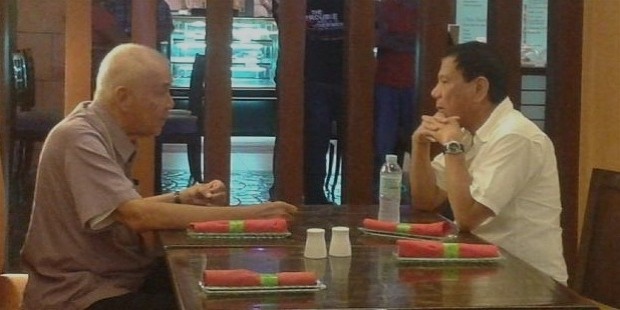 It was a proud moment for Davao City and its Mayor when it was awarded the 'National Literacy Hall of Fame Award' for qualifying for the 'Outstanding Local Government Unit Highly Urbanized City' category thrice. Davao City was rated as the 'fourth' 'safest city in the world' according to the Numbeo.com survey in 2015.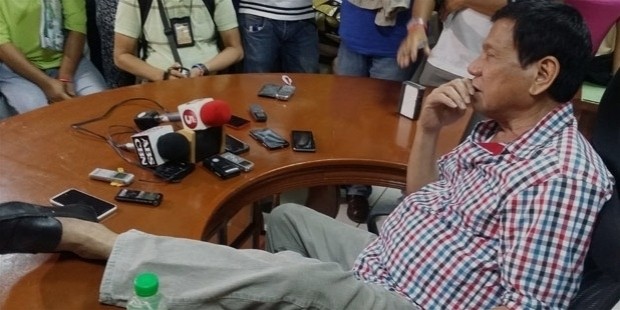 From being a city known as the crime capital of the nation to now being hailed as 'the most peaceful city in South-East Asia', Davao City owes this transition to only one man, Rodrigo Duterte. Duterte established a P-12 million 24-hour drug rehabilitation and treatment centre.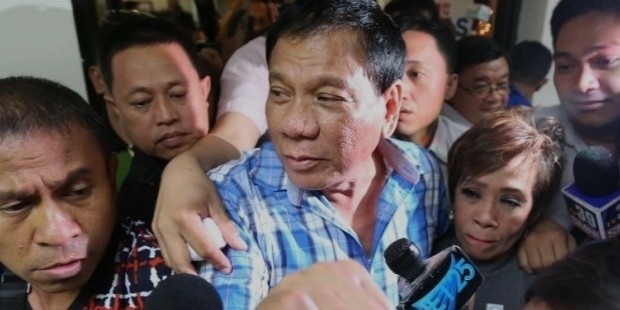 The crime-busting mayor visits the new People's Army camps and discusses and encourages efforts of peace transactions and promotes diplomacy. Duterte supports the Federal form of Government and has held interactions with former mayors and governors to restore this form of Government.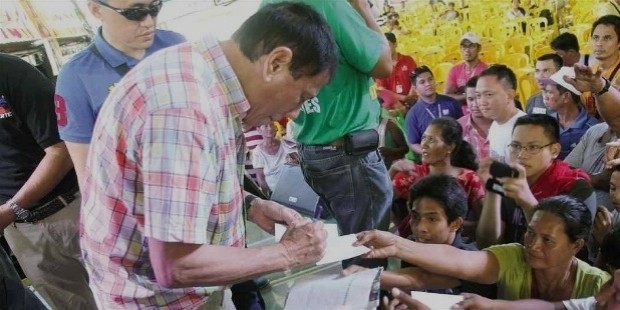 Rodrigo Duterte's announcement to contest the Presidential elections 2016 came amidst an overwhelming public support. He has promised to eradicate the Philippine Congress and promote the Parliament if he wins.
Personal Life
Rodrigo Duterte married Elizabeth Abellana Zimmerman. An air-hostess, she is of German-American descent. The couple is blessed with three children, Paolo, Sara, and Sebastian.
Duterte is known to be equally strict with his own family members as he is with other miscreants. He came under a lot of criticism when he said, "Kill my son Paolo if he is involved in crime." Paolo, however, was not convicted, because of lack of evidence.
Despite being listed as 'Single' in the websites, he lives with his common-law wife, Cieleto "Honeylet" Avanceña, who is a nurse. They have a daughter, Veronica.
Rodrigo has eight Grandchildren in all, half of whom are Muslims and half are Christians.
In 1998, however, Zimmerman petitioned for divorce citing infidelity on Rody's part and he did not deny the charges. He had been pretty open about his flaws as well. The divorce was granted without any contest on Rody's part.
His father passed away in 1968 and his mother, in 2012. in 2015, his ex-wife Elizabeth Zimmerman was diagnosed with Breast cancer.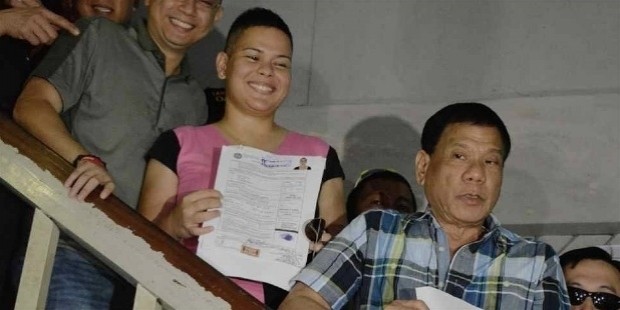 Duterte has a passion for bikes and owned a second-hand Harley Davidson. He has a Yamaha Virago. Duterte's show, "Sa Masa Para Sa Masa" ('From the Masses, For the Masses') is aired on ABS-CBN Davao.
Health Issues
Duterte personally disclosed that he suffers from Buerger's Disease, an inflammation of blood vessels mostly in the limbs that is most likely due to his habitual smoking, contrary to earlier rumors of throat cancer.
Recognitions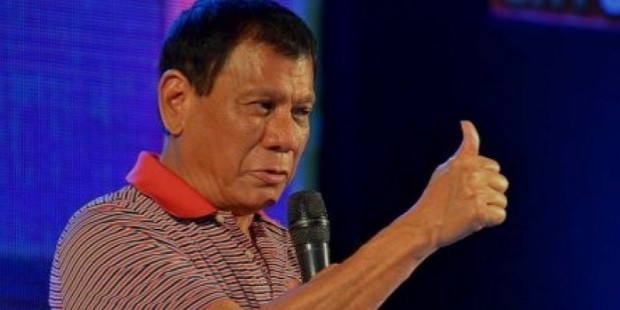 The credit for changing the very face of Davao City goes solely to its Mayor, Rodrigo Duterte. Davao City was awarded the 'National Literacy Hall of Fame Award' for qualifying for the 'Outstanding Local Government Unit Highly Urbanized City' category thrice.
The City was rated as the 'fourth' 'safest city in the world' according to the Numbeo.com survey in 2015.
Presidential Campaign
On November 27, 2015, Duterte filed his certificate of candidacy for running for the President of the Phillippines, through his representative Attorney Salvador Medialdea in Manila shortly after withdrawing his COC for Davao City mayoralty re-election.
15 years after their marriage was declared null and void his ex-wife Zimmerman eventually joined the campaign trail for Duterte's presidential candidacy in early 2016 along with their daughter Sara.
Presidency
On June 30th, 2016, he assumed the office of the President of Phillippines for a term of six years. He is the first Mindanaoan President of the country.
Rodrigo Duterte's speech at the #TheLeaderIWant Forum
Full Name :

Rodrigo Roa Duterte
Zodiac Sign :
Birth Place :

Maasin
Education :

Lyceum of the Philippines University Intramuros,
San Beda College Manila
Occupation :
Industry :
Networth :

$ 486637
Want to Be Successful?
Learn Secrets from People Who Already Made It
Please enter valid Email