Hong Kong's Richest Man: Li Ka-shing Story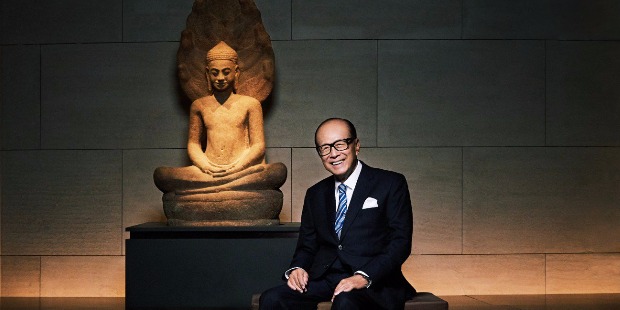 It is an amazing feat for a man to achieve such magnificent success in his 90th year of life. Hong Kong's richest man Li Ka-shing unveiled his ambitious project – the $380 million Buddhist Museum in Tsz Shan Monastery in Tai Po. On the 27th of March 2019, at the grand opening, Li Ka-shing enthused with a smile, "There is no guiding algorithm to help us crack those deep practical questions that are central to our lives. Who am I? What should I do with my life? How do I create the Good Future? And, the bold and hard question – In what direction should we move forward and thrive together? I hope Tsz Shan Monastery can be a space for such quiet contemplation and orientations."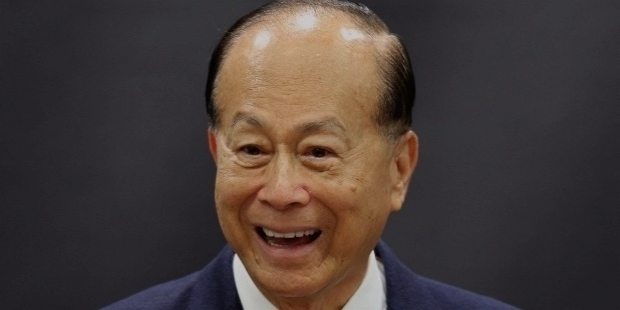 16 years ago, Li Ka-shing had initiated a large Buddhist Temple Tsz Shan Monastery in Tung Tsz, Tai Po District of Hong Kong. The Tsz Temple's construction was completed way back in 2015 and was opened to public. The temple is spread across 4.7 hectares and symbolizes tranquility in its beautiful landscape. The 76 metres giant Guanyin Statue is second highest in the world is one of the main attraction of the temple. Worshippers believe she offers blessings and protection to one and all.
At the foot of the giant Guanyin Statue, the city's first Buddhist Art Museum was opened by Li Ka-shing. The museum showcases a spectacular collection of 100 Buddha statues and 43 hand-drawn Dunhuang Sutras. Li Ka-shing's Foundation has played a key role with all its funding in building the Tsz Shan Monastery. The monastery serves as the Buddhist Research Centre.
The key tenets of Buddhism 'Clarity, Compassion and Action' are practiced by Buddhists all over the world. Only 400 people per day are allowed to visit the monastery with prior appointments from May 2019. The Tsz Shan Monastery has become a blissful retreat for many people for its tranquil ambience.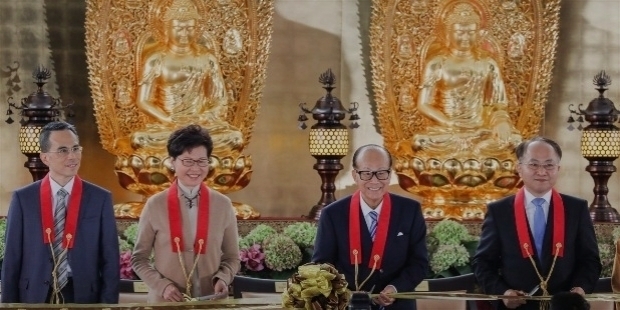 The magnificent 24,000 sq ft museum includes many artefacts and statues from Li Ka-shing's personal collection. Li Ka-shing is the founder of the CK Group. He is the Chairman of the Li Ka-shing Foundation. The 90 years nonagenarian is known for his philanthropic work. Tsz Shan Monastery has been designed and built in Tang dynasty-style architecture. Li Ka-shing Foundation has funded the whole project at a cost of HK$3 billion / $384.6 million. It is the perfect Zen retreat for the richest man of Hong Kong.
In his museum inaugural speech, the nonagenarian revealed, "For me, the fundamental tenets of Buddhism informed my life in many ways and guided me through numerous apprehensions, fears and vicissitudes. I hope Tsz Shan Monastery can be a space for such quiet contemplation and orientation." It is his wish to spread Buddhism in Hong Kong. The museum would help in educating people about the history of Buddhism in its totality. It will be a centre of spiritual learning and meditation.
Early Life:
Li Ka-shing was born on the 13th of June 1928 in Chao'an, Chaozhou of Guangdong Province in China. He lost his father during his teens and had to leave school to survive. His father was a teacher. He had to struggle hard and worked in a plastics trading company for 16 hours a day. Li fled to Hong Kong during the Japanese occupation of South China. A hard working and focused man, at the age of 22, Li Ka-shing established his company Cheung Kong Industries. From 1950, he has spread his wings in various fields to become the richest man in Hong Kong.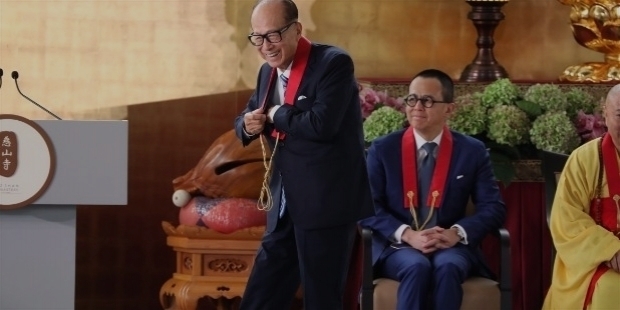 The Journey of Success:
Li Ka-shing was a visionary genius in business. From manufacturing plastics to a leading real estate investment company in Hong Kong to banking, construction, cellular phones, satellite television, cement production, retail outlets of pharmacies and supermarkets, hotels, sky train, airports, electric power, steel production, ports, and shipping, he has achieved it all with his sheer magnitude, hard work, visionary planning and dedication. He is truly an epitome of success.
Having learned how to operate a plant, Li Ka-shing established a plastic manufacturing company in Hong Kong in 1950. He invested all his hard savings and even borrowed money from relatives. He used to supply high quality flowers to the world at very low prices. He honed his business acumen by reading business news in trade publications. Li was a quick learner and risk taker. He learned the colour mixing technique to make colourful plastic flowers.
Li Ka-shing hired the best technicians to work for him. His foreign buyers were impressed with his quality plant and used to place large orders. Within few years, Li's company became the largest supplier of plastic flowers in Asia. This was just the beginning. In the year 1958, Li invested in real estate. He foresaw the increase in house rents in coming months. He bought a site and developed his own factory building. The 1967 riots came as a boon for Li Ka-shing. Many people fled Hong Kong and property value saw a downfall. He purchased land at lower prices from people, who were fleeing Hong Kong.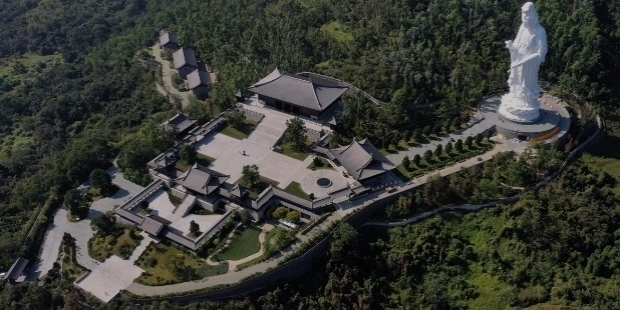 In 1971, Li Ka-shing's real estate development company was named Cheung Kong. A year later, his company was listed publicly in Hong Kong Stock Exchange. By 1977, Li Ka-shing developed sites above the Central and Admiralty MTR stations. Cheung Kong became the premier property developer in Hong Kong. In 1979, he acquired Hutchinson Whampoa Company Limited to expand his business empire with the help of HSBC. Cheung Kong Holdings controlled 12% of the world container port facilities, especially in Hong Kong, Canada (Vancouver), China, the United Kingdom, Rotterdam, Panama, Bahamas and many developing countries.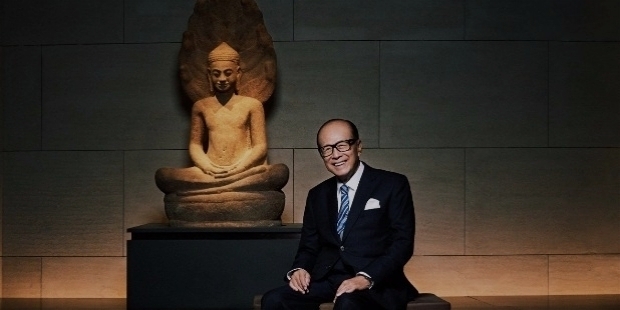 In 1985, Li acquired Hong Kong Electric Holdings Limited. It is interesting to note that Li Ka-shing's has had a humble beginning during his early years. His amazing success story provides a lesson in integrity and adaptability for many. He worked hard and remained true to his internal moral compass. CK Hutchinson's subsidiary the A.S. Watson Group owns 12,000 retail outlets. The portfolio encompasses brands like 'Superdog' in UK, Marionnaud in France, Kruidvat in Benelux Countries and in Asia. It also included health and beauty retailer Watson's store and wine cellars, PARKnSHOP supermarkets and Fortress electrical appliance stores.
Li Ka-shing's CK Hutchinson Group built a reputation as a brilliant asset trader. Its role was to build up new businesses and at the right time sell it off with high profit. In the year 1999, the group garnered a profit of $15.12 billion. In 2006, Li made a $3.12 billion profit on a $4 billion deal by selling 20% of Hutchinson's ports business to Singaporean rival PSA Group. With a $2 billion investment, Li made $11.1 billion by selling 67% controlling stake in Hutchinson Essar in India.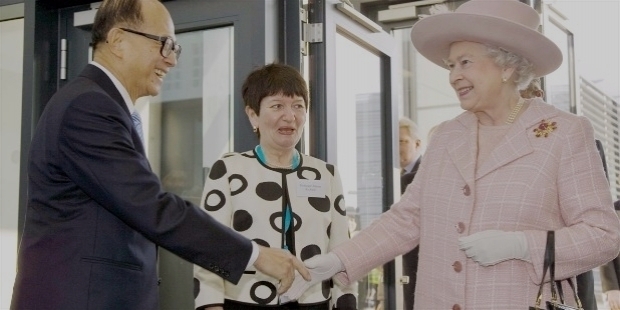 Li Ka-shing was way ahead than most of the businessmen around the world. He was always quick to gauge the future of any new business. He intelligently invested in technology startup firms. Li's investment and venture capital firm Horizons Ventures invested in 'doubleTwist' by buying a stake in the startup company. Li Ka-shing Foundation invested $120 million to buy 0.8% stake in Facebook. He also invested $50 million in the music streaming service. During the late 2009-10, Li invested $15.5 million in Siri Inc.
In 2011, Li Ka-shing invested in the 15-year-young Nick D'Aloisio 'Summly' – a website-summarizing app 'Notably'. Nick D'Aloisio became the youngest person to receive a venture capital investment in the world. In 2012, Li's Horizon Ventures invested $2.3 million in 'Wibbitz'. He also acquired a stake in Ginger Software Incorporated. A year later, his company invested in 'Bitpay', a Bitcoin payment company.
The main reason for Li Ka-shing's success is his perseverance to never stop investing in prospective businesses. In 2015, his Horizon Ventures funded $30 million in Zoom Video Communications and $108 million in Impossible Food. His investment spree continued in 2016 by investing $55 million in 'Blockstream'.
Through his hard work, intelligently investment and a reputation for remaining true to his internal moral compass, he was able to build a spectacular business empire, which includes diverse portfolio in banking, construction, real estate, plastics, cellular phones, satellite television, cement production, retail outlets (pharmacies and supermarkets), hotels, domestic transportation (sky train), airports, electric power, steel production, ports, and shipping.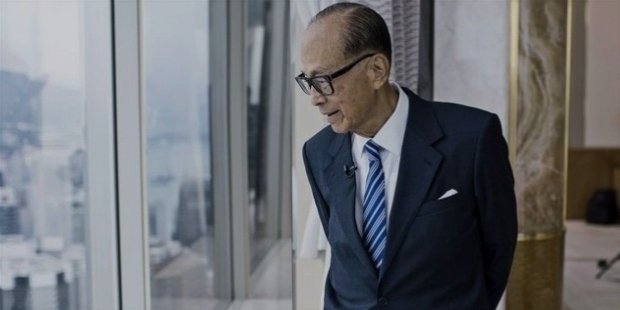 Li Ka-shing is one of the highly influential Asian entrepreneurs in the world. His net worth is pegged at $32.8 billion as on 31st March 2019. Li is known for leading a frugal no-frills lifestyle. He still wears simple shoes and an inexpensive watch. He has lived in the same house for a number of decades. Incidentally, it is located in Deep water Bay on the Hong Kong Island, which happens to be one of the most expensive districts today. His generosity in various philanthropic activities is second to none. Li Ka-shing owns the second largest private foundation in the world. In Hong Kong, he is fondly known as 'Superman Li'.
Personal Life:
In the year 1963, Li Ka-shing married Chong Yuet Ming. They were blessed with two sons, Victor Li and Richard Li. Li lost his wife in 1990. Li Ka-shing's humbleness is reflected in his plain dressing. He is unlike other rich flashy billionaires. He has been often seen wearing a low priced Citizen Watch. His costliest watch is HK$500 Citizen watch. He is an epitome of simplicity.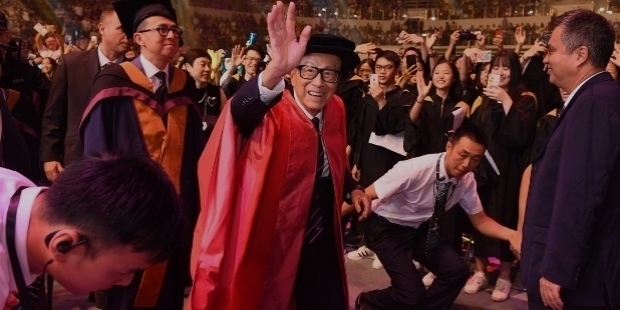 Li Ka-shing reign for nearly 70 long years over CK Hutchison Holdings and CK Asset Holdings. On the 16th of March 2018, the 89-year-octogenarian announced his retirement. He passed his $100bn empire to his son Victor Li. Li still continues to be involved in the conglomerate as a Senior Advisor. He holds dual citizenship of Canada and Hong Kong.
Victor Li works as Co-Managing Director and Deputy Chairman of CK Hutchinson Holdings with his father directly. Li's second son Richard Li heads the largest telecom company PCCW in Hong Kong. Both the sons hold Canadian citizenship. Li's granddaughter Michelle Sar Li Se De completed her studies from the Chinese International School in Hong Kong.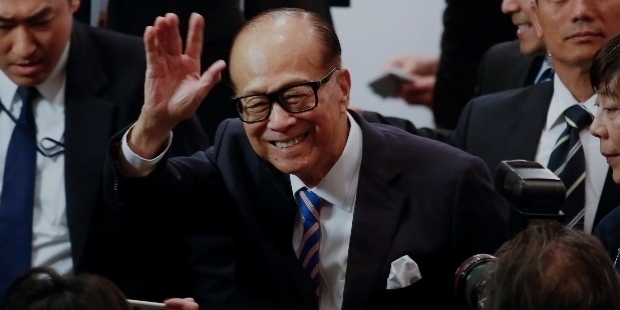 Li Ka-shing has been honoured with prestigious awards like Grand Bauhinia Medal, Knight Commander of the Order of the British Empire and Commandeur Légion d'honneur.
Full Name :

Li Ka-shing
Zodiac Sign :
Birth Place :

Chao'an
Chaozhou
China
Occupation :
Industry :
Want to Be Successful?
Learn Secrets from People Who Already Made It
Please enter valid Email