The Real Secret to Loving Your Body and Yourself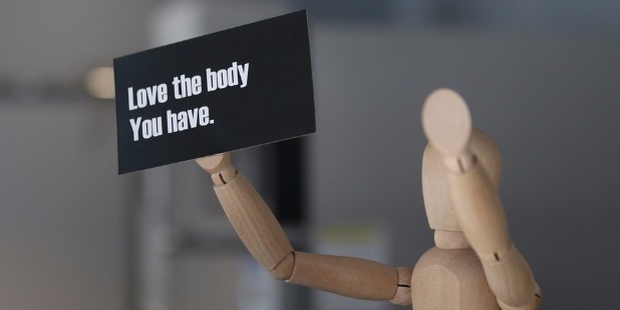 You have to learn to love your body the way it is and enjoy your life. Remember that no one is perfect in this universe and everyone has some or the other flaw. However, the focus should be on the blessings in life and not on these little flaws. If you keep focusing on what you do not have, your life will become miserable. That should not stop you from striving to make your life better, but it should not become an obsession. Just take it easy and begin to enjoy your life as a gift from the Almighty.
Begin An Exercise Regime

Loving your body should begin with taking care of its health. Start working out and you will feel the difference it makes to your body and mind. This is easily one of the best ways to rejuvenate your body and feel good about yourself. You have to do this even if you do not have a weight issue. The idea is not to lose some weight, but to get fit. When you are physically fit, it reflects on your overall well-being. You will start feeling better. You will be filled with more energy than before and get good sleep. Even your eating habits will improve a lot when you start working out. Before beginning an exercise regime, consult your doctor and discuss your plans. You can begin with a simple walking exercise and later move to fitness exercises or Yoga. Remember that Yoga is not just a physical exercise and it will calm your mind.
Take Care of What You Eat

When you are eating the right kind of food, your body will be healthier and you will feel good about yourself. Avoid sugary drinks and caffeine as much as possible. Usually they do not have any health benefits and will do more harm than good to your body. Try to add fresh fruit juices and salads to your diet. Remember that what you eat has an impact on your body and mind. You can even avoid food, which is too spicy and see the difference in a few days.
Start Doing Some Charity

This is easily the best way to feel good about yourself. We have all gone through some or the other problems in life. It need not block your happiness forever. You can make a new beginning in your life by giving what you have to the society and people around you. It need not have to be monetary help. You can get involved in any charitable activity as a volunteer and help to make the society a better place to live. In this way, you will forget the nagging problems in your life and develop more confidence. The happiness, which you get when you help someone in need cannot be replaced with anything in this world. After contributing something worthwhile to the society, your self- esteem, confidence and self-respect will grow manifold. Next time, when you look at yourself in the mirror, you will feel proud and satisfied.
When you really want to feel good about yourself and your body, you should stop worrying about what anyone else thinks about you in this world. Remember that your happiness is your state of mind. Stop looking at the drawbacks in your life and start focusing on your strengths. This will enable you to lead a happy life. When you feel good about yourself, it reflects on all your activities and you will find be a successful person.
Want to Be Successful?
Learn Secrets from People Who Already Made It
Please enter valid Email