Best Motivational Quotes From Basketball Player - Kobe Bryant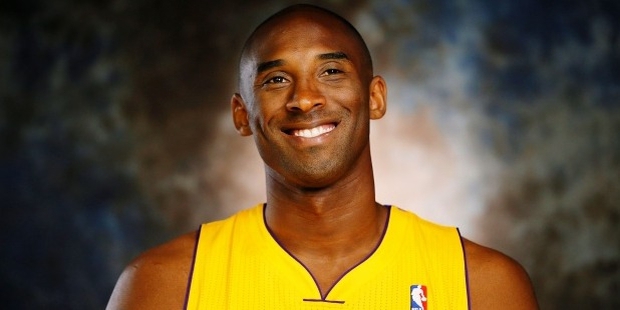 A highly-acclaimed basketball player, Kobe Bean Bryant plays for the Los Angeles Lakers of the National Basketball Association (NBA). He has played for the Lakers throughout his career, joining them directly after high school, and has won 5 NBA championships.
As far as achievements go, he is a 16-time All-Star, a 15-time member of the All-NBA Team, as well as a 12-time member of the All-Defensive team. Rankings of 2013 place him at 3rd on the all-time postseasons scoring list and 4th on the all-time regular season scoring list.
"If you're afraid to fail, then you're probably going to fail."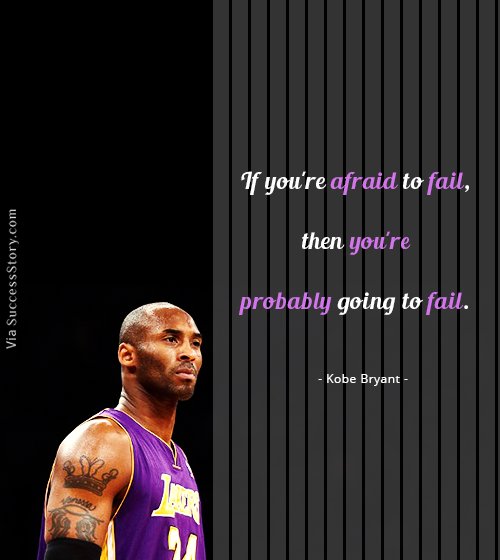 "I focus on one thing and one thing only - that's trying to win as many championships as I can."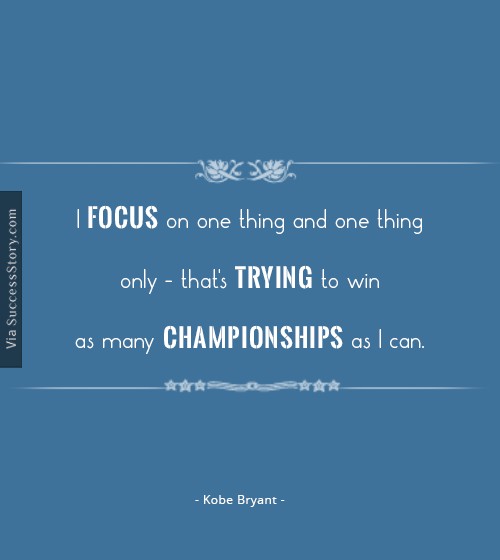 "Everyting negative - pressure, challenges - is all an opportunity for me to rise."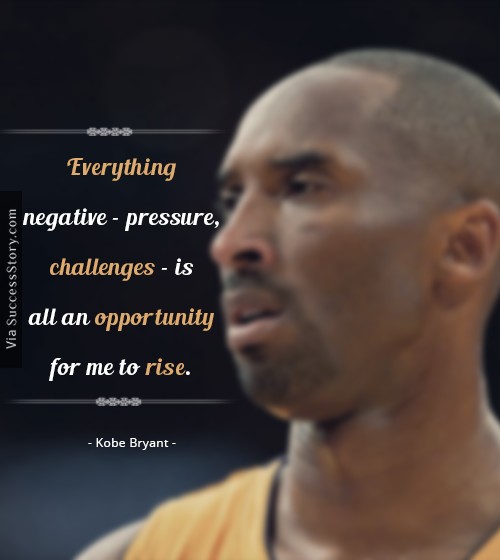 "I feel like killing everybody every time I go to the arena."
"I close my eyes and just reminisce. That's what keeps me sane."
"I was like a wild horse that had the potential to become Secretariat, but who was just too f---ing wild. So part of that was [Phil Jackson] trying to tame me."
"I just got one more than Shaq. You can take that to the bank ... You guys know how I am. I don't forget anything."
"Better learn not to talk to me. You shake the tree, a leopard's gonna fall out."
"I don't want to be the next Michael Jordan, I only want to be Kobe Bryant."
"These young guys are playing checkers. I'm out there playing chess."
"My parents are my backbone. Still are. They're the only group that will support you if you score zero or you score 40."
I'll do whatever it takes to win games, whether it's sitting on a bench waving a towel, handing a cup of water to a teammate, or hitting the game-winning shot.
"There's been a lot of talk of me being a one-man show but that's simply not the case. We win games when I score 40 points and we've won when I score 10."
"I can't relate to lazy people. We don't speak the same language. I don't understand you. I don't want to understand you."
"One thing you gotta know about me is I have absolutely no filter. I have no problem saying what the hell I think of someone."
"The Black Mamba collection of watches is me: It is my alter ego, so to speak. As I mentioned before, it is sharp, cutting edge and sleek which are characteristics I try to apply when I'm out there on the basketball court."
"The most important thing is to try and inspire people so that they can be great in whatever they want to do."
"I'm reflective only in the sense that I learn to move forward. I reflect with a purpose."
"Everyone looks at your watch and it represents who you are, your values and your personal style."
"People just don't understand how obsessed I am with winning."
"It's hard for me to grasp the concept of somebody being nervous when I'm talking to them."
"Winning takes precedence over all. There's no gray area. No almosts."
"We're happy -- until next January when people start talking about trading one of us."
"Friends can come and go, but banners hang forever."
"Losing is losing, there aren't different degrees of losing. You either win a championship or you're s---. It's very black & white to me."
"If I wanted to play, I'd still be playing for the Lakers. The health thing I could've figured out...I just don't want to play anymore."
It never bothered me when people would say, 'You only win championships because you're playing with Shaq.' It bothered me when he said it.
The topic of leadership is a touchy one. A lot of leaders fail because they don't have the bravery to touch that nerve or strike that chord. Throughout my years, I haven't had that fear.
I'm extremely willful to win, and I respond to challenges. Scoring titles and stuff like that… it sounds, well, I don't care how it sounds – to me, scoring comes easy. It's not a challenge to me to win the scoring title, because I know I can.
I've played with IVs before, during and after games. I've played with a broken hand, a sprained ankle, a torn shoulder, a fractured tooth, a severed lip, and a knee the size of a softball. I don't miss 15 games because of a toe injury that everybody knows wasn't that serious in the first place.
I'm playing against great players, playing against the best in the world. The competition – that's what I've always wanted.
I'm more than comfortable just sitting back and scoring 21, 22 points or whatever and getting 10, 11 assists whatever the case might be. More than comfortable with that. It's just a matter of the pieces that you have around you and what you can do to elevate everybody else.
In Lower Merion High School, Bryant received recognition as the top high school basketball player in the United States. He was selected by Charlotte Hornets in the 1996 NBA Draft, coming up 13th overall. By winning the 1997 Slam Dunk Contest, Bryant earned a huge fan following.(Famous Motivational Quotes)
Bryant scored a career high of 81 points while playing against the Toronto Raptors. This score is the second highest in a single game in the history of NBA. He received the Most Valuable Player Award (MVP) for regular seasons in 2008. He has a reputation for being one of the most dangerous scoring players in the NBA. During the Summer Olympics in 2008, he won a gold medal as a member of the U.S. men's basketball team. (Quotes For Inspiration)
As a philanthropist, Bryant does not disappoint. He is the official ambassador for a non-profit organization that provides after-school programs for American children, called After-School All-Stars. He established the Kobe Bryant China Fund that supports education and health programs in China. (Achievement Quotes)
Want to Be Successful?
Learn Secrets from People Who Already Made It
Please enter valid Email