10 Most Inspiring Quotes From Education Activist - Malala Yousafzai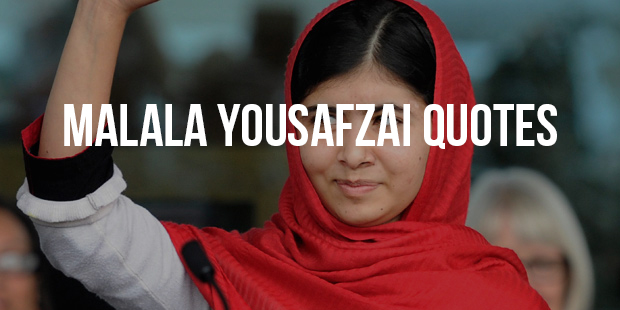 Malala Yousafzai was an education activist from her very childhood days. In her hometown in Mingora, Pakistan, she was an activist who raised her voice against illiteracy of women. She attended a school established by Ziauddin Yousafzai, her father. In September 2008, she delivered a speech titled 'How dare the Taliban take away my basic right to education?
Under a Pseudonym Gul Makhai, Malala started writing for a BBC World News blog about the woes of girls who were denied education by Taliban. However, in December 2009, her real name was revealed. She earned a nomination for International Children's Peace Prize and won Pakistan's National Youth Peace Prize in 2011.
"One child, one teacher, one book, one pen can change the world."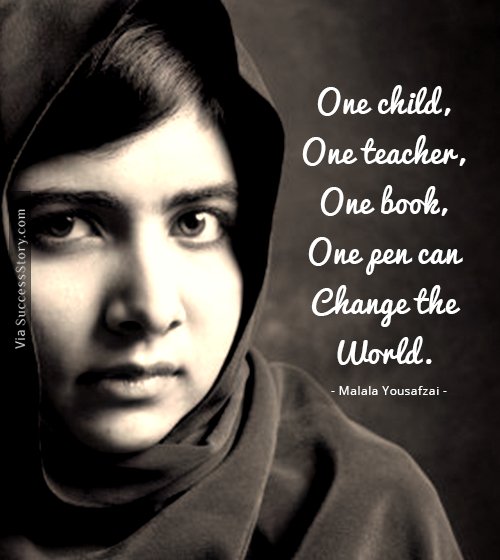 "I don't cover my face because I want to show my identity."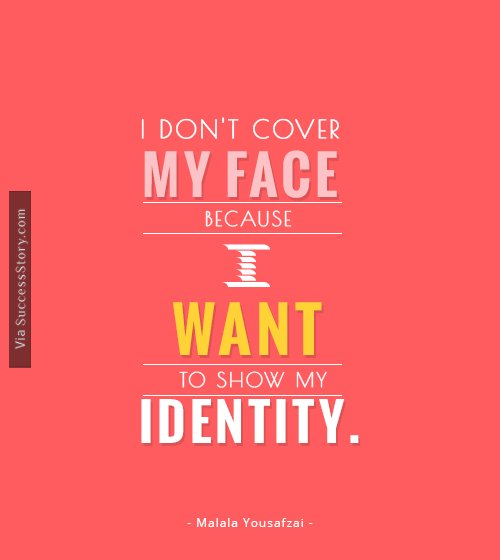 "Let us make our future now, and let us make our dreams tomorrow's reality."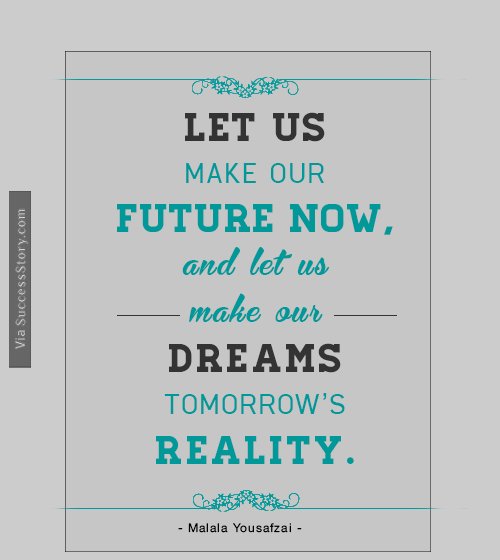 " I don't mind if I have to sit on the floor at school. I want an education and I am afraid of no one. Education is the power terrorists fear most."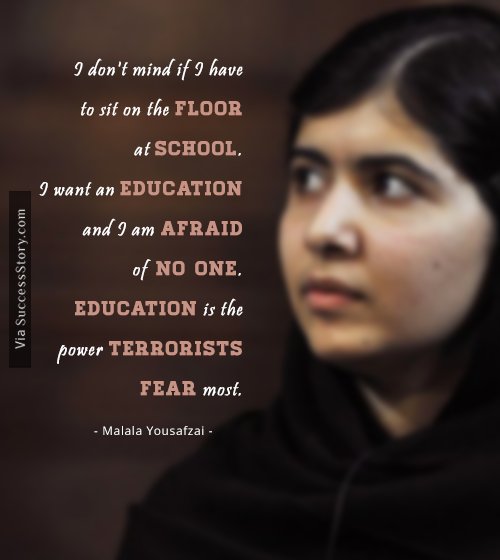 "I don't know why people have divided the whole world into two groups, west and east. Education is neither eastern nor western. Education is education and it's the right of every human being."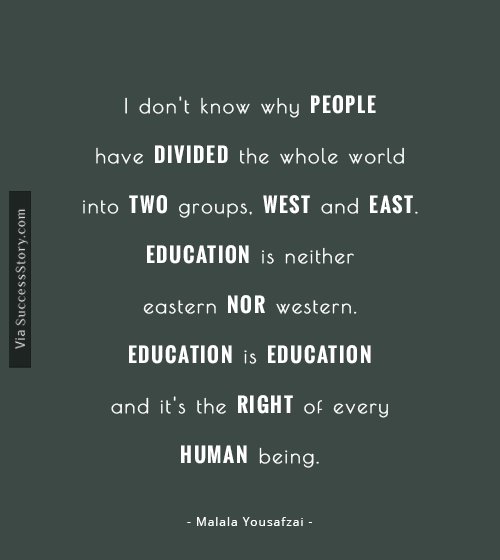 "After the PM presented me with the award and cheque, I presented him with a long list of demands."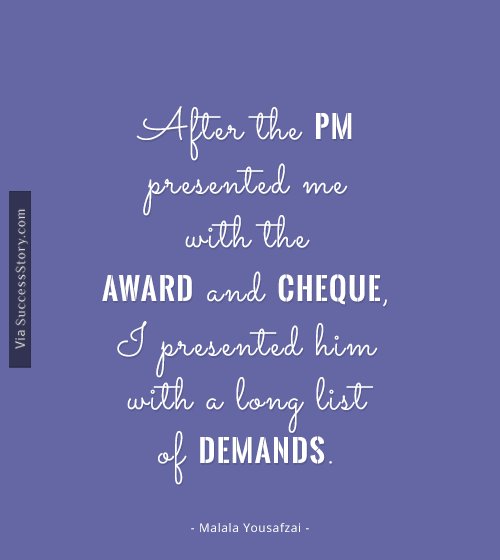 "Some people only ask others to do something. I believe that, why should I wait for someone else? Why don't I take a step and move forward."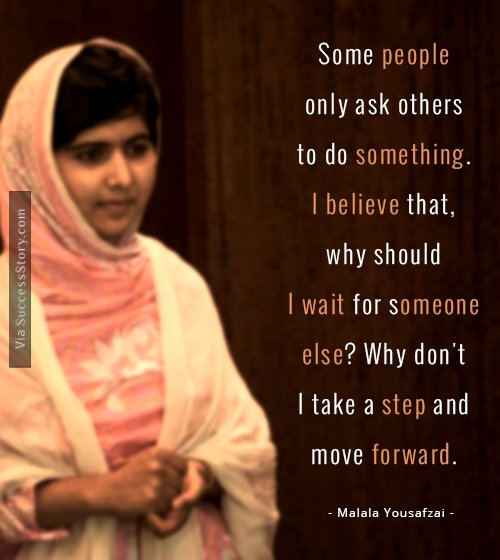 "When someone takes away your pens you realize quite how important education is."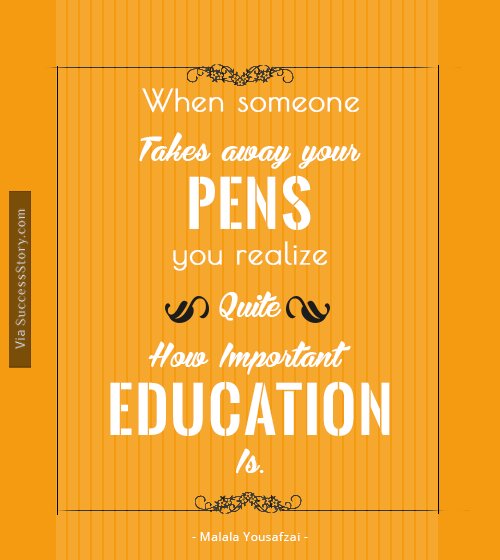 "When the whole world is silent, even one voice becomes powerful."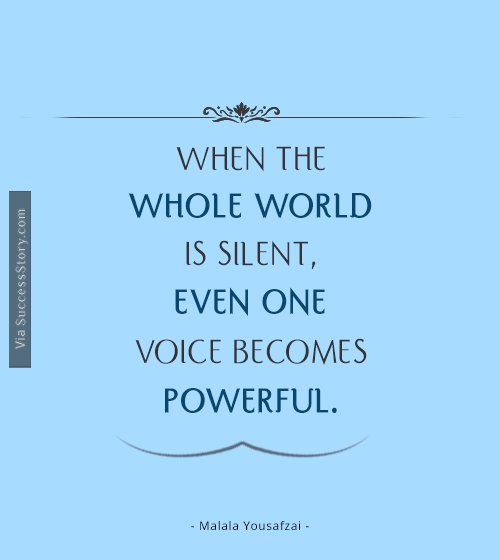 "I don't want to be thought of as the "girl who was shot by the Taliban" but the "girl who fought for education." This is the cause to which I want to devote my life."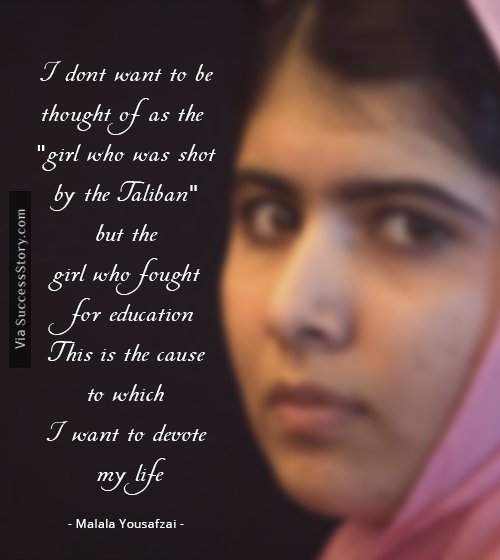 Because of her continued activism she was constantly threatened by the Taliban. On October 9, 2012, a man boarded the school bus that Malala was riding back home and asked her by name. The gunman then fired three shots: critically injuring Malala other than harming two of her friends. She remained in critical condition, but gradually recovered and was later sent to Queen Elizabeth Hospital in England for further rehabilitation. (Inspirational Quotes)
The assassination started a global support for Malala and Taliban was criticized sternly for such a vehement act. The April 2013 issue of Time Internet and Magazine featured Malala on its front cover and included her in the list of The 100 Most Influential People in the World.
Later that year, Malala's biography, named I Am Malala: The Girl Who Stood Up for Education and Was Shot by the Taliban was released in October 2013. The European Parliament awarded Malala Sakharov Prize for Freedom of Thought in recognition of her work. The same year, she was nominated for a Nobel Peace prize. She did not win the prize but is still continuing to fight for every girl's right to education despite the constant threat from Taliban.
Want to Be Successful?
Learn Secrets from People Who Already Made It
Please enter valid Email