Walt Disney Success story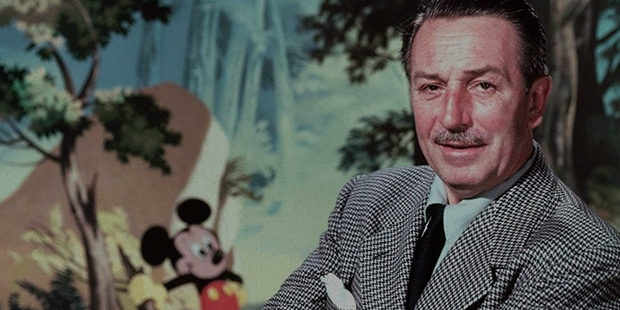 Walt Disney was a animator, cartoonist, producer, director and entrepreneur. He is regarded as one of the most creative men of the 20th century. He is also the individual with the most awards and nominations with a total of 22 Academy Awards from 59 nominations. He established the Walt Disney Productions along with his brother Roy O.Disney which is today one of the best-known animation/motion film producers in the world. Today it is called 'The Walt Disney Company' and had an annual turnover of $36 billion in 2010 alone.
Childhood
Walt Disney was born on December 5, 1901 at Tripp Avenue in Chicago. He was interested in drawing at a young age. He soon developed his skill and was paid by his neighbour, Dr. Sherwood for drawing a sketch of his horse. He took night courses at the Chicago Art Institute while doing his freshman year at the McKinley High School at Chicago. He wanted to become a cartoonist and newspaper artist in the future. So he started by drawing cartoons focussing on World War I for the school newspaper.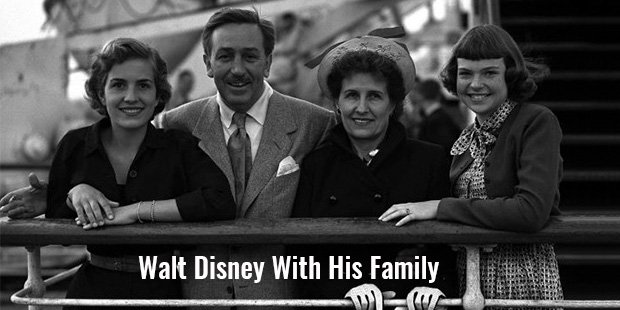 Early Life
In 1917, Walt Disney dropped out of school to join the army, but was rejected for being underage. He went to France for one year after joining the Red Cross. He worked there as an ambulance driver.
Career
In 1919, Walt Disney was rejected by many publishers who said he did not have enough creativity to work for their newspapers. Soon he joined the Kansas City Film Ad Company where he made commercials bases on cut-out animations. Here he came across animation as an interesting field of work.
Walt Disney learnt animation by reading books and experimenting with a borrowed camera. Soon he decided to open his own animation business. He produced a series of cartoons called 'Laugh-O-Grams' which played at the local theatre. His cartoons became immensely popular in Kansas City area enabling him to acquire his own studio. But in a short time this studio had to close because of improper use of revenue and bankruptcy.
Now Walt and his brother Roy pooled their money and opened a cartoon studio in Hollywood, California. Here they distributed their cartoon 'Alice comedies' which met with reasonable success.
In 1927, Walt Disney produced the cartoon, 'Oswald the Lucky Rabbit' in association with Universal Pictures. This cartoon became a huge hit and helped their company earn high revenues. But soon he lost most of his employees and was unable to continue production of 'Oswald the Lucky Rabbit'.
Now Walt Disney decided on creating a new character in order to produce a new cartoon series. This is where Mickey Mouse was born. In Disney's studio both he and Iwerks worked on giving Mickey Mouse a good physical appearance and other important features. After initially failing to find anybody to distribute their cartoon character, a businessman called Pat Powers came to their rescue. He provided the distribution as well as gave them the Cinephone with which they were able to add sound to their silent cartoons.
The more you like yourself, the less you are like anyone else, which makes you unique. - Walt Disney
They released 'Steamboat Willie' which became an instant hit. Soon after all the cartoons they released went on to receive huge viewership. Soon the character Mickey Mouse became a household name becoming the most popular cartoon in America. Soon they introduced the cartoon 'Popeye the Sailor' which again became enormously popular. In 193, Walt Disney released 'Snow White and the Seven Dwarfs' which went on to earn around $8 million and became the highest grossing movie that year.
Awards
1989

Grammy Trustees
1979

Honorary César
1969

Academy, Competitive Academy
1968

Congressional Gold Medal
1964

Presidential Medal of Freedom
1959

Academy
1955

Academy
1954

Academy
1952

Academy
1943

Academy
1942

Academy Honorary, Irving G. Thalberg Memorial, Competitive Academy
1939

Academy Honorary
1932

Academy Honorary, Competitive Academy
Tour of Disneyland
Full Name :

Walter Elias Disney
Born :

5th-Dec -1901
Zodiac Sign :
Birth Place :
Education :

Benton Grammar School Missouri,
Kansas City Art Institute Missouri,
School of the Art Institute of Chicago Illinois
Occupation :
Industry :
Networth :

$5 Billion
Want to Be Successful?
Learn Secrets from People Who Already Made It
Please enter valid Email