Milind Soman Story: The Greek Adonis Ties the Knot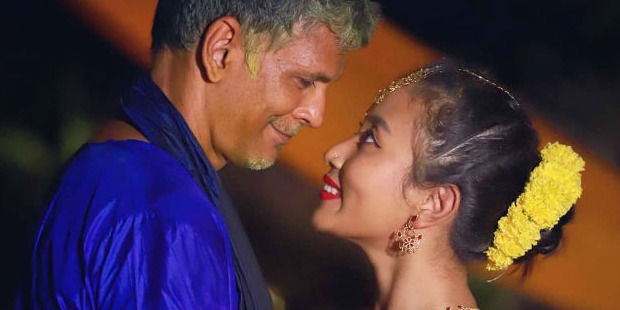 Life is full of surprises! An individual goes through metamorphosis, just like a butterfly, in various stages of life. Success and failure follow like the two banks of a river. A celebrity's life is full of admiration, awe, disenchantment, love, hate, heartbreak and inspiration for the world.
Model turned actor, turned fitness promoter Milind Soman has experienced all the above-mentioned emotions in his 52 years of existence. Milind Soman – Madhu Sapre 'Tuff Shoes' ad surely created stir among people. Disenchantment and awestruck, the world reacted with their own shrewdness and opinions. When Milind married the French actress Mylene Jampanoi in 2006, people loved it. When the couple divorced in 2009, it was heartbreak!
Milind Soman's second marriage with Ankita Konwar has created mixed response from people. Some are happy and as usual, some are shocked, because Ankita is 26 years younger to Milind. The couple is on cloud nine, which matters the most. Promoting fitness, Milind has become an inspiration for many people.
Love Conquered:
To be in love is bliss! 26-year-young Ankita Konwar hails from Guwahati, Assam. She has been working in Air Asia, since 2013. Milind and Ankita have been dating for a year, before tying the knot on the 22nd of April 2018 in Alibaug, near Mumbai. The happily in love couple looked radiant in their respective attire, during the wedding ceremony. Friends and relatives of both families were present at the ceremony.
A section of people may have shown their disenchantment for Milind and Ankita's love affair. However, the couple is unperturbed about such people. In an interview, Milind had stated, "I do not really bother about it all. The people, who talk about it, do not really know us, so it is actually amusing."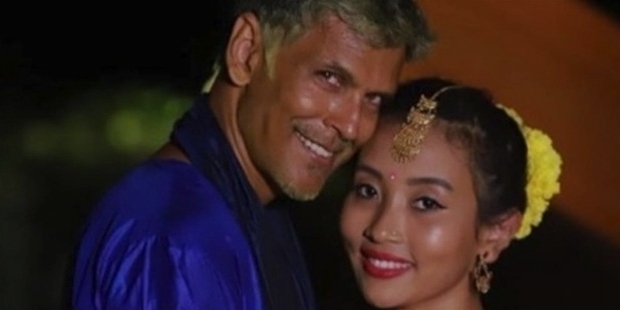 The age difference between the two had its own apprehensions, even with Ankita's parents. However, when they met Milind and Ankita together, they were rest assured about the lovebirds' decision to tie the knot. On the 22nd of April 2018, their marriage was an intimate ceremony. The traditional Maharashtrian wedding was attended by couple's close friend Dipannita Sharma, members of the families and others.
Early Life:
Milind Soman was born on the 4th of November 1965 in Glasgow, Scotland. His family had moved to England. His family returned back to India, when Milind was 7. The family settled down in Dadar area. Milind studied at Dr. Antonio Da Silva High School and Junior College of Commerce, Dadar, Mumbai. From M. H. Saboo Siddik Polytechnic, Byculla, Mumbai, Milind Soman completed his Diploma in Electrical Engineering.
After the completion of his diploma, the young man realized that he will not be able to make money as an electrical engineer. In 1988, Milind entered the modelling world and became an instant hit with his chiseled features, handsome look and confidence.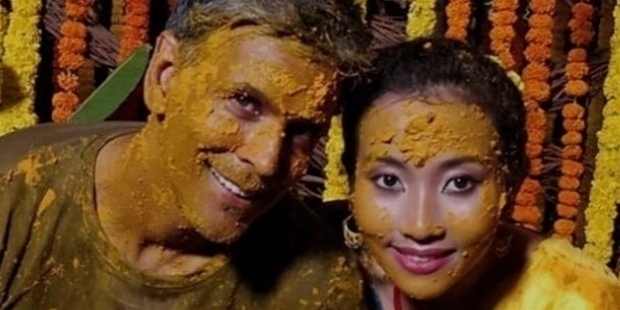 In 1992, Madhu Sapre missed the Miss Universe title to Sushmita Sen. It was a case of instant liking for each other, when Milind and Madhu met. During the early 90s' they were hot couple, totally in love. The two hot models created a stir with the controversial 'Tuff Shoes' ad. Among the two, Milind was very possessive of his love towards Madhu. Their live-in relationship lasted couple of years, before they parted ways.
The Greek Adonis:
The 5'9" handsome hot hunk created craze among girls, when Milind Soman made his entry into the modelling world. Milind recalls, "Modeling happened just by chance. I did not even know such a profession existed. All my family members are into academics and I had no connection with the glamour industry. I was shocked with the kind of money they were paying for doing nothing. I was lucky to be there, when the fashion industry in India was just taking off.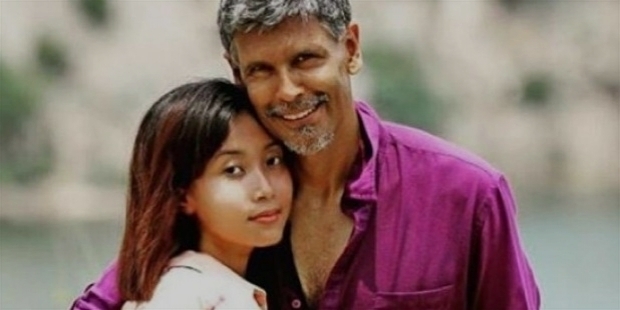 It is not that I am an amazingly good looking guy. I am good, but it all worked because I was there, at the right time. The current lot of models in India has it, much tougher. When I started, we were just three male models. So, we were doing all the shows, across the world. It is good that people still remember, what I did back then, and it helps me grab attention, when I want to do something meaningful."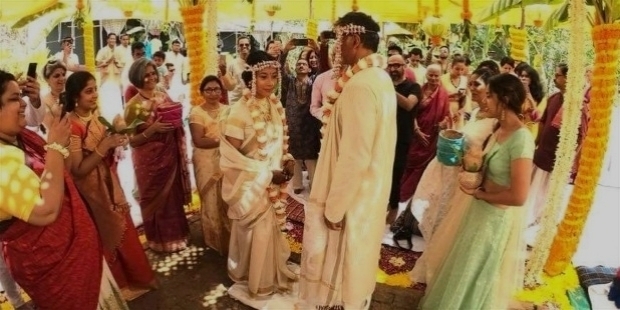 He still commands attention from pretty girls, exuding his fully-fit physical appearance and charm.
Actor-Producer:
In 1995, Milind featured in Alisha Chinai's music videos 'Made in India'. Milind got the hang of acting and loved the experience. Milind Soman made his debut in India's first English serial 'A Mouthful of Sky' in 1995. He went onto produce and act in 'Margarita' in 1997. From 1997 to 2001, Milind acted in television serials like 'Sea Hawks', 'Vakaalat', 'Tanha', 'Captain Vyom', 'Deewarein' and 'Noorjahan'.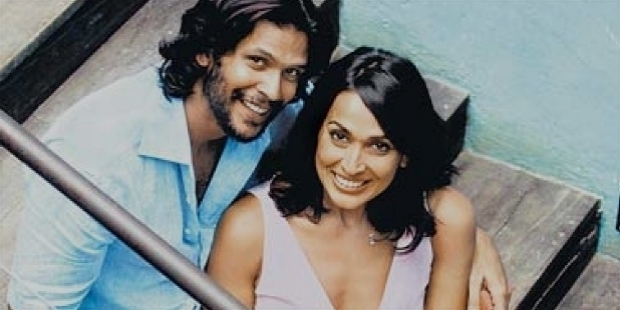 In 2000, Milind made his debut in Bollywood with 'Tarkieb'. He went onto act in films like 'Pyaar ki Dhun', '16 December', 'Agnivarsha', 'Rules: Pyaar Ka Superhit Formula', Surya', 'Jurm' and Bhagmati'. Off recent, Milind was seen in 'Bajirao Mastani', 'Chef', 'David' and couple of Marathi films.
In 2006, Milind made his international debut in multiple languages film titled 'Valley of Flowers'. The film was made in Hindi and Japanese languages. Milind met his first wife Mylene Jampanoi, French actress during the filming of the movie. He went onto act in Swedish film 'Arn – Templeriddaren' in 2007. In 2010, he acted in Swedish TV Series 'Arn – Riket Vid Vagens Slut'.
Full Name :

Milind Soman
Zodiac Sign :
Birth Place :

Glasgow
Scotland
Occupation :
Industry :
Want to Be Successful?
Learn Secrets from People Who Already Made It
Please enter valid Email