Hinako Shibuno: 2019 Women's British Open Champion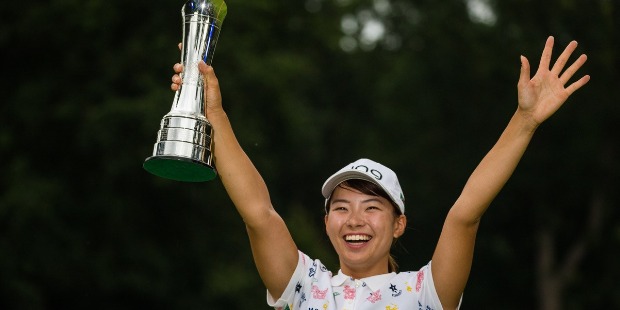 It was a fascinating display of charisma and character by the Japanese sensation Hinako Shibuno to triumph over 143 women golfers at the 2019 Women's British Open with her amazing smiling visage. The 20-year-young Hinako emerged as the Champion to lift her first major title beating American Lizette Salas by just one stroke on the 4th of August 2019.
Hinako Shibuno became the second player in the world to win a major title on her debut. South Korean Kim Hyo-joo was the first player to win the 2014 Evian Championship title.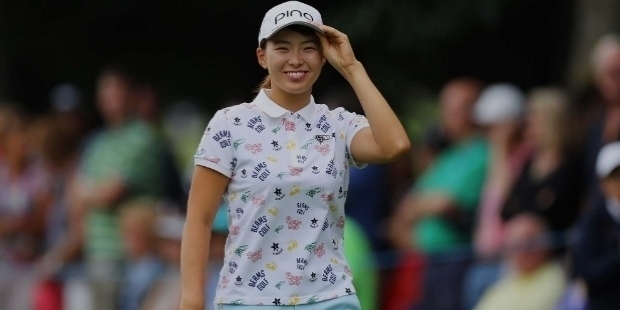 The gleeful Japanese youngster did not hide her true emotions after the win. Hinako Shibuno enthused, "I still feel like I'm going to vomit. I was more nervous on the front nine, but I was OK on the back nine. I felt like I was going to cry on the 18th but the tears didn't come out." Like a sweet youngster, she also revealed about her love for Japanese sweets. Hinako exclaimed smiling with joy, "With the £555,000 prize money, I will have a lifetime supply of Japanese sweets. There will be enough treats to feed me, till I die."
Hinako Shibuno displayed great character and Japanese humility throughout the tournament to seal her spectacular victory to lift the 2019 Women's British Open trophy in her first outing away from her motherland. This makes the win extra special. A Japanese star has born. She enthused, "Now that I have won, I think a lot of the Japanese people will know me. In reality, I just want to live a quiet life." She celebrated her win binging on Japanese sweets in a total unusual manner.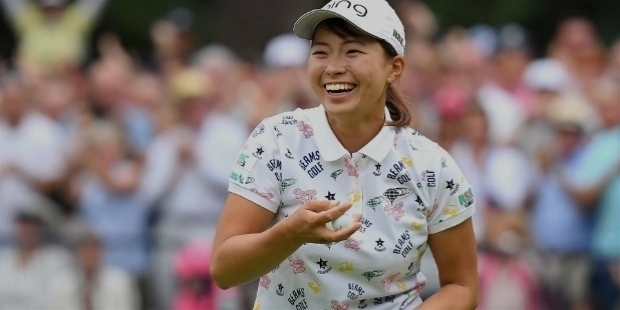 The Japanese youngster was all smiles throughout the tournament inspiring the younger generation indicating that doing what you love is joyful – win or lose. Unlike other 143 competitors in the field, who played the tournament with a serious appearance – Hinako was smiling all the way enjoying every stroke of hers. Before her magnificent win, Hinako Shibuno was almost unknown in the Golf world. However, now she has become renowned all over the world with her glorious win.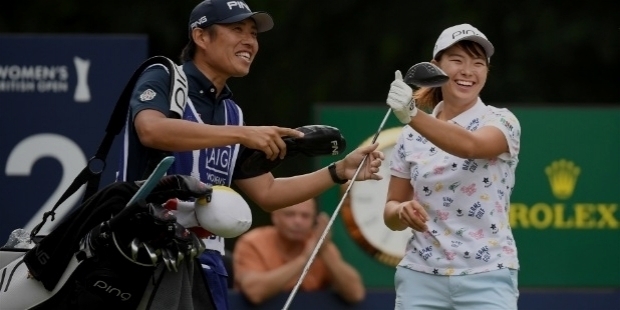 Like every youngsters in the world, Hinako was enjoying every single moment of her first outing outside Japan taking selfie, fist-bumping and sharing high-five with her caddie during the tournament. The crowd wondered how one can be so happy-go-lucky playing a major Golf tournament and emerge like a true Champion. These amazing qualities make Hinako Shibuno a unique Champion in women's Golf.
What was amazing about Hinako is that her smile never ceased to surprise and put fellow competitors in awe even when she four-putted the third green. She was always engaging the galleries and they responded with same respect and joy. She was the darling of the crowd even before she won the title. Such was the frenzy the young Japanese created at the Woburn Golf Course in England. Hinako Shibuno is one player, who will make golf lovers to come and watch her amazing display of raw emotions in upcoming tournaments.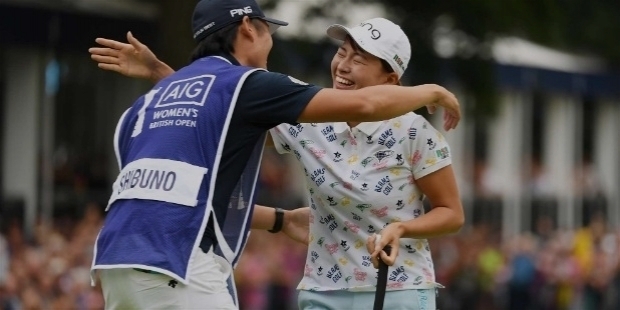 Hinako's traits of a Champion are so very infectious in nature for youngsters to emulate. Like a true entertainer, the Japanese youngster acknowledged, "We play golf in front of spectators and there are many viewers, who watch on TV. I want them to enjoy watching golf. Definitely, we players are entertainers." Her win will augment the rise of golf in Japan for sure.
Hinako Shibuno became the second Japanese major winner after Chako Higuchi's Women's PGA win in 1977. Her victory will extend beyond golf and sports in Japan. From now onwards, Hinako will be followed by many golf lovers in Japan. Like mentioned earlier, Hinako promised herself with a lifetime supply of her favourite Japanese sweets made of seaweed or squid. Her joy thinking about all the sweets with her reach was evident in her sparkling eyes.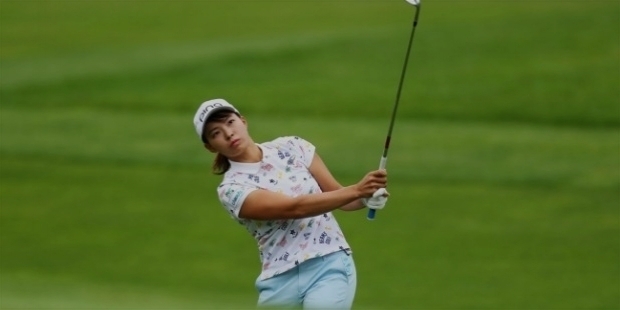 In the year 2018, she cleared her test to turn a professional golfer. The year 2019 has been very promising for Hinako Shibuno. In May 2019, Hinako won the World Ladies Championship Salonpas Cup. Two months later in July, she won the Shiseido Anessa Ladies Open. And in August, she became the Champion at the 2019 Women's British Open. Hinako's amazing rise is unique, because she has never participated in the LPGA Circuit till date.
Life for Hinako Shibuno has drastically changed after her superb victory at the 2019 Women's British Open. It will be interesting to watch her in upcoming tournaments around the world. She has now opened the doors of the world to conquer with her infectious charm and charisma. Great expectations on the 20-year-young star will showcase how she takes on challenges one after another in coming years.
2019 Women's British Open:
Hinako Shibuno was playing in her first-ever major tournament. Interestingly, it was also the very first time that she was playing outside her homeland. In the first round, Ashleigh Buhai from South Africa led the field scoring 65 to par –7. American Danielle Kang and Hinako Shibuno trailed at second place scoring 66 points to par –6. British Charley Hull, Thai Moriya Jutanugarn, American Megan Kang and South Korean Park Sung-hyun trailed behind scoring 67 to par –5.
In the second round, Ashleigh Buhai maintained her lead. Hinako also maintained her second spot. American Lizette Salas came in strong scoring 67 to par –8 at third spot. Charley Hull and Park Sung-hyun also maintained their standings. In the third round Hinako took the lead scoring 66-69-67=202 to par –14. Ashleigh Buhai trailed behind her to par –12 with the South Korean Park Sung-hyun standing at third spot.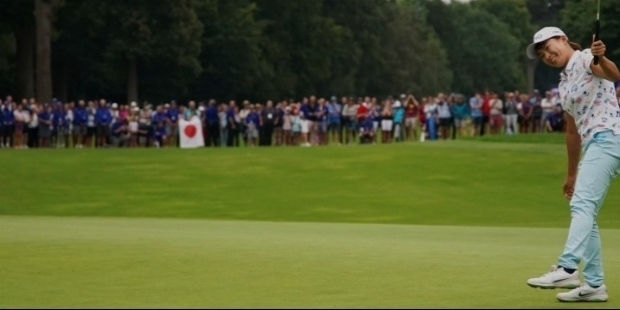 In the fourth and final round, Hinako was leading the pack with two strokes. However, she dropped back to the pack. In a striking ending, the Japanese youngster fired five birdies on her back nine and held Lizette Salas by just one shot. The American couldn't believe her misfortune to come so close and lose in the second spot. South Korean and World No. 1 Ko Jin-young finished third to complete the victory podium.
Hinako's cool demeanour saw her joking around with her Caddie before the crucial second shot into 18. After her win, Hinako Shibuno revealed, "I was talking to the caddie over the second shot saying if I were to shank this, it would be very embarrassing." She smiled at the thought of it. It was very interesting to see how Hinako's Manager Hiroshi Shigematsu was amusing her changing his costumes, colorful wig and clown mask every now and then to make the youngster smile.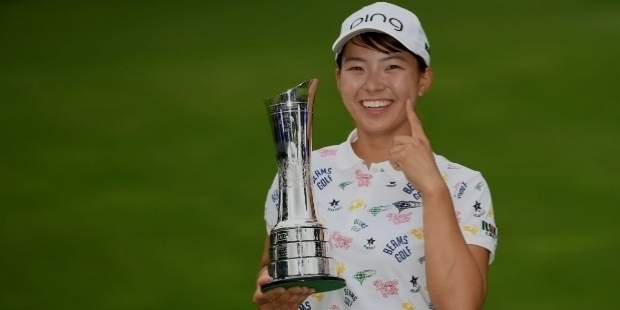 Before the 2019 Women's British Open, Hinako Shibuno was ranked No. 559th in the world. After her win, she was ranked No. 44th. It is indeed a superb performance by the Japanese young sensation. In Japan, Hinako is popularly known as the 'Smiling Cindrella'.
JOURNEY OF SUCCESS:
Hinako Shibuno was born on the 15th of November 1998 in Okayama, Japan. She comes from a sporting family. Father Satoru Shibuno was a Discuss thrower. Mother Nobuko Shibuno was a Javelin thrower. Among the three sisters, Hinako is the middle one. As a kid, Little Hinako dreamt of becoming the mermaid Ariel. She is an avid fan of Softball.
In the year 2014, Hinako enrolled at Sakuyo High School. She has been playing golf from her early childhood, so she continued playing it. She won her first title in the year 2014. She won the 2014 Ch?goku Region Women's Amateur Championship. In the year 2015, Hinako was part of the School team, which won the team competition in the National High School Golf Championship.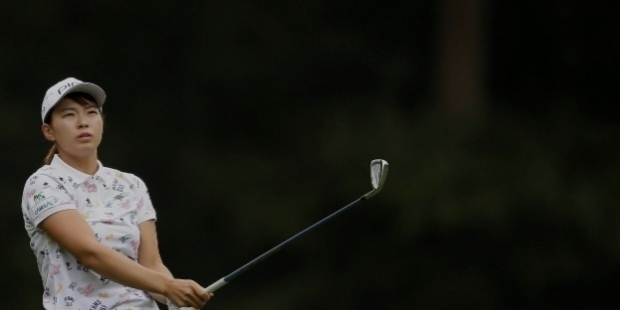 Hinako Shibuno graduated from High School in the year 2017. She could not qualify the final test to become a professional in 2017. She played in the step-up tour circuit in the year 2018. In June 2018, Hinako successfully qualified as Monday qualifier. She earned 6 million Yen for scoring a hole-in-one at the 9th hole in the competition. A month later in July 2018, Hinako Shibuno cleared her test to turn professional much to her delight.
Want to Be Successful?
Learn Secrets from People Who Already Made It
Please enter valid Email