Akkitham Achuthan Namboothiri: 2019 Jnanpith Award Winner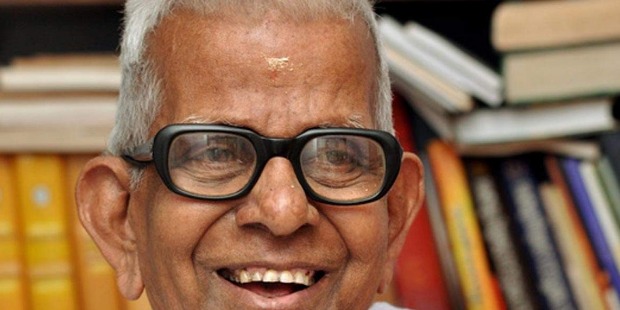 The Jnanpith Award is the highest Indian Literary Award presented to renowned Indian authors by the Bharatiya Jnanpith. The prestigious award is presented annually for an author's outstanding contribution towards Literature. The prestigious award consists of a 'Citation Plaque', Cash Prize of Rs. 11 Lakh ($15,330) and a Bronze Replica of Saraswati – the Hindu Goddess of Knowledge and Wisdom. The 93-year-nonagenarian Malayalam reputed Philosopher-Poet Akkitham Achuthan Namboothiri was honoured with the 55th Jnanpith Award for the year 2019.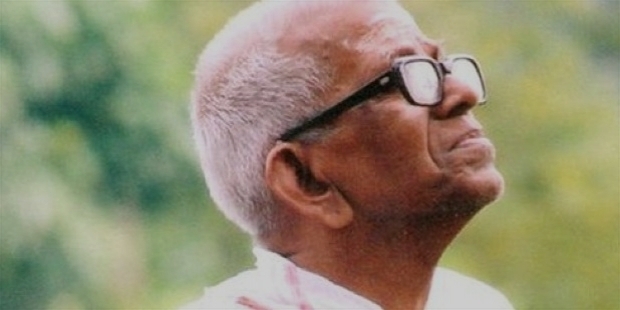 The Jnanpith Award for individual contributions to Literature was instituted in the year 1961. The prestigious literary award is bestowed only to Indian writers, who write in Indian languages, including the Eighth Schedule to the Constitution of India and English. In the year 1965, Malayalam writer G. Sankara Kurup from Kerala became the first-ever Jnanpith Award winner for his collection of poems 'Oddkkuzhal – The Bamboo Flute' published in 1950. Interestingly, only 7 women authors have won the Jnanpith Award till date. 58 men have won the Jnanpith Award.
The Jnanpith Award has been bestowed in 16 Indian languages till date. 11 authors have won for their works in Hindi, 8 in Kannada, 6 each in Bengali and Malayalam, 4 each in Gujarati, Marathi, Odia and Urdu, 3 in Telugu, 2 each in Assamese, Punjabi and Tamil and 1 each in English, Kashmiri, Konkani and Sanskrit. Ashapoorna Devi, the Bengali novelist was the first woman to win the award for her 1965 novel 'Pratham Partishruti – The First Promise', the first in a trilogy.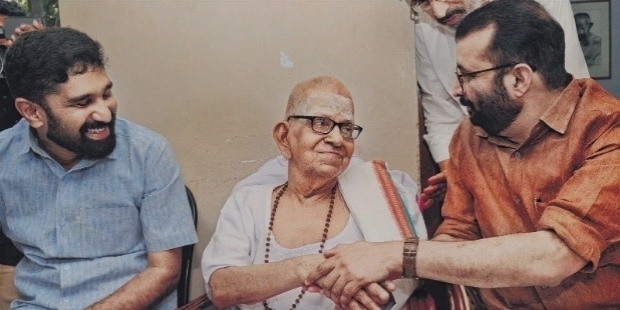 Kerala's proud son Akkitham Achuthan Namboothiri was bestowed the 2019 Jnanpith Award for his unparalleled contributions and for being instrumental in auguring modernism in Malayalam poetry. The nonagenarian stated that he was humbled by the honour. The poet is fondly known as 'Akkitham'. His hometown of Palakkad has given renowned poets like Edassery Govindan and V. T. Bhattathiripad to the literary world.
Akkitham disclosed that his late wife Sreedevi Antharjanam has been the pillar of strength of his poems. At the hour of his greatest recognition in the world, Akkitham was sad that she is not by his side. He stated humbly, "Maybe I am being blessed with the honour, as I have had a longer life." He went onto confess that there were deserving contemporaries for the prestigious award. Kerala's Chief Minister Pinarayi Vijayan showered high praises for the nonagenarian and messaged, "The award is a big recognition to the Malayalam language and literature."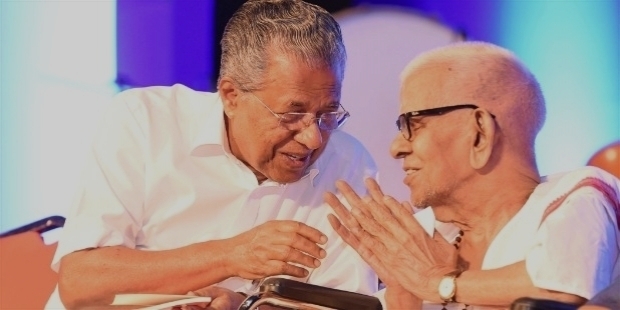 Akkitham Achuthan Namboothiri is the 6th Malayalam writer from Kerala to win the coveted literary Jnanpith Award after S K Pottakkad, Thakazhi Sivasankara Pillai, G Sankara Kurup, M T Vasudevan Nair and O N V Kurup. Akkitham has led a very simple life as a social reformer, journalist, philosopher, poet and a Gandhian. He was born gifted to reach such great heights in Malayalam Literature.
The world has acknowledged his greatness in Malayalam Literature over the year. However, there was a time, when Akkitham was accused of being a Communist. In his website, he shares his experience and philosophy, which craves and lives unto the poor and oppressed with this lines – 'When I shed a drop of tear / For the sake of others, dear, / In my soul there do appear / A thousand social spheres…'
Quoting from his website, Akkitham observes, "I know there are some rumours of me being a Communist. I have worked in the Yogakshema Sabha sans an authoritative membership for a long time. That may be the reason behind this. But, I have been lured to Socialism since my childhood. At the age of 6, as per the Namboodiri custom, I too had undergone the Vedic studies. When learning Rig Veda, we were used to repeat the word 'samaanam' (equality) several times.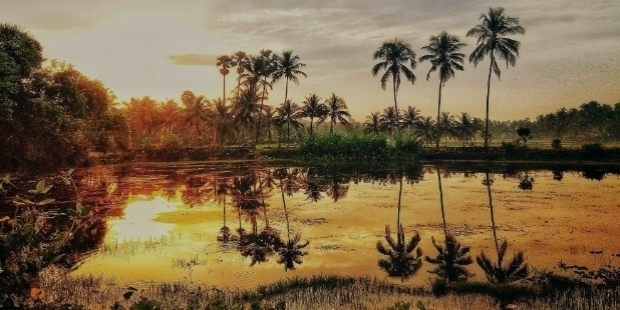 This fancied my mind and I was fortunate once to have a 'peep' to its Malayalam translation by Vallathol. And, I particularly noted the various interpretations of Socialism in it. I was trained in Rig Veda up to my 12th year and it made me all the more craving towards socialism. At that time, our social arena was dangerously perilous with so many bad customs like classism, untouchability etc that prevailed all through.
Later when went through 'Why Socialism' by EMS, 'Soviet naadu' by C Achutha Menon, and Wendel Wilkey 'One World' translated and published in Mathrubhumi, I could mould my perception towards life as a whole and never particular. I was leaning towards Socialism, which I felt was the need of the hour then. This thought guided me towards Karl Marx, within whom I saw a redeemer of the humanity. But, I would prefer to say that 'Sampadasooktham' of Rig Veda, which preaches and interprets 'samaanam' is the first ever scribble of Communism in the world."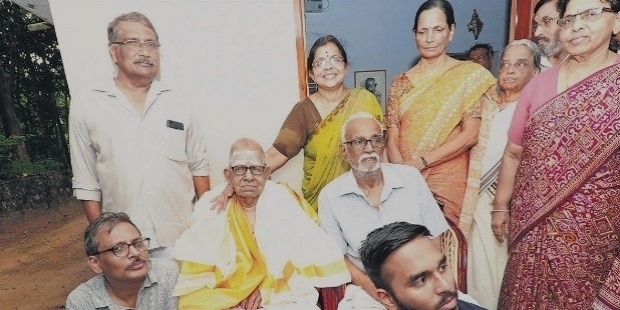 He goes on to state, "What attracted me to Communism is its bottom line of equality, which I thought could break the barrier of castes which stand upright amidst our society as a hurdle towards communion and prosperity, its byproduct."
EARLY LIFE:
Akkitham Achuthan Namboothiri was born in Amettikkara near Kumaranallur, Palakkad district of Kerala, on the 18th of March 1926. He was born in a traditional Brahmin Namboothiri family. Father Amettu Akkithathu Manayil Vasudevan Namboothiri and mother Checkur Manaykkal Parvathy Antharjanam was blessed with the gifted son. At a tender age of 8, Little Akkitham wrote his first poem. He never looked back again to achieve greatness in Malayalam Literature. He learned Sanskrit, Astrology and Music during his growing up years.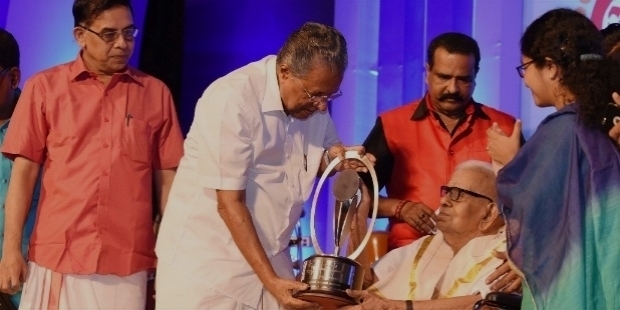 It is interesting to note that Akkitham never completed his graduation, in spite of taking admission in a college. Very early in life, Akkitham commenced his journey as an Editor of Unni Namboothiri magazine. He strongly believed in social reforms and used the magazine as the platform for social activities. Akkitham also worked as an Assistant Editor of Mangalodayam and Yogakshemam magazines. At the age of 30, Akkitham joined the AIR – All India Radio Kozhikode Station. From 1956 to 1975, he served at Kozhikode Station. He was later transferred to AIR Thrissur Station.
JOURNEY OF SUCCESS
In the early 1950s, Akkitham's literary writings became very popular to gain attention in the Southern State of Kerala. 'Irupatham Noottandinte Ithihasam – Epic of the 20th Century' was Akkitham's one of the first hardcore modernist poems in Malayalam Literature. In the year 1952, the book won the Sanjayan Award. Akkitham has written and published 45 books, which comprise of poetry anthologies, plays and short stories.
Among his most critically acclaimed works includes 'Balidarsanam – The Vision of Bali', 'Arangettam', 'Nimisha Kshetram', 'Idinju Polinja Lokam', 'Amritaghatika', and 'Kalikkottilil'. Akkitham write two collections of essays – 'Upanayanam' and 'Samavarttanam'. He also translated the Srimad Bhagavatam as the 2,400-page 'Sree Mahabhagavatham' composing a total of 14,613 verses.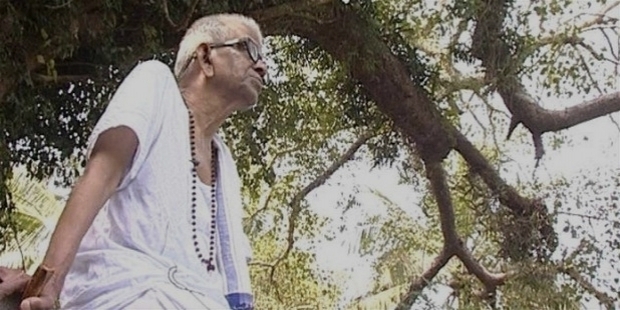 Akkitham's social activities with the association of Yogakshema Sabha saw significant reforms in the lives of the Namboothiri Brahmins of Kerala. He actively was involved with various centres to promote Vedic studies in Thrissur, Thirunavaya and Kadavallur. In 1947, Akkitham was associated with Paliyam Sathyagraha and took part in a peaceful protest against untouchability.
In the Malayalam literary world, Akkitham's remarkable works has spread the light of character, dynamism and warmth with the line 'Light is woe, darkness is bliss' from his poem. Akkitham in his writings has prescribed the regimen of love to heal the pains of life. His idealism of love towards all things great and small describes the nonagenarian perfectly.
Akkitham was highly influenced by the legendary poet Edassery Govindan Nair, who ruthlessly tutored him to grow as a remarkable poet. Akkitham is very grateful to his mentor Edassery Govinndan. At the age of 20 Akkitham published his first collection of poem in 1946. In the year 1949, Akkitham got married to Sreedevi. After his marriage, Sreedevi became Akkitham's pillar of strength in all his writings.
AWARDS & HONOURS
In the year 1971, Akkitham was conferred the Kerala Sahitya Akademi Award for Poetry for 'Balidarshanam'. Two years later in 1973, he won the Kendra Sahitya Akademi Award and the Odakkuzhal Award for 'Nimisha Kshetram'. In 1994, Akkitham won the Aasan Prize. In 1996, Akkitham was conferred with Lalithambika Antharjanam Smaraka Sahitya Award. A year later, he was honoured with the Vallathol Award in 1997.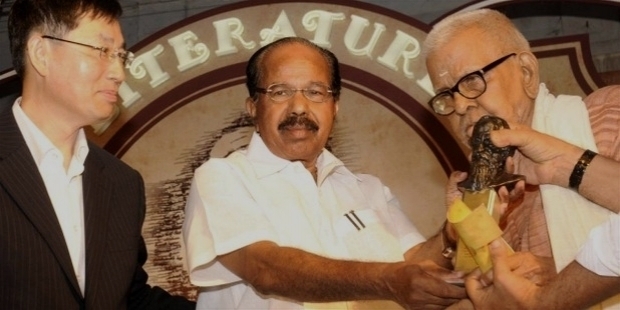 In the year 2012, Akkitham was bestowed with the Vayalar Award. In the year 2016, the State of Kerala awarded Akkitham with the State's Highest Literary Award – the Ezhuthachan Puraskaram. Akkitham's significant contributions in Malayalam Literature in the last eight plus decades was duly rewarded by the Indian Government. In the year 2017, Akkitham was honoured with India's Fourth Highest Civilian Award – the Padma Shri. Due to his old age and ailment, Akkitham was handed the Padma Shri by the District Collector of Palakkad.
The 2019 Jnanpith Award was duly due for Kerala's renowned philosopher-poet for enriching Malayalam Literature. The documentary film titled 'Arikil Akkitham' directed by E. Suresh captures the life of the reputed poet from her daughter Sreeja's perspective.
Want to Be Successful?
Learn Secrets from People Who Already Made It
Please enter valid Email