Dr. Denis Mukwege and Nadia Murad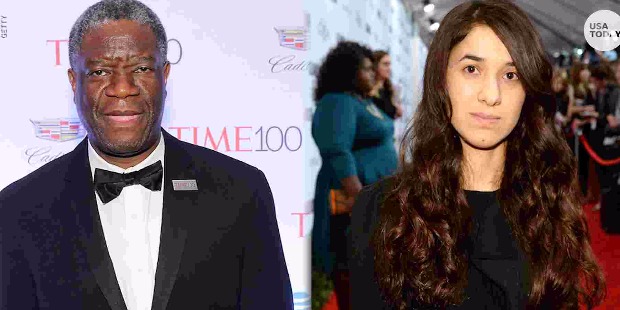 8th October 2018: The 2018 Nobel Peace Prize was awarded to two Bravehearts from the most war-torn and terrorists-occupied nations – Democratic Republic of Congo and Iraq. Killings of innocent poor citizen and sexual violence by the State soldiers and terrorists have given rise to inhumanity at its worst in our modern era.
The symbolic heinous crime of sexual violence has become the ultimate weapon of war and armed conflict nations. Poor citizen are being exploited forcefully by terrorists and the State soldiers for no faults of theirs. It has become the worst nightmare in this modern world. Lives of the poor do not matter anymore for the Powerful! We are back in the age of barbaric era.
In spite of all the barbarism and killings in the world today, there are always awe-inspiring individuals, who stand tall as the symbol of humanity to take on the mighty without really caring for their lives. Their selfless sacrifices to serve the victims and downtrodden not only bring tears in the eyes but also show the world, how it can become a better place for one and all.
The Norwegian Nobel Committee awarded the Nobel Peace Prize for 2018 to Dr. Denis Mukwege and Nadia Murad for their inspiring selfless efforts to end the use of sexual violence as a weapon of war and armed conflict. The two inspiring individuals have shown immense courage and contributed in focusing their attention in combating war crimes.
Physician Dr. Denis Mukwege has spent large parts of his adult life in the Democratic Republic of Congo helping the victims of sexual violence. Ever since the Panzi Hospital was established in Bukavu in 1999, Dr. Mukwege and his staff have treated thousands of patients. The long-lasting civil war has seen more than 6 million Congolese suffered for no faults of theirs. They have become casualties and victims to satisfy the greed of corrupt and evil dictators of their very own countries.
Dr. Mukwege strongly believes in the basic principle of "Justice is everybody's business". He has been working and combating tirelessly to see the end of sexual violence in war and armed-conflict nations. Without caring for his life, he has been very vocal condemning impunity for mass rape by the Congolese Government and other countries. They have not done enough to stop the use of sexual violence against women and children as 'the evil' strategy and weapon of war.
Nadia Murad has been the unfortunate victim of war crimes like many others. However, unlike other woefully victims, Nadia was and is bold enough to speak out her ordeal rather than remain silent and feel ashamed of the abuses she endured. Nadia's courage to share with the world about what she and many others have undergone has raised questions to the leaders of the world – when will all these heinous barbarism stop?
Nadia Murad and her family lived in the remote village of Kocho in Northen Iraq. She is a member of the Yazidi minority. The IS – Islamic State launched a brutal, systematic attack on the villagers of the Sinjar district in August 2014. IS's aim was to exterminate the Yazidi population. Hundreds of villagers were brutally massacred. Underage children and young women were abducted and held as sex slaves.
During her IS's captivity, Nadia was repeatedly raped and had to endured sexual abuses. Assaulters threatened to kill her, if she did not convert to their inhuman version of Islam. She was one of the unfortunate 3,000 Yazidis, who became IS army's victims of rape and sexual abuse. It was a systematic and part of the military strategy. These victims became a war weapon against the Yazidis and other religious minorities.
Nadia's nightmare lasted for 3 long months, before she managed to escape from IS's captivity. Instead of being silent about her ordeal, Nadia chose to spoke openly about her horrendous experiences. In 2016, Nadia became UN's first Goodwill Ambassador for the Dignity of Survivors of Human Trafficking in 2016. Her ordeal has helped to give greater visibility to war-time sexual violence in the world. She exposed the perpetrators, who can be held accountable for their actions.
The year 2018 marks a decade, since the UN Security Council adopted "Resolution 1820" in 2008. "Resolution 1820 determines that the use of sexual violence as a weapon of war and armed conflict constitutes both, a war crime and a threat to international peace and security. The Rome Statute of 1998, which governs the work of the International Criminal Court, also sets in. The Statute establishes sexual violence in war and armed conflict as a grave violation of international law.
The Nobel Prize Committee stated, "Dr. Denis Mukwege and Nadia Murad have both put their own personal security at risk by courageously combating war crimes and securing justice for victims. They have both helped to give greater visibility to war-time sexual violence." Dr. Mukwege and Murad were recognised for their efforts to end the use of sexual violence, as a weapon in war.
Dr. Mukwege dedicated his award to all women, affected by sexual violence. He disclosed, "I was in the operating room, so when they started to make noise around it, I wasn't really thinking about what was going on. Suddenly some people came in and informed me about the news. This Nobel Peace Prize is recognition of the suffering and the failure to adequately compensate women, who are victims of rape and sexual violence in all countries around the world."
Nadia Murad stated, "Many Yazidis would look upon this award and think of family members, who were lost and are still unaccounted for the 1,300 women and children, who remain in captivity. For myself, I think of my mother, who was murdered by DAESH, the children with whom I grew up, and what we must do to honour them. Persecution of minorities must end. We must work together with determination to prove that genocidal campaigns will not only fail, but also lead to accountability for the perpetrators and justice for the survivors."
Dr. Denis Mukwege:
Denis Mukengere Mukwege was born on the 1st of March 1955. The Congolese gynecologist established and worked in Panzi Hospital in Bukavu. He specializes in the treatment of women, who have been raped by armed rebels. He and his staff have treated more than 30,000 rape victims, since the Second Congo War. He usually worked 18-hour a day to perform as many as 10 operations a day. Dr. Mukwege has spent decades helping rape victims in the Democratic Republic of Congo.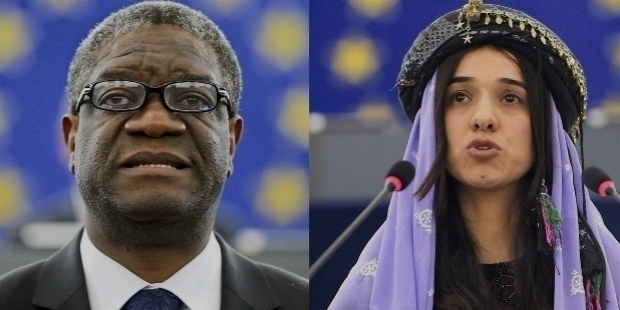 The 63-year-old doctor has been honored with the 2008 UN Human Rights Prize. Dr. Mukwege was named "African of the Year" in 2009 for his human endeavor. He is constantly protected by UN peacekeepers at his hospital.
Dr. Denis Mukwege revealed the horrific beginning of his own experience, "It was in 1999, our first rape victim was brought into the hospital. After being raped, bullets had been fired into her genitals and thighs. I thought, it was a barbaric act of war. However, the real shock came three months later. 45 women came to us with the same story. People came in villages, raped and tortured the women and young girls.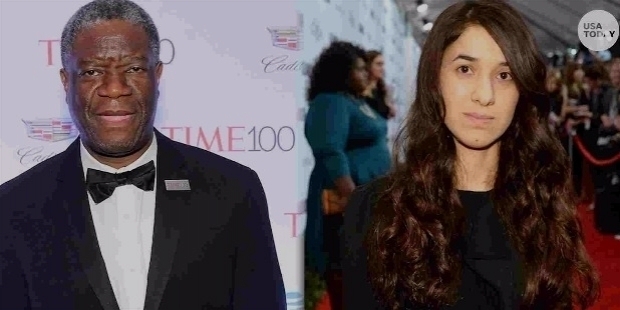 Many women came with burns. They disclosed how they were raped and how chemicals were poured on their genitals. I started to ask myself, what was going on? These weren't just violent acts of war, but part of a strategy. You had situations, where multiple people were raped at the same time, publicly - a whole village might be raped during the night. In doing this, they hurt not just the victims, but also the whole community, which they forced to watch.
The result of this strategy was that people are forced to flee their villages, abandon their fields, their resources and everything. It is very effective!"
Denis was born to a Pentecostal Minister. He was the third child among his nine siblings. He always wanted to heal the sick people, for whom Denis's father always prayed. He studied medicine and witnessed the complications of childbirth experienced by women in the Congo, who had no access to specialist healthcare. In 1983, he graduated from the University of Burundi with a medical degree.
Dr. Mukwege worked as a Pediatrician in the rural Lemera Hospital near Bukavu. Having seeing women patients, who due to the absence of proper care often suffered pain, genital lesions and obstetric fistula after giving birth, Dr. Mukwege went onto study Gynaecology and Obstetrics at the University of Angers in France. In 1989, he completed his medical residency.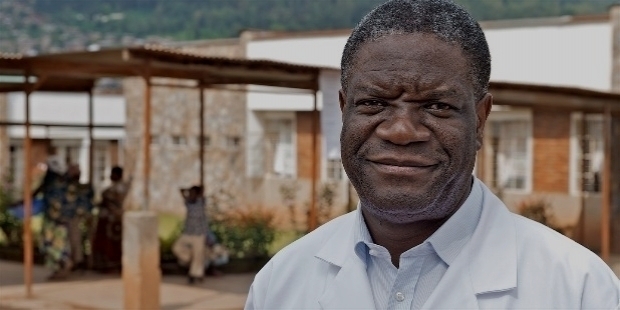 He returned home to continue working at the Lemera Hospital. In 1999, he established the Panzi Hospital in Bukavu after the First Congo War started. The Panzi Hospital has treated more than 85,000 patients with complex gynecological damage and trauma. An estimated 60 percent of the injuries were caused by sexual violence. Most of the patients arrived at the hospital, sometimes naked and usually in horrific conditions.
Dr. Mukwege observed the genital damaging was being used as a 'weapon of war' in the conflict between different armed groups. He devoted himself to reconstructive surgery to help the female victims of sexual violence. DIFAEM – The German Institute for Medical Mission has been a great support for Dr. Mukwege's work, with fundings and medicines.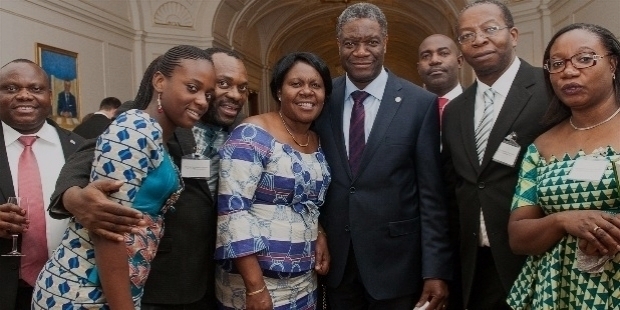 In September 2012, Dr. Denis Mukwege gave a speech at the United Nations. He condemned the mass rape occurring in the Democratic Republic of the Congo. He criticized the Congolese government and other countries for not doing enough to stop an unjust war, which has used violence against women and rape as a strategy of war.
On the 25th of October 2012, four armed men attacked his residence, held his daughters hostage and waited for his return to kill him. Fortunately, he was not at home at that time. When Dr. Mukwege returned home with his guard, the attackers fired to kill his guard. He somehow escaped the assassination attempt. Dr. Mukwege went into exile to live in Europe. His hospital suffered during his exile period.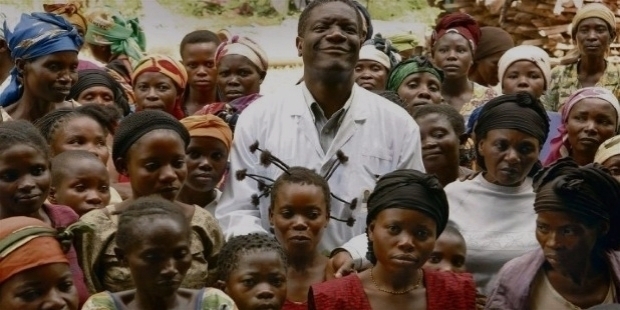 On the 14th of January 2013, he returned home to a warm welcome by hundreds of residents. His patients lined up over the 20-mile stretch, from Kavumu Airport to the city. Dr. Mukwege's patients raised enough funds to pay for his return ticket by selling pineapples and onions. Two years later, Dr. Denis Mukwege earned his Ph.D. from Universite Libre de Bruxelles for his thesis on traumatic fistulas in the Eastern Region of the Democratic Republic of the Congo in 2015.
Nadia Murad:
Nadia Murad Base Taha was born in Kojo village in Sinjar district, Iraq in 1993. Her family was Yazidi ethnoreligious minority farmers. In 2012, Islamic State fighters rounded up the Yazidi community in the village. They killed 600 people, including six of Nadia's brothers and stepbrothers. She was 19 years then. Nadia Murad lost her mother in the genocide. As many as 6,700 Yazidi women were taken prisoners by the Islamic State in Iraq.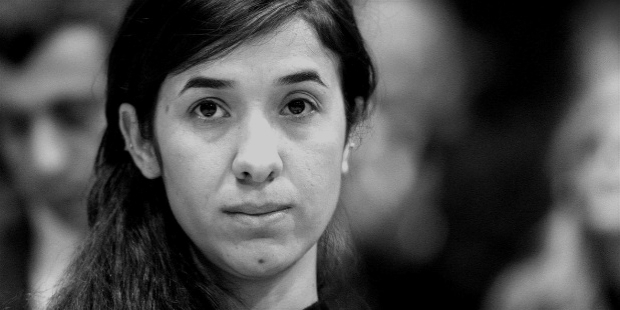 On the 15th of September 2014, Nadia was captured by IS and held as a slave in Mosul city. She was tortured, beaten, burned with cigarettes and raped when Nadia tried to escape. For three longs months, she suffered the ordeal. He managed to escape from her captor's house. A neighboring family helped her to escape the Islamic State-controlled area. Nadia managed to reach the Duhok Refugee Camp in Northern Iraq.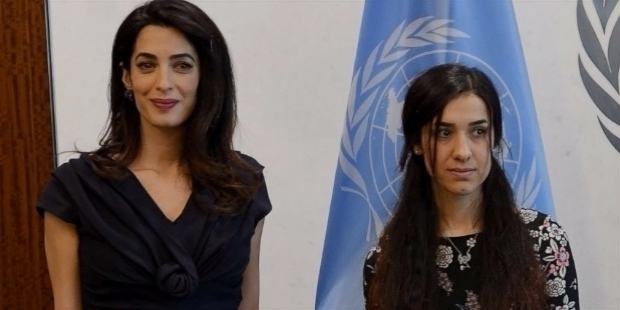 During her captivity, Nadia was bought and sold several times. She was subjected to sexual and physical abuse repeatedly by her captors. After her escape, Nadia became a beacon of light for the Yazidi people. As an activist, she campaigned to help put an end to human trafficking and calling on the world to take a tougher stance on rape as 'the weapon of war'.
In February 2015, Nadia recounted the horror of her experience to the Belgian daily La Libre Belgique in Rwanda Camp. Fortunately, Nadia was one of the 1,000 women and children, who were lucky to benefit from a refugee programme of the Government of Baden-Württemberg, Germany. She currently lives in her new home in Germany.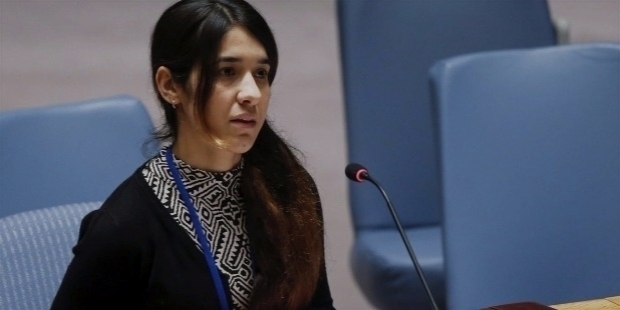 On the 16th of December 2015, Nadia Murad briefed the United Nations Security Council on the issue of human trafficking and conflict. Incidentally, it was the first time the Council was ever briefed on human trafficking. In September 2016, Attorney Amal Clooney spoke before the United Nations Office on Drugs and Crime to discuss her decision in June 2016 to represent Nadia Murad, as a client in a legal action against ISIL commanders.
Amal Clooney characterized the genocide, rape and trafficking by ISIL as a 'bureaucracy of evil on an industrial scale'. She described it as a slave market existing both online, on Facebook and in the Mideast, which is still active today. Even though Nadia has received serious threats for her work, she has shown a greater amount of courage to establish her foundation – Nadia's Initiative. In September 2016, the event was held at an event hosted by Tina Brown in New York City.
Nadia's Initiative will provide advocacy and assistance to victims of genocide. UNODC named Nadia Murad as the first Goodwill Ambassador for the Dignity of Survivors of Human trafficking of the United Nations. She met Pope Francis and Archbishop Gallagher in the Vatican City on the 3rd of May 2017.
Nadia asked them for helping the Yazidis, who were still in ISIS captivity. She even discussed the scope for an autonomous region for minorities in Iraq by highlighting the current situation and challenges facing religious minorities in Iraq and Syria, in particular, the victims and internally displaced people as well as immigrants.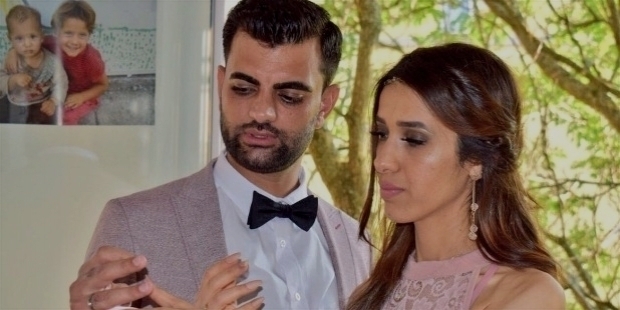 Nadia was awarded the Vaclav Havel Human Rights Prize by the Council of Europe in 2016. She called for an international court to judge crimes committed by IS in her acceptance speech in Strasbourg.
Nadia Murad has etched a new leaf in Iraqi history by becoming the first-ever Iraqi to win the Nobel Peace Prize. Nadia and Abid Shamdeen, a fellow Yazidi Human Rights Activist, were engaged in August 2018.
Want to Be Successful?
Learn Secrets from People Who Already Made It
Please enter valid Email