10 Highest Paid WWE Wrestlers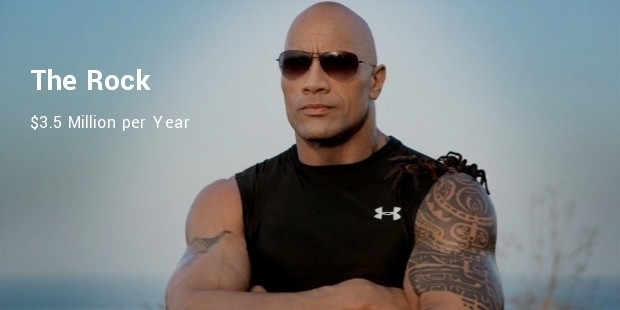 World Wrestling Entertainment (or WWE) is an American privately-owned entertainment entity with annual revenues in millions of dollars. The hulking muscles and the quirky characters still have millions of fans worldwide enthralled with their antics. These WWE wrestlers are paid quite handsomely for the legendary wrestling show.
Let us take a look at the Top 10 Highest Paid WWE Wrestlers:
1. The Rock – $3.5 M/year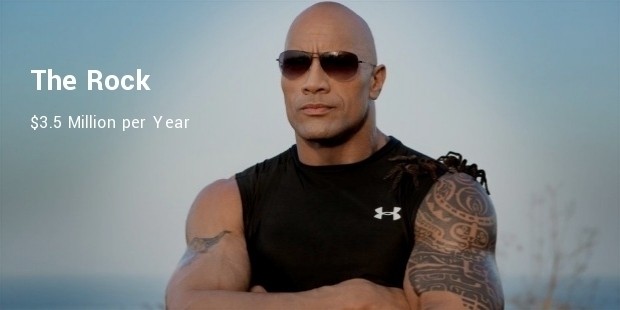 Dwayne "The Rock" Johnson continues to be the highest-ever paid WWE wrestler in the company's history. Although he is a part-time performer with a 3-year contract The Rock gets paid a hefty $3.5M due to his legendary charisma and ever-increasing appeal among fans.
2. John Cena – $2.75M/5 years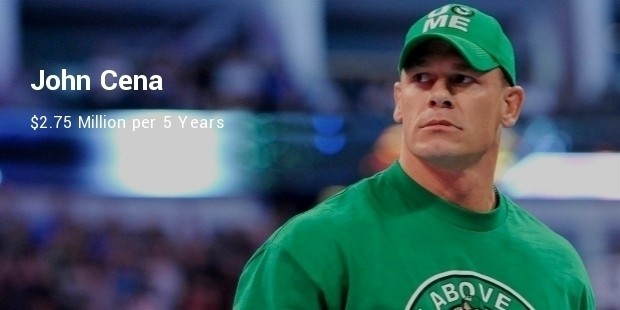 John Cena, being the current most favorite WWE wrestling superstar earns a handsome $2.75M from a 5-year contract along with 7% of earnings from merchandise and PPV. He is described as being a thorough professional who gives his maximum in making every event worth watching for the fans around the world.
3. The Undertaker – $2.25M/year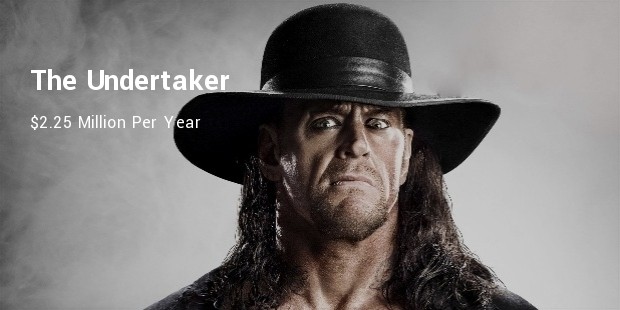 Mark Calaway, better known as The Undertaker, makes an impressive $2.25M each year from a 5-year contract and is a part-time performer at WWE now. He also earns 7% from merchandise sale and a share of revenue from the PPV as well as having paid accommodation and travel.
4. Triple H – $2.12M/year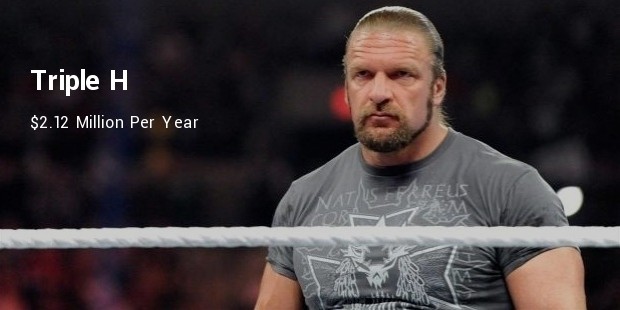 Paul Michael Levesque, popularly known as Triple H, earns around $2.12M each year from a 5-year contract. Besides being a performer he is also the talent contract and a WWE executive which are also lucrative positions.
5. Brock Lesnar – $2.0M/year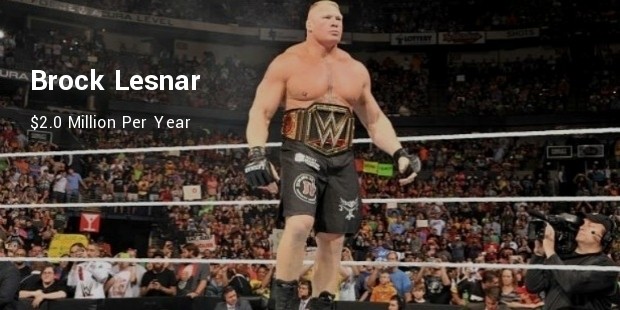 Brock Lesnar is one of the most popular fan-favorite wrestler and no wonder he got $2M each year from a 2-year contract in addition to 3.25% from merchandise sale and revenue share from a PPV event. He also gets free travel and accommodation from the wrestling franchise.
6. Randy Orton – $1.6M/year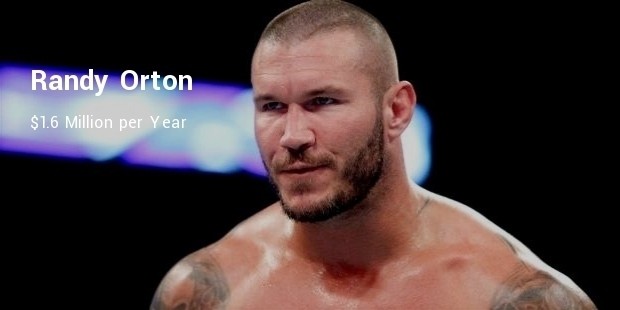 Randy Orton earns $1.6M each year from his 5-year contract as well as a considerable share of revenue from sale of merchandise and PPV events. He also gets perks such as free travel and accommodation. He is known as being a loud mouth and a brash talker.
7. Sheamus – $1.3M/year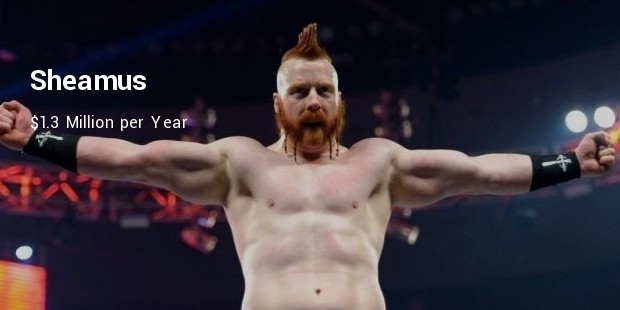 Stephen Farrelly, popularly known as Sheamus, earns a huge $1.3M every year from his 5-year contract with WWE. He is the first Irish-born wrestler in the wrestling franchise and is one of the most watched players in the industry currently.
8. Big Show – $1.2M/year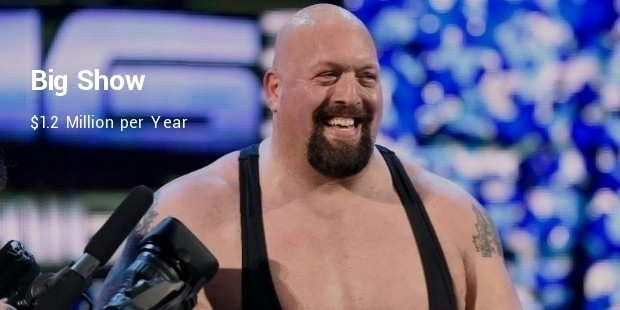 Paul Donald Wight, or The Big Show as he is popularly known as makes an impressive $1.2M every year from his short 3-year contract but is more than compensated with his personal WWE tour bus. This 7-time world champion is a superstar in his own rights.
9. Rey Mysterio Jr – $985,000/year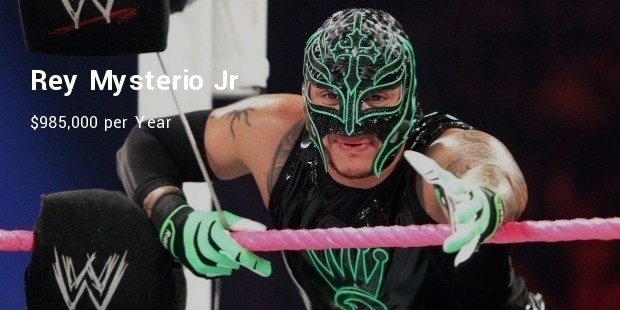 Oscar Gutierrez better known as Rey Mysterio Jr., is a Mexican-American professional WWE wrestler and earned $985,000 each year from his 5-year contract for the wrestling franchise. Apart from this he is also gets paid around 4% of heavy merchandise sale along with paid travel accommodation.
10. Dolph Ziggler – $900,000/year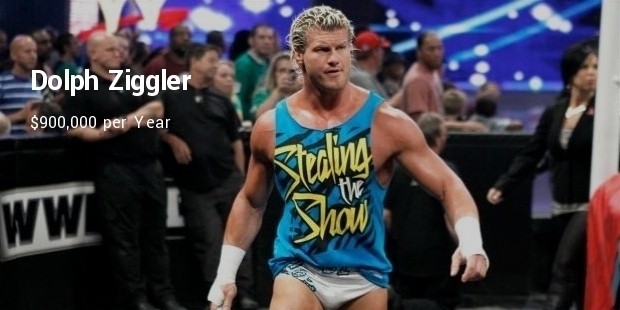 Nick Nemeth, also known as Dolph Ziggler, is a professional American WWE superstar who earns around $900,000 annually from his short 3-year contract with the wrestling franchise. Besides being named as the 'WWE Wrestler of the Year' by the Rolling Stone's magazine, he is also one of the more popular stars.
These wrestling stars provide amazing entertainment with their wrestling and antics and are millionaires in their industries. These wrestlers provide top-class entertainment for their fans worldwide and it is only fitting that these stars get paid like ones.
Want to Be Successful?
Learn Secrets from People Who Already Made It
Please enter valid Email