Magic Spoon SuccessStory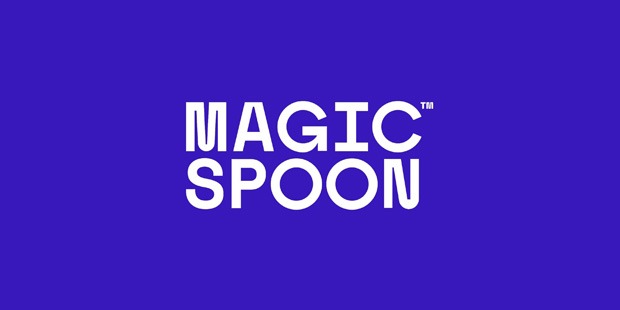 Cereal has always been the cornerstone of every delicious breakfast. But similar to bacon and pancakes, the nutritional value of cereal can be compromised most of the time. Enter Magic Spoon, a new take on delicious yet healthy cereal that has made big waves since its introduction in early 2019.
Company Profile
Magic Spoon is a food company based in New York, New York. It develops and sells gluten-free, grain-free, and keto-friendly cereal.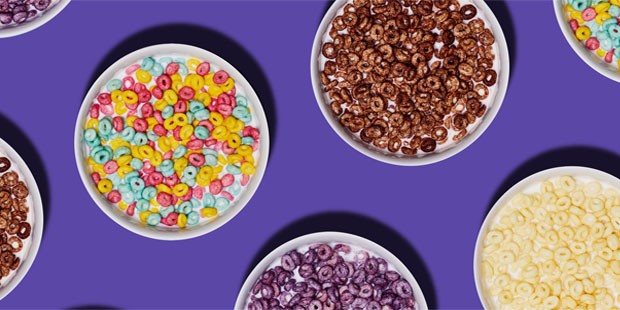 The cereal startup was founded by long-time friends Gabi Lewis and Greg Sewitz. The two had attended college together and also started a company that sold protein bars called "Exo". After "Exo" fizzled, Lewis and Sewitz then ventured into creating another food product: delicious yet nutritious cereal.
Wanting to recreate how cereal is made, Lewis and Sewitz did intensive research for nearly a year on how to develop low carb cereal without all the added sugar and genetically modified organisms (GMOs). They also wanted to provide an alternative for consumers looking for a tastier version of whole grains which, despite having high nutritional content, aren't really known for delivering sumptuous flavors.
The founders eventually found the secret ingredient and soon began selling their products under the "Magic Spoon" brand. Today, Magic Spoon offers eight flavors: fruity cereal, peanut butter, cocoa, cookies & cream, maple waffle, cinnamon, frosted, and blueberry. Customers can either order through a one-time bundle purchase (four boxes) or a monthly subscription (four boxes at a discounted price). As advertised, each flavor comes with 4g net carbs, 13g complete protein, 150 calories, and zero artificial flavors.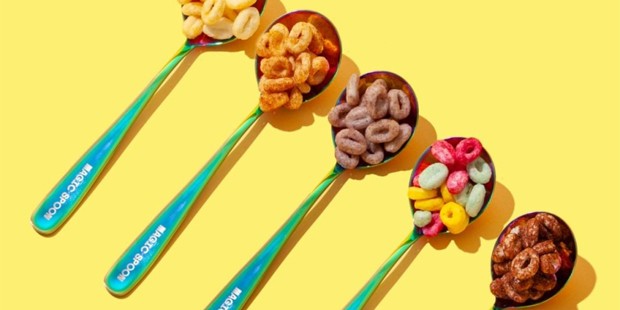 Even with each Magic Spoon cereal box order costing $40 ($10 per flavor), more expensive than well-known cereal such as Froot Loops and Frosted Flakes, this hasn't stopped customers from making a purchase, with some even buying multiple boxes at the same time. The company, which has so far raised $16.5 million, has also invested heavily in marketing (particularly influencer and social media marketing) to lure in more consumers to try out the healthy cereal.
Magic Spoon is headquartered in John Street, New York City and employs around 30 employees.
Industry Profile
The global breakfast cereal market, whether it be for sweet or healthy cereal, is expected to grow significantly through 2025, averaging a 4.3 percent annual growth rate. By then, the market is expected to be worth around $37 billion.
History
In April 2019, Gabi Lewis and Greg Sewitz founded Magic Spoon. They had previously launched cricket protein bar Exo.
A few months later, Lewis and Sewitz raised $5.5 million in seed funding led by Lightspeed Venture Partners.
In 2021, Magic Spoon had raised $16.5 million in funding from Collaborative Fund, Wild Ventures, DGNL Ventures, Allbirds co-founder Joey Zwillinger, Harry's co-founder Jeff Raider, and Warby co-founders Dave Gilboa and Neil Blumenthal, among others. Wild Ventures founder John Durant previously invested in the duo's Exo business.
Around the same time, the startup introduced two new limited-edition flavors, chocolate peanut butter and jelly donut, in collaboration with the cast of TikTok reality series "Sway House".
Founders
Gabi Lewis and Greg Sewitz both graduated from Brown University in 2013, with Lewis obtaining a degree in Economics & Philosophy while Sewitz finished with a degree in Cognitive Neuroscience. Their work at Exo earned them a spot in the Forbes 30 Under 30 list in 2016.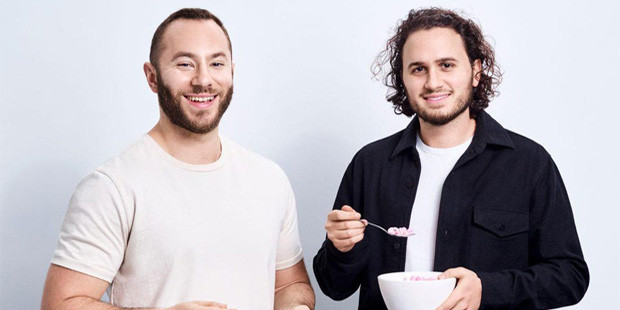 With Magic Spoon mostly receiving public approval, the founders are looking to build on the momentum. In a recent interview, the duo mentioned they've "awoken a sleepy category in the food industry and look to entirely transform the industry with a nutritious and flavorful cereal." Additionally, they are also "looking at adding new flavors to their current catalog due to increasing customer demand."
Revenue
Magic Spoon has not released revenue numbers since launching in 2019.
Competition
Magic Spoon faces competition from two established U.S. food companies: Kellogg's and General Mills. Kellogg's is the maker of popular cereal Froot Loops and Frosted Flakes while General Mills is the maker of Cocoa Puffs.
Also known as the Kellogg Company, Kellogg's was founded in 1906 and is headquartered in Battle Creek, Michigan. Aside from cereal, it also makes other convenience foods such as crackers and toaster pastries, among others. Corn Flakes, Pringles, Eggo, and Cheez-It all sell under the Kellogg's brand. The company operates in over 180 countries and also holds an exclusive supplier deal (also called a "royal warrant") with Queen Elizabeth II.
Founded in 1866, General Mills is headquartered in Minneapolis, Minnesota and is the maker of numerous consumer goods. Some of its popular brands include Annie's Homegrown, Betty Crocker, Yoplait, Colombo, Totino's, Pillsbury, Old El Paso, Haagen-Dazs, Cheerios, Trix, and Lucky Charms. The company also operates in 30 countries outside the United States.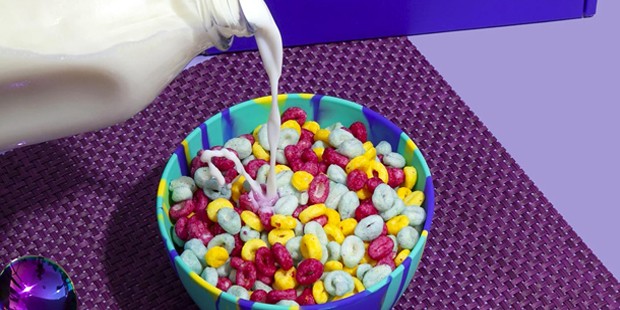 Depending on the box size, each Froot Loops, Frosted Flakes, and Cocoa Puffs box sells between $3 to $5. Although they cost less than Magic Spoon, they contain fewer nutrients. Each Magic Spoon box contains 4g of net carbs and 12g of protein while Froot Loops, Frosted Flakes, and Cocoa Puffs contain 21g, 24g, and 23g of carbs and less than 2g of protein respectively.
In Closing
Magic Spoon became one of the biggest revelations of 2019. Although it isn't the first time that gluten free and keto friendly foods have entered the industry, it appears that Magic Spoon will look to create a name for itself in the world of cereal.
Full Name :

magic spoon
Founded :

2019
Founder :

Gabi Lewis & Greg Sewitz
CEO :

Greg Sewitz
Industry :
Sector :
Country :

USA
Website :
Want to Be Successful?
Learn Secrets from People Who Already Made It
Please enter valid Email