Howard Schultz Quotes
Howard Schultz is a remarkable entrepreneur by any measure. Mr. Schultz has written two outstanding books on entrepreneurship and what it takes to build a company that values it's employees as much as its shareholders. But we admire him most for his willingness to give all of his employees (including part timers) health care benefits and stock options—something he has insisted on even as the economic downturn hurt Starbuck's. Howard has a very inspirational and encouraging message for budding entrepreneurs to enable face the challenges.
Dream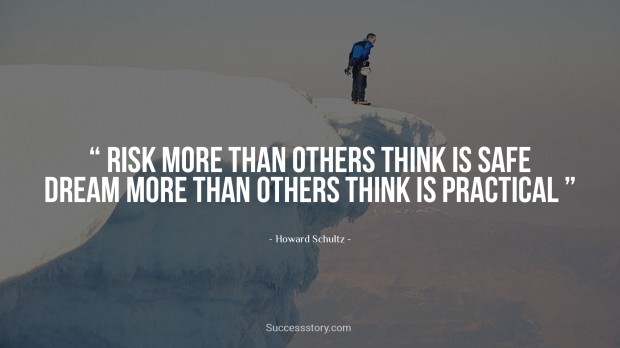 "Risk more than others think is safe. Dream more than others think is practical."
There are moments in our lives when we summon the courage to make choices that go against reason, against common sense and the wise counsel of people we trust. But we lean forward nonetheless because, despite all risks and rational argument, we believe that the path we are choosing is right and best thing to do. We refuse to be bystanders, even if we do not know exactly where our actions will lead. Dream more than others think practical. Expect more than others think possible. Care more than others think wise. In times of adversity and change, we really discover who we are and what we're made of.
In this ever-changing society, the most powerful and enduring brands are built from the heart. They are real and sustainable. Their foundations are stronger because they are built with the strength of the human spirit, not an ad campaign. The companies that are lasting are those that are authentic. If you want to build a great enterprise, you have to have the courage to dream great dreams. If you dream small dreams, you may succeed in building something small. For many people, that is enough. But if you want to achieve widespread impact and lasting value, be bold.
Want to Be Successful?
Learn Secrets from People Who Already Made It
Please enter valid Email