Amazing Quotes By David Rockefeller
David Rockefeller is a 100-year-old American banker who also played the role of chief executive and chairman of Chase Manhattan Corporation. David is the sole surviving child of grandchild of Laura Spellman Rockefeller and John D. Rockefeller and the sole surviving son of John D. Rockefeller Jr. This brilliant man acquired several degrees from prestigious universities like Harvard and the London School of Economics. David encourages people to be kind and caring towards others and is strongly against incivility.
Success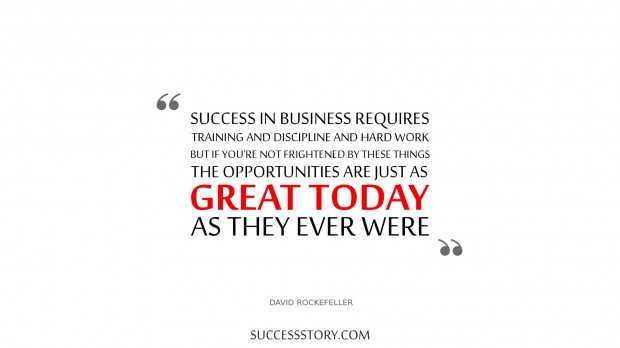 "Success in business requires training and discipline and hard work. But if you're not frightened by these things, the opportunities are just as great today as they ever were"
John De Rockefeller-the wealthiest man in the American history was a person who revolutionized the petroleum industry. He also gave a new meaning for the word philanthropy. He had a wealth of about 1 billion dollars during 1916 which made him the second richest in the US next to Andrew Carnegie.
He established the Standard Oil company along with a few other partners in 1870. His wealth at the time of his death amounted to about 336 billion dollars, which he earned from the Standard Oil company. It was a petroleum refinery and the company shipped petroleum and kerosene to other parts of the world. Talking about his achievements in the education field, he established two universities, namely the University of Chicago and Rockefeller university.
He was a staunch believer of the American Baptist Convention and assisted many institutions, which was founded by the Churches. He strongly believed that the key to success is the belief in God or the religion which takes us to the kingdom of God. We can say that he believed in the Charles Darwin's theory because he said that business is nothing but the survival of the fittest.
This philanthropist and a successful person had left us a lot of valuable things in the form of words for us to understand and latch onto. He says that the best quality to succeed in your endeavor is to continue doing till you succeed. Perseverance will lead us to success. He also has said that charity should be seen as an investment. The more we give, the more we invest. Usually, investment in the form of money will fetch profit in the form of additional money. But this kind of investment brings blessings along with it.
Famous for his quotes on life and art related quotes. David himself was passionate about art and design. Even at his age, David still continues to be an active banker as well as a statesman. David has won numerous awards some of which include the prestigious Presidential Medal of Freedom, Andrew Carnegie Medal of Philanthropy, French Legion Honor, National Institute of Social Sciences Gold Medal Award and several noteworthy and prestigious awards.
Want to Be Successful?
Learn Secrets from People Who Already Made It
Please enter valid Email