Charles Kettering Quotes
Charles Kettering's quotes have inspired many people around the world. He was an American inventor, engineer, and businessman who made important discoveries in the field of engineering and motor engines, including the all important engine ignition system. He was able to achieve success in his area of study despite depression caused by severe eye problems.
Fail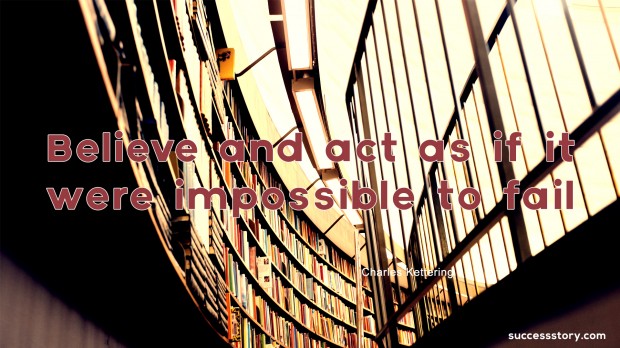 "Believe and act as if it were impossible to fail"
Charles Kettering's inventions have had considerable influence in the development of motor vehicles through decades. He subsequently increased his net worth considerably. As a result, he was able to leave a legacy that went beyond his inventions and business. He made significant financial contributions to healthcare research, including founding the Memorial Sloan Kettering Cancer Center. Kettering University was also named after him. Kettering's family continued his charity work after his death in 1958.
Charles Kettering's quotes are striking in their motivational qualities. He believed firmly in not giving up, noting that failure is part of the road towards success. As an inventor, he believed in trying again and again until success is achieved. He encouraged people to set high expectations of themselves as a way of enhancing their chances of success. Kettering also urged people to be positive and to focus on tomorrow. He also viewed problems as prerequisites to progress, implying that without problem solving, we would remain static.
Many people have therefore been motivated by Kettering's quotes. His own life is an inspiration, as he was able to succeed despite early difficulties.
Want to Be Successful?
Learn Secrets from People Who Already Made It
Please enter valid Email