Zhang Yufei SuccessStory
Dubbed as China's "Butterfly Queen", Zhang Yufei has lived up to that nickname by dominating in butterfly events in numerous international swimming competitions. She once again showed her dominance in the Tokyo Olympics, now becoming one of China's most successful swimmers at the young age of 23.
Childhood
Zhang Yufei was born in Xuzhou in the province of Jiangsu, China on April 19, 1998. She mostly lived a childhood life in the Xuzhou area but already set her sights on swimming even at a young age.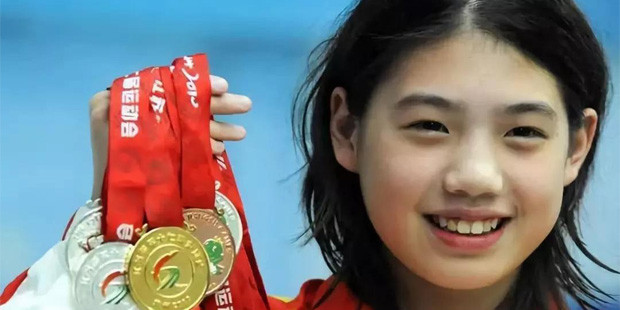 Influenced by her mother who was an amateur swimmer, it didn't take long before Zhang took up swimming as a hobby and eventually a profession. Her mother was her first-ever coach.
Early Career
Zhang began her training at the age of three and joined the Jiangsu Swimming Team two years later where she officially commenced professional training. She soon started competing in numerous events and was slowly becoming a swimming star even before turning 10 years old. As she progressed through different age brackets, she broke records along the way with some still attached to her name today.
Senior Career
In 2007 at the age of 14, Zhang beat 2008 Olympic gold medalist Liu Zige in the 2012 FINA World Cup 200m butterfly event. The win resulted in Zhang being chosen as part of China's national swimming team a few months later.
Zhang made her international debut in the 2014 Summer Youth Olympics in Nanjing, China and won five medals in her first appearance on the global stage. She won three gold medals and two silvers, including a gold for the 4x100m medley relay where she helped her team achieve a junior world record. Although she settled for silver in her two individual events, she won gold in two other group events including the 4x100m freestyle relay and mixed 4x100m medley.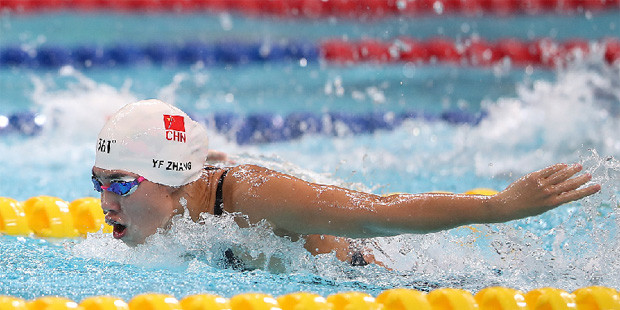 A few months later, Zhang led the Chinese team with a thrilling victory in the 2014 Asian Games in Incheon, South Korea. She set a 54.10 split on the third leg of the women's 4x100m freestyle relay, placing her team ahead and eventually finishing with a time of 3:37:25.
During the 2015 FINA World Championships in Kazan, Russia, she won an individual bronze in the 200m butterfly and a group bronze in the women's 4x200m freestyle relay. She finished with a time of 2:06.51 during her individual event (slightly lower than her previous junior record) and a combined time of 7:49.10 in the group event.
Within the next six years, Zhang continued her ascend to the top. She improved her medal haul with a strong performance in the 2018 Asian Games in Jakarta, Indonesia, winning two golds and a silver. She won gold medals in the 200m butterfly (2:06.61 time) and mixed 4×100m medley and finished with a silver in the 100m butterfly.
2020 Tokyo Olympics
At the age of 23, Zhang made her Olympic debut in the 2020 Tokyo Olympics. Despite the Olympic Games postponed for a full year due to the Coronavirus pandemic, it managed to push through with a new summer 2021 schedule. All swimming events were held in the Tokyo Aquatics Centre inside Tatsumi Seaside Park. With the Coronavirus pandemic still causing rapid infections around the country, only athletes and staff were allowed inside the different Olympic venues including the Tokyo Aquatics Centre.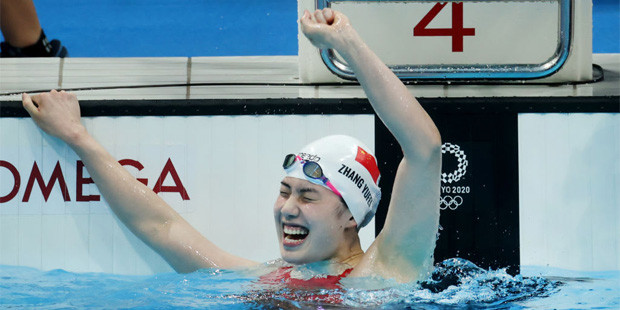 Zhang breezed through the preliminaries and semifinals of the women's 100m butterfly after being seeded first. The momentum carried over in the final where she finished with a silver medal, touching at 55.64 which was only .05 behind Canadian Maggie MacNeil.
Zhang then secured her first two Olympic gold medals in quick succession, triumphing in the women's 200m butterfly and the women's 4x200m freestyle relay a few minutes later. She also set the Olympic and world records after winning the two events.
During the 200m butterfly, Zhang again moved easily through the prelims and semifinals before dominating in the final. She immediately sped out after the opening horn, touching at 26.9 at the 50 and 58.2 in at the 100. She developed a strong lead early and never looked back, eventually finishing at 2:03:86 setting a new Olympic record in the process.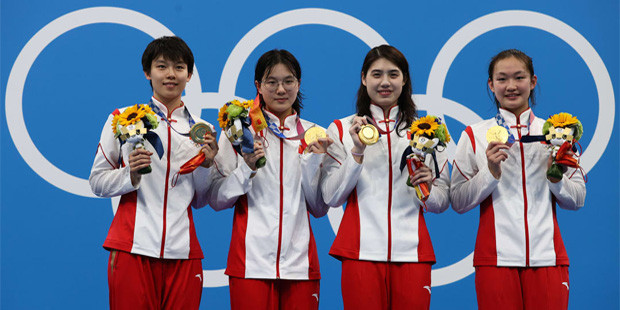 Zhang captured her second gold 30 minutes later in the 4x200m freestyle relay, splitting 1:55.66 on the 3rd leg and finishing with a time of 7:40.33, a new world record. She finished her historic Olympic debut with a silver in the 4x100m medley relay, equaling controversial Chinese swimmer Sun Yang who holds a record of four medals in a single Olympics. Already considered as one of her country's greatest swimmers, Zhang has the opportunity to surpass Sun's record if she competes in the 2024 Paris Games.
In Closing
An Olympic run for the ages, China's Butterfly Queen has cemented herself as one of the best athletes in her sport. But it's not over yet for the 23 year old as she looks to gain even greater success with more competitions lined up in the future.
Want to Be Successful?
Learn Secrets from People Who Already Made It
Please enter valid Email