Sunisa Lee SuccessStory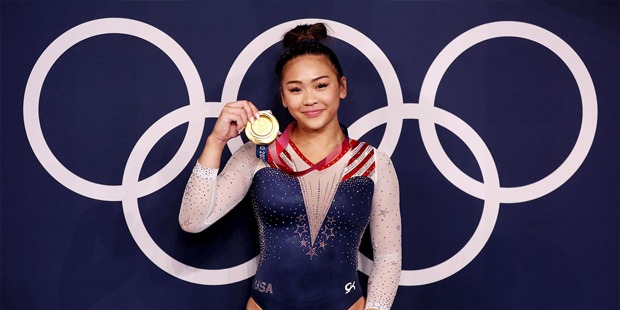 The Olympics has become an avenue where sporting heroes are born. From swimmers Mark Spitz and Michael Phelps to gymnasts Sawao Kato and Larisa Latynina, these athletes give it all on the line and make tremendous sacrifices just to achieve Olympic glory. The spotlight again shines on the world's best athletes at the 2020 Tokyo Olympics, with the spotlight even brighter for American gymnast Sunisa Lee. At only 18 years old, she already has three medals, including a gold, and is already making waves to become the next face of USA gymnastics.
Childhood and Education
Sunisa "Suni" Lee was born in St. Paul in the state of Minnesota, the United States on March 9, 2003. Born as Sunisa Phabsomphou, she is of Hmong descent with her family originating from Laos. Her parents migrated to the U.S. after the Vietnam War erupted in the 1960s.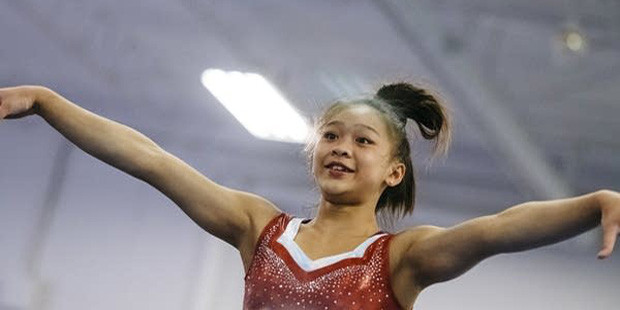 At a young age, Lee already developed a great interest in gymnastics. She began training at the Midwest Gymnastics Center in Little Canada which is a short ride from her hometown. She trains in the facility up to this day. She graduated from South St. Paul Secondary and is currently finishing college at Auburn University on a gymnastics scholarship.
Early Career
In around a year after beginning training at the age of six, Lee started joining numerous competitions. She moved three levels at eight years old and already qualified as a junior elite at the age of 11.
Lee made her junior elite debut at the 2016 U.S. Classic and qualified for the U.S. junior team a year later. She competed in her first international competition during the Gymnix International Junior Cup, with the U.S. winning the gold medal in the team event. Lee also nabbed her first international medal after winning a silver medal on uneven bars.
Lee then competed in the 2018 Pacific Rim Gymnastics Championships where she won the gold medal for the U.S. team. She also won the silver medal on vault, balance beam, and floor exercise, as well as finishing 4th in the all-around.
After suffering an injury that forced her to withdraw from the Pan American Junior Championships, she managed to compete in two succeeding tournaments: the 2018 U.S. Classic and the 2018 U.S. National Championships. She finished 5th in the all-around during the U.S. classic and won a bronze medal in the all-around during the national championships.
Senior Career
In early 2019 at the age of 16, Lee made her senior debut at the City of Jesolo Trophy competition in Jesolo, Italy. She scored three medals in her impressive debut including two golds (all-around and bars and floor) and a bronze (beam).
Lee then competed in her second national championships, securing three medals including a gold medal on bars, a silver in the all-around, and a bronze on floor. Her strong performance just behind decorated gymnast and 2016 Olympic gold medalist Simone Biles earned her a spot in the U.S. national team. Her performance also garnered strong praise as her father suffered a serious spinal cord injury a few days before the competition.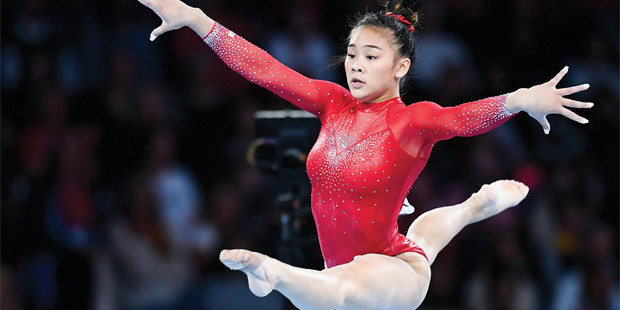 Lee carried her strong momentum into the world championships, winning silver on floor and bronze on uneven bars as well as helping Team USA secure a gold medal in the uneven bars, balance beam, and floor exercise team final. She was instrumental in helping the United States qualify for the team final which finished five points ahead of second-place China.
With the majority of 2020 causing a major disruption in the sporting world due to the Coronavirus pandemic, Lee's career was put on hold much like most athletes from around the world. She even contemplated retirement after injuring her ankle and lost two relatives to COVID-19.
Lee persevered and was back competing in the 2021 Winter Cup held in February. A few months later, she competed in the national championships where she finished second in the all-around behind Biles. She also placed first on the uneven bars and second on the balance beam, earning her a spot in the Olympic gymnastic trials (Olympic Trials).
During the trials, she finished second which earned her an automatic qualification in the U.S. gymnastics team together with Biles, Jordan Chiles, and Grace McCallum. She hit all four of her routines (15.300 uneven bars score) on the first day and again all her routines on the second day (58.166 score).
2020 Tokyo Olympics
The Tokyo Olympics would push through 12 months after it was originally postponed. Held in the last week of July 2021 over a two-week period, these Olympics would be absent of the loud and vibrant energy from previous Summer Games due to the implementation of strict health and safety protocols.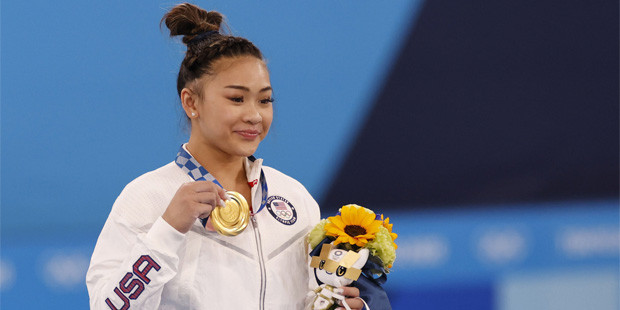 With Biles withdrawing from most of her events due to mental health issues, the U.S. Olympics gymnastics team placed its hopes on 18-year old Lee to bring gold to the country. Lee started strong, hitting all four routines securing a team final qualification for U.S. women's gymnastics. She also advanced to the uneven bars and balance beam finals.
Lee hit all three of her routines after replacing Biles on the floor exercise, eventually helping the team finish with a silver medal behind the Russian Olympic Committee (ROC). She then won her first-ever Olympic gold medal after hitting all four routines during the all-around final. She is only the sixth American as well as the first athlete of Asian and Hmong-American heritage to win the event.
After her historic victory, Lee wasn't done winning as she also secured a bronze medal in the uneven bars final.
Personal Life
Lee has five siblings with her sister Evionn also competing in artistic gymnastics. Her father John Lee and mother Yeev Thoj met in Laos before fleeing the country when she was only an infant.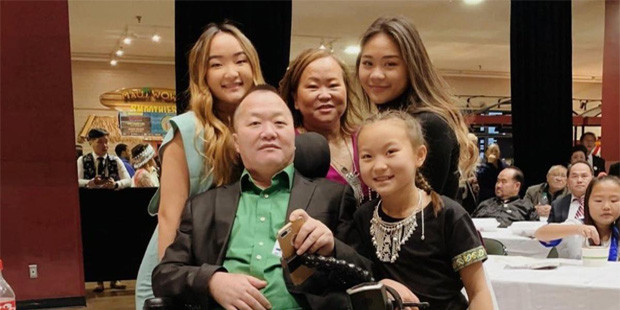 Minnesota Governor Tim Walz officially declared July 30 as "Sunisa Lee Day" after Lee's gold medal victory in the Olympics.
In Closing
With Sunisa Lee leading the way, U.S. Gymnastics has a very bright future. And as long as she keeps competing at a high level, it won't be long before she'll be considered as one of the greatest Olympians that ever lived.
Want to Be Successful?
Learn Secrets from People Who Already Made It
Please enter valid Email