Nikola Jokic SuccessStory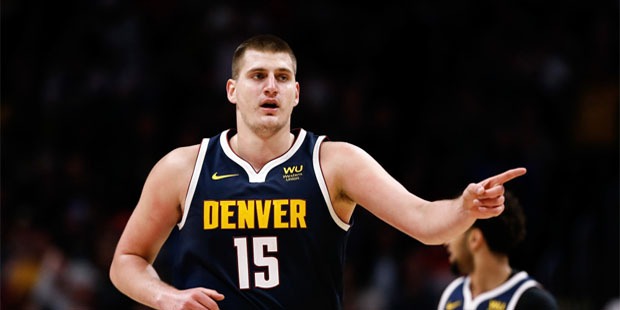 Over the years, great big men such as Bill Russell, Wilt Chamberlain, Hakeem Olajuwon, and Shaquille O'Neal have all left their footprints in the National Basketball Association (NBA). One player that looks to continue the tradition is Denver Nuggets center Nikola Jokic (also dubbed as "The Joker") who is nearly averaging a triple-double in the 2020-2021 season and was recently named the league's most valuable player.
Childhood
Nikola Jokic was born in the city of Sombor, Serbia on February 19, 1995. He spent most of his childhood in Sombor with his two brothers, parents, and grandmother. Even at a young age, Jokic already developed a love for basketball and was regularly playing with his older brothers.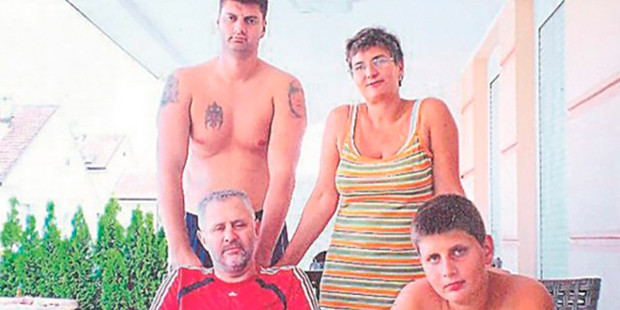 Jokic would eventually choose basketball as a career path and started playing professionally at a young age. After gaining attention while playing for the Vojvodina Srbijagas youth team, Jokic was signed by top Serbian team Mega Basket. He made his senior men's team debut in 2013 and began making regular appearances for Mega Basket in the Serbian League and Adriatic Basketball Association (ABA) League. In over 25 ABA games, Jokic averaged 11.4 points, 6.4 rebounds, and 2.5 assists per game.
Entering the NBA
After the conclusion of the 2013-2014 Serbian and Adriatic Leagues, Jokic declared for the NBA Draft where he was selected 41st overall. In a talent-rich draft class comprising of future All-Stars (Joel Embiid, Zach Lavine, and Julius Randle) and reliable role players (Marcus Smart, Aaron Gordon, and Andrew Wiggins), Jokic was never considered a big prospect. Bosnian native Nurkic was also drafted by the Nuggets with the 16th pick.
Some of the reasons why the Serbian big man fell so low in the draft was his lack of athleticism and speed; two qualities that have become a must in modern basketball. And adding to the lack of spotlight during draft day, Jokic's selection wasn't even aired unlike most of his fellow draftees.
Jokic didn't immediately suit up for the Nuggets and instead returned to Serbia to resume his career with Mega Basket. Upon his return, Jokic nearly doubled his production for the Serbian team ending the 2014-2015 season with averages of 18.4 points, 10.4 rebounds, and 2.7 assists per game. He also shot 56% from the field and was named the ABA League Top Prospect.
Jokic returned to the U.S. just in time for the NBA Summer League and later made his official NBA debut in October 2015 against the Houston Rockets. At the end of his rookie season, Jokic finished with averages of 10 points and seven rebounds and was selected in the NBA All-Rookie First Team. He was also third in Rookie of the Year voting.
In the next few seasons, Jokic upped his production tremendously and supplanted fellow European big man Jusuf Nurkic as the Nuggets starting center. Nurkic was traded to the Portland Trailblazers in February 2017. Between 2016 and 2018, Nurkic averaged nearly 18 points, 9 rebounds, and 9 assists per game. He also put up 16 triple-doubles in the same two-year time span.
Breakout Season
The spotlight started to shine on Jokic during the 2018-2019 season. His unorthodox play, being the primary playmaker and scorer on offense while also being a defensive anchor on defense, has never been seen in the past even from some of the best centers to ever play the game such as Russell, Chamberlain, and O'Neal. Jokic's lack of athleticism has also become a non-issue with the Nuggets offense going through the Serbian big man on most plays. When not facilitating, he takes up most of the scoring load through post-up and mid-range baskets. He also scores the occasional three-pointer every now and then.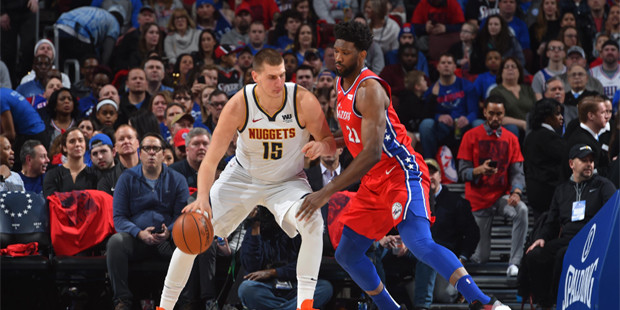 Jokic made his first All-Star appearance and became the first Nuggets player since Carmelo Anthony in 2011 to be selected on the All-Star team. By the end of the season, he averaged 20.1 points, 10.8 rebounds, and 7.3 assists while being selected in the All-NBA First Team. He also finished the season (including the playoffs) with 16 triple-doubles.
During the COVID-struck 2019-2020 season, Jokic maintained his strong play and was selected for his second All-Star appearance. Jokic and Murray then led the Nuggets to an impressive postseason run wherein the team had to overcome two 3-1 deficits against the Utah Jazz and Los Angeles Clippers in the early rounds. The Nuggets reached the Western Conference Finals but would succumb to the eventual champions Los Angeles Lakers in five games. Murray, in particular, tallied two 50-point games against the Jazz and a 40-point game against the Clippers.
Most Valuable Player
After the Nuggets' impressive playoff run, they established themselves as championship contenders the following season. Jokic again led the team in scoring, rebounds, and assists especially after Murray suffered a season-ending ACL injury in April. With many predicting the Nuggets to slide down in the Western Conference standings, the team managed to stay afloat mainly due to Jokic's contributions.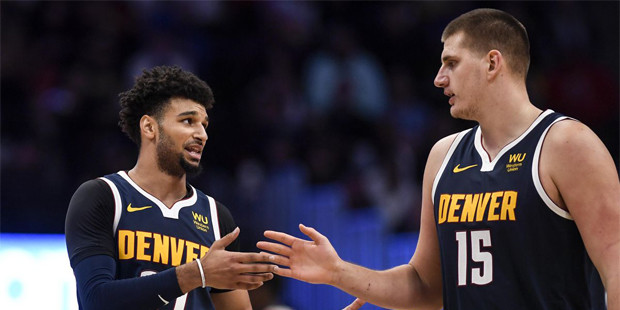 In June 2021, Jokic received his first-ever Most Valuable Player trophy, becoming the lowest draft pick and only the fifth non-American basketball player to win the MVP award. He averaged 26.4 points, 10.8 rebounds, and 8.3 assists during the regular season, increasing his offensive and defensive numbers as the season went on. He also finished with 60 double-doubles and 16 triple-doubles, second-most in the association only behind triple double king and former MVP Russell Westbrook.
"I couldn't do it by myself. It's an individual award, but it's the effort of everybody," said Jokic during the awarding ceremony. Nuggets coach Michael Malone who had coached Jokic since his rookie year also said the award would be the "first of many" in the big man's career. The majority of the voting panel selected Jokic as the MVP (91 out of 100 first-place votes), followed by Philadelphia 76ers center Joel Embiid, and then Golden State Warriors guard and former two-time NBA MVP Stephen Curry.
Personal Life
Jokic married his long-time girlfriend Natalija Macesic in October 2020. The marriage took place in his hometown of Sombor. His two brothers Strahinja and Nemanja also played professional basketball with Strahinja playing in Europe while Nemanja played for the University of Detroit Mercy.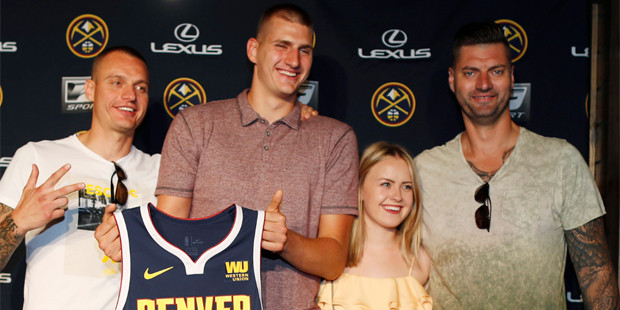 In Closing
The Joker has had an impressive career so far. But it should also be noted that his success story is also inspiring— having a frame that isn't common for a typical NBA player yet still finding ways to dominate opposing teams on a regular basis.
Full Name :

Nikola Jokic
Born :

19th-Feb -1995
Zodiac Sign :
Birth Place :

Sombor
Occupation :
Industry :
Networth :

$30 Million
Want to Be Successful?
Learn Secrets from People Who Already Made It
Please enter valid Email