Brazilian Marta Creates History at 8th FIFA Women's World Cup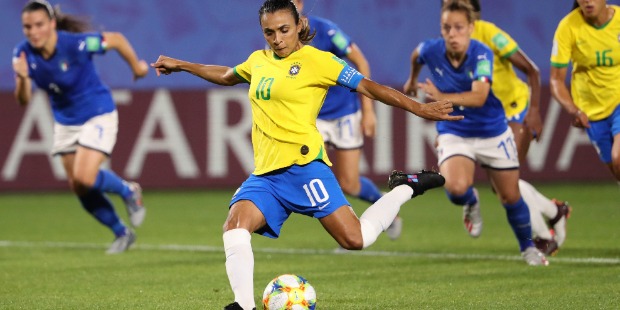 Brazilian footballer Marta Vieira da Silva, popularly known as MARTA created history at the 8th FIFA Women's World Cup in France by breaking the record of German forward Miroslav Klose's 16 goals. Marta became the all-time leading goal scorer magnificently by scoring her 17th World Cup goals against Italy. Marta has been in the Brazilian National Team in the last five World Cups. In all likelihood, this World Cup will be Marta's last. It will be interesting to see, who will break her 17-goal World Cup Record – a man or a woman!
In the year 1991, the first FIFA Women's World Cup was held in China. The inaugural tournament was called the FIFA Women's World Championship. The tournament is held every four years. The US women's team has won the FIFA Women's World Cup thrice in 1991, 1999 and 2015. Germany is the only team, which has won consecutive titles in the year 2003 and 2007. Norway won the second World Cup in 1995. The 2011 title was won by Japan.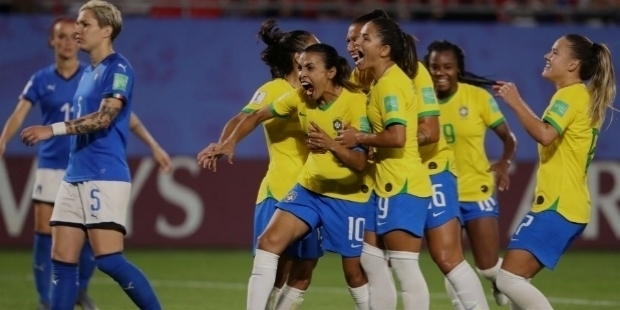 China and the United States are the only ones, who have hosted the tournament twice. Germany, Canada, Sweden and France have each hosted the tournament once. The 2019 FIFA Women's World Cup has been a low-key affair unlike the previous seven editions. It is surprising that even the French people are unaware of the ongoing month-long tournament.
There has been a low turnout at various matches being played in nine cities of France. Parc Olympique Lyonnais will host the final match on the 7th of July 2019. For the very first time VAR – Video Assistant Refree has been introduced in this World Cup.
All-Time Leading Goal Scorer:
Marta Vieira da Silva has been part and parcel of the Brazilian National Team for the last five FIFA Women's World Cups. The 33-year-young Brazilian became the all-time FIFA World Cup leading goal scorer, when she scored the penalty against Italy on the 19th of June 2019. She is the first player, male or female, to break the previous record of 16 goals held by German forward Miroslav Klose. Marta celebrated the superb moment by kissing her boot.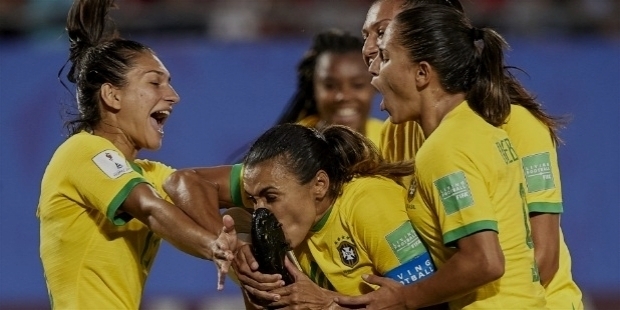 Marta's amazing success will be etched in the history books of FIFA World Cup. Her 74th minute penalty gave Brazil victory to make it to the last 16 of the Women's World Cup. It is sad that Marta cannot score any more World Cup goals this year, because Brazil lost to France 1-2 in the round of 16 on the 23rd of June 2019. It would be interesting to see, if Marta would return at the next FIFA Women's World Cup in 2023.
In the last five FIFA Women's World Cups – 2003, 2007, 2011, 2015 and 2019 Marta has remained the most prolific goal scorer in the FIFA World Cup finals' history by scoring an amazing 17 goals for her nation. Her teammate Formiga also holds the unusual World Record being the only player to have appeared in 7 FIFA Women's World Cup – from 1995 to 2019.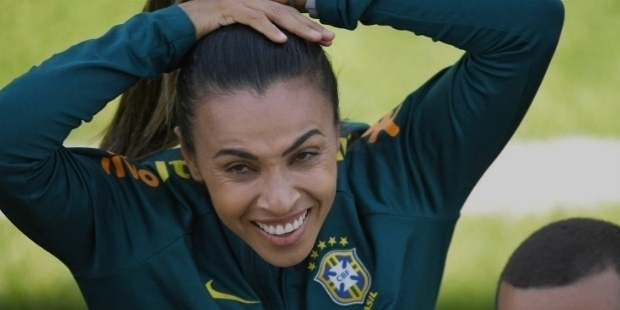 Marta has won the 'FIFA Player of the Year' award five times. The Brazilian football sensation is highly respected and regarded as the greatest woman to ever play the game. In Brazil, she has been nicknamed as 'Pelé with skirts' and it has been acknowledged by none other than the football legend Pelé.
In her first FIFA Women's World Cup appearance, Marta scored three goals in the year 2003. The 2007 FIFA Women's World Cup held in China was Marta's most successful one in terms of scoring goals. She netted the ball seven times. In 2011, she scored four goals followed by just one goal in 2015. At the 8th edition of FIFA Women's World Cup, Marta scored two goals. In total, Marta's 17 goals came from 19 matches, she played for her Brazil.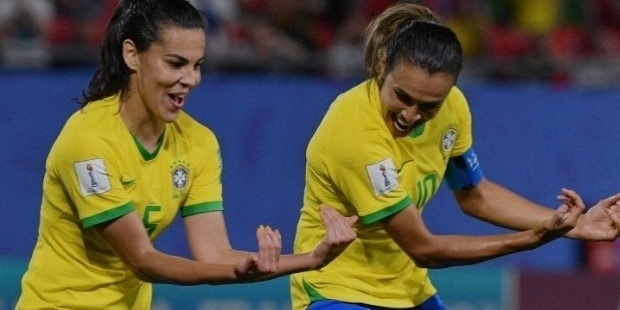 Brazilian football legend Pelé, the three-time FIFA World Cup winner has 12 goals to his credit. Ronaldo has to his credit a total of 15 World Cup goals. Marta has surpassed both these legends. Marta also holds the world record for becoming the first-ever woman footballer to score in five FIFA Women's World Cups. Incidentally, Marta was nursing a muscle strain and played in just two games in France. She was in the pitch for a total 129 minutes and created high impact by scoring two goals, when her nation needed her.
Marta stated after their triumph over Italy, "We were obviously targeting the first place in the group, but this is a World Cup after all. Now it doesn't matter who will cross our path. We cannot choose it. We have cleared a goal of ours: qualifying. Now it's a matter to get ready and to try to go further."
Early Life:
Marta Vieira da Silva was born on the 19th of February 1986 in Dois Riachos, Alagoas, Brazil. Born gifted, Brazilian renowned female coach Helena Pacheco discovered Marta. She was just 14 then. Marta has been an exemplary player from her early childhood. She started as a team member of CSA Youth team. At a tender age of 14, Marta started her professional career for her superb football playing skills and style.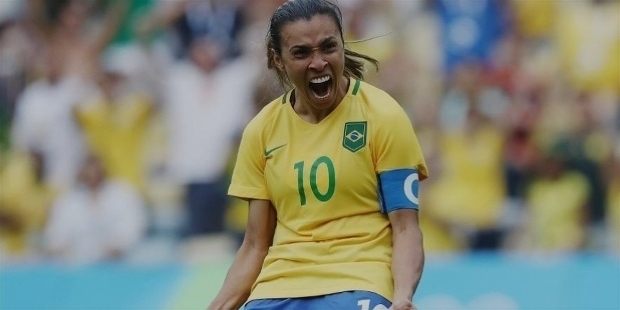 In the year 2000, Marta joined the professional team Vasco da Gama. Two years later, she was transferred to a small club Santa Cruz in the State of Pernambuco. She played two seasons for Santa Cruz and then joined Sweden's Umea IK in the year 2004. In her first season with Umea IK, Marta scored three goals over the two-legs. Umea IK reached the final of UEFA Cup winning on aggregate 8-0 against Frankfurt. This was just the beginning of Marta's career towards greatness.
The Journey of Success:
In her first season with Umea IK, 18-year-young Marta scored 22 league goals out of 106 goals to end the season as the runners-up. During the 2005 Season, Marta scored 21 goals to lift her club Umea IK as League Champions. She repeated her superb form in the 2006 Season to become league's top scorer once again 21 goals. Umea IK once again became the League Champions.
In the 2007 Season, Marta scored a hat-trick against AIK. Umea IK won both the leagues and Swedish Cup. Marta scored an amazing 25 goals. Umea IK reached the UEFA Women's Cup final for the fourth time. However, they lost to Arsenal 1-0 on aggregate. In the 2008 Season, Umea IK won the Swedish Championship title. Marta decided it was time to move to a bigger club. Marta is often regarded as Pelé's cousin.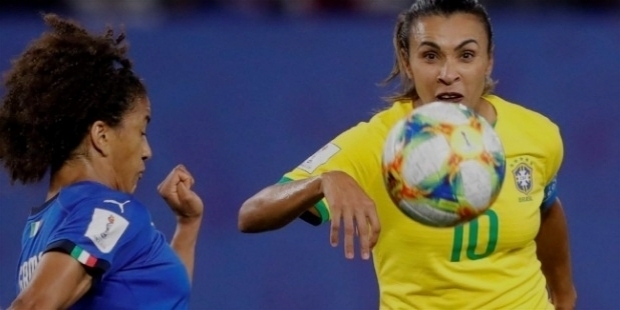 In January 2009, on the day she was named 'FIFA World Player of the Year', Marta announced that she was moving to Women's Professional Soccer team Los Angeles Sol for the next three years. She did not disappoint her new team. In the 2009 Season, Marta scored 10 goals and assisted in three more goals to become the top scorer of the season. Los Angeles Sol reached the WPS Championship final, but lost 1-0 to Sky Blue FC.
In January 2010, Marta was acquired by the FC Gold Pride because Los Angeles Sol ceased its operations. Marta played all the 24 games and scored 19 goals in total for FC Gold Pride. She was named WPS MVP – Most Valuable Player of the Season. For the second year in a row, Marta won the WPS Golden Boot.
On the 17th of November 2010, Marta became a free agent, when FC Gold Pride folded. A month later, Marta joined Santos with a two-month contract. On the 25th of January 2011, she joined Western New York Flash. Marta scored 2 goals for her new team. She helped Western New York Flash to the Regular Season Championship title scoring 10 goals. She won her third consecutive PUMA Golden Boot award.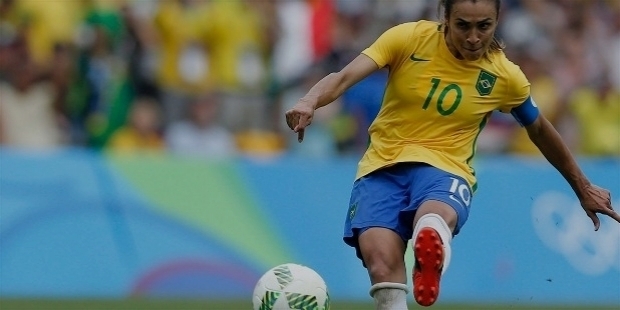 In the 2012 Season, Marta joined Tyresö FF in Sweden at an extraordinary salary of $400,000 per Season. Marta was considered lucky, because Tyresö FF won the Damallsvenskan title for the first time. Marta won the fifth league winner's medal. Marta joined FC Rosengård in Sweden after Tyresö FF's closure due to financial difficulties. Marta became part of the Damallsvenskan league title in 2014 and 2015, the Svenska Cupen in 2016, and the Svenska Supercupen in 2015 and 2016. She later joined Orlando Pride on a free transfer from Rosengard.
Apart from five FIFA Women's World Cup, Marta has represented Brazil in four Olympics – the 2004 Athens, 2008 Beijing, 2012 London and the 2016 Rio. Brazil was runners-up at the 2007 FIFA Women's World Cup, 2004 Athens Olympics and the 2008 Beijing Olympics. Marta holds dual citizenship of Brazil and Sweden. She lives in San Jose.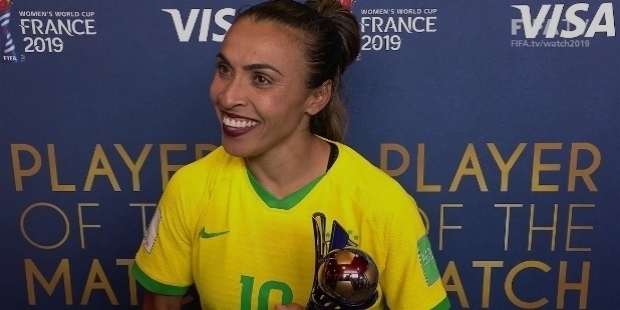 Marta is considered and respected as the greatest female footballer of all-time. She is quick, sturdy, a tenacious player, who plays small. Her flair is unmatched on the pitch and Marta's skills with the ball have earned her comparison with the Brazilian legends Pelé, Romário and Ronaldinho. Pelé dubbed Marta 'Pelé in Skirts'. She is one of the dangerous players for her prolific goal scoring capabilities. She has been a great leader, who leads with exemplary skills and action.
Full Name :

Marta Vieira da Silva
Zodiac Sign :
Birth Place :

Dois Riachos
Alagoas
Brazil
Occupation :
Industry :
Want to Be Successful?
Learn Secrets from People Who Already Made It
Please enter valid Email