Marc Andreessen Success Story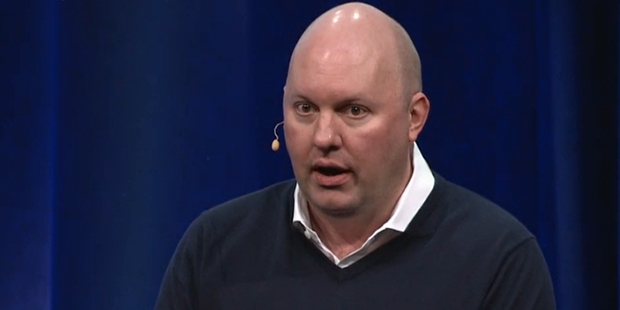 Early Life
Marc Andreessen gained astonishing image in the industry due to his masterly work and a peerless invention called Netscape web browser. Marc was born at Cedar Falls, Lowa, United States on 9, July 1971 and was then raised in New Lisbon, Wisconsin. This tall boy learnt the BASIC programming language when he was just 9years old. By the time he was hardly in his high school, Marc started finding computers very dull and tedious since he was not able to find the expected degree of innovation in them.
Career
Come 1990's while working in a Physics lab, Marc observed scientists distributing their piece of work to different universities over the internet. This lead Marc's temptation spark again. At that time, researcher Tim Berners- Lee had discovered the World Wide Web. Andreessen resolved to make browsing much user-friendly and thus recruited a team of programmers and started working on the same.
After working extremely hard for about two months, living on milk and chocolate chips, the team successfully formulated Mosaic, a graphical web browser. The most striking feature about Mosaic was that it steered through information using mouse clicks and pictures. This venture clearly justified the fact that Marc Andreessen's software was going to conquer world.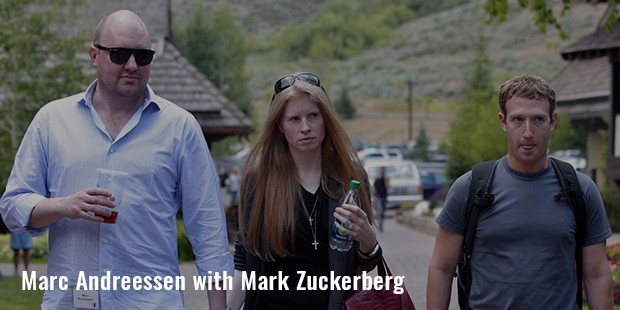 Marc Andreessen with Mark Zuckerberg
Marc and his team decided to distribute the program for free and very soon about 2million users started using the same to make their browsing experience a better one. Marc undoubtedly gained immense popularity and started ruling the industry by them, this in turn grabbed the attention of the founder of the Silicon Graphics Inc. James Clark sent an email to this great business tycoon in order to discuss about various business prospects.
Launching Netscape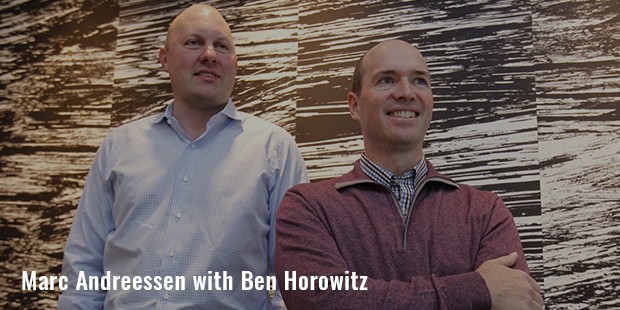 With joint efforts, the two pioneers successfully launched a company that was solely devoted to WWW, they named it Mosaic initially but later the name was changed to Netscape due to copyright issues claimed by Illinois university. Marc also decided to redevelop a better version of the browser and hired some of his college friends to work for the same. The tools gained so much vogue and acceptance that many business ventures purchased the Web server software and the related tools for their websites.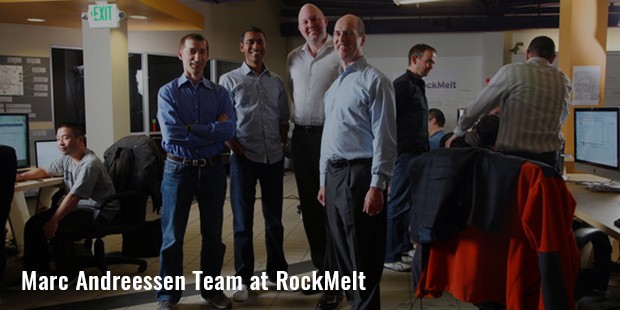 With Marc's great efforts, Netscape went public in August 1995 and the company generated a fancy sum of about $56million. All these achievements were a clear indication behind the making of a world-class entrepreneur. Soon after few days,Microsoft also made its browser available for free in the market, this led to the "Browser war" in 1990's, with both the companies starting launching newer versions of the browsers in order to affirm their hold over the market.
Awards
2013

Queen Elizabeth Prize for Engineering
1995

ACM Software System
Marc Andreessen Views About Money
Full Name :

Marc Lowell Andreessen
Birth Place :

Lowa
Education :

University of Illinois at Urbana Champaign
Occupation :
Networth :

$600 Million
Want to Be Successful?
Learn Secrets from People Who Already Made It
Please enter valid Email