Dick Cheney Success Story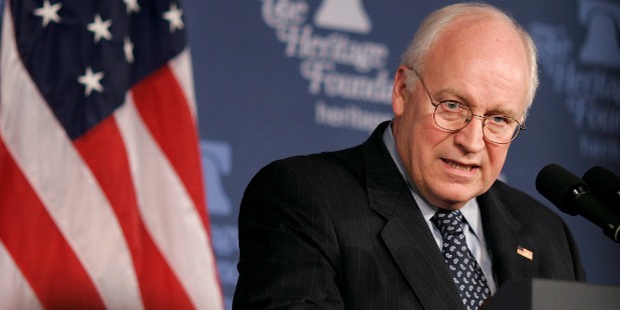 Synopsis
Dick Cheney is an esteemed American politician & businessman. He was the Vice President of the United States of America (46th) under President G.W. Bush from 2001-2009.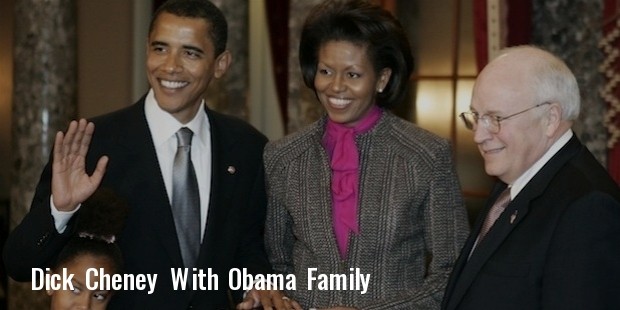 Dick Cheney With Barack Obama And His Family
Cheney has worked actively under both the Bush administrations.
Childhood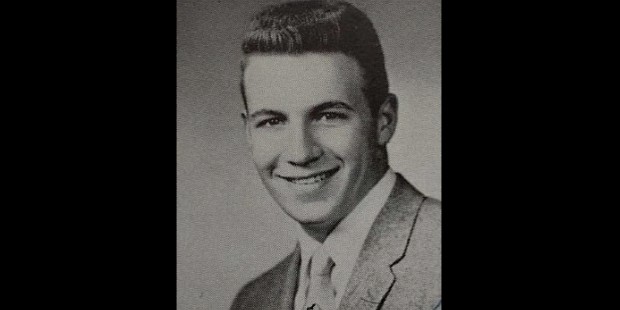 Richard Bruce Dick Cheney was born on 30th January, 1941, in Lincoln, Nebraska. He had his schooling from Calvert Elementary School & Natrona County High School. Later on, he earned his bachelor's & master's in political science from University of Wyoming.
Early Career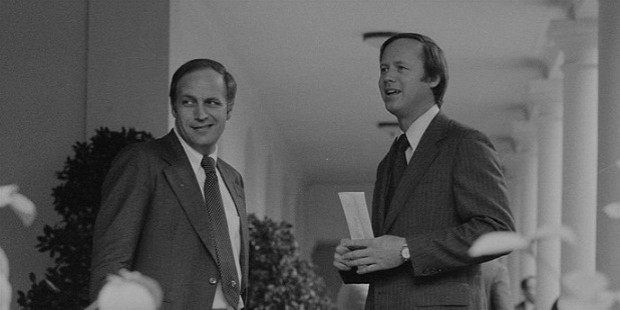 Cheney embarked on his political stint as a part-time intern in Wyoming Senate legislature for William Steiger. After he won a writing contest (nationwide) for student political-scientists, Cheney was appointed as an aide for Warren Knowles, the then Wisconsin governor.
Career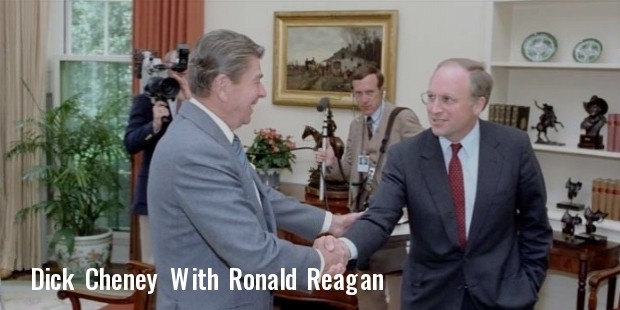 Dick Cheney with Ronal Reagan
His association with Steiger eased his route to White House in times of Ford & Nixon administrations. He later acted as Chief of Staff in White House from 1975-1977.
The next year, he was elected for US House of Representatives and he held that position till 1989, with 5 reelections in between. Om 1989, Cheney also served as the House Minority Whip for a brief period of time.
From 1989 to 1993, Cheney was selected as Secretary of Defense under the administration of George H.W. Bush. He held the term till 1993. During his tenure in the said position, Cheney used to look after Operation Desert Storm 1991, among other notable actions.
During Clinton administration, Cheney was appointed as the CEO 7 Chairman of Halliburton Company (1995-2000).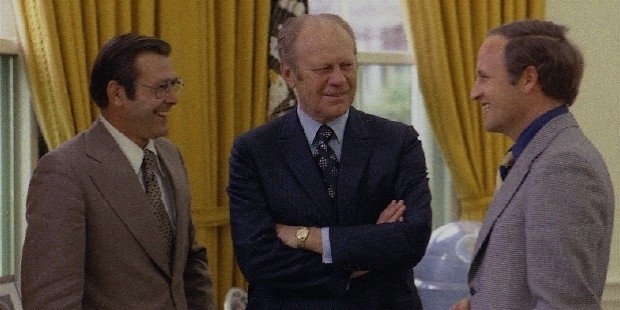 In 2000, Cheney was selected by George W. Bush as running mate during his Presidential election. Together they defeated the Democratic opponents. 4 years later, he was reelected in his 2nd term as Vice President, defeating John Edwards. As the Vice President under Bush leadership, he maintained a lead in important national security & military issues at highest levels.
He refused to have Republican nomination in 2008 election. From 2009, Cheney has been a regular critic of President Obama – however, he had all the good words for Obama regarding the handling of Laden's assassination.
In 2012, Cheney hosted a private fund raising activity in his home for Mitt Romney that amassed more than 4 million USD in contributions.
Career Highlights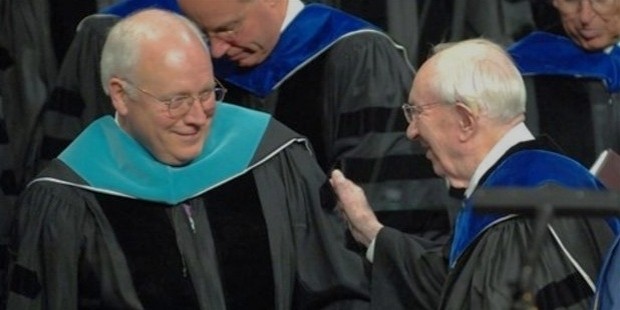 Cheney had quite a prestigious political career with several eminent turns. However, the most esteemed of all is surely his election & re-election as the Vice President of America, from 2001-2009.
Books & Media Coverage
Exceptional: Why the World Needs a Powerful America- co-authored with Liz Cheney
Heart: An American Medical Odyssey- with Jonathan Reiner.
In My Time: A Personal and Political Memoir – co-authored with Liz Cheney
Kings of the Hill: Power and Personality in the House of Representatives- co-authored with Lynne Cheney
Professional Military Education: An Asset for Peace and Progress- co-authored with Bill Taylor.
The great politician has a documentary film made on him, titled "The World According to Dick Cheney".
Personal Life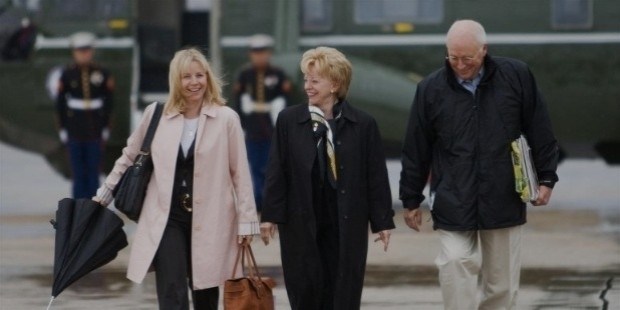 Cheney is married to Lynne Cheney & together they have 2 daughters.
Cheney is regarded as the most powerful vice president of America. He is especially revered as the man who is never hesitant to deploy his power in whatever he believes to be right & necessary.
Awards
1993

Francis Boyer
1991

John Heinz
Know More
Dick Cheney Interview At MSNBC
Full Name :

Richard Bruce Cheney
Birth Place :

Lincoln
Nebraska
Education :

University of Wisconsin Madison,
Yale University New Haven,
University of Wyoming Laramie,
Natrona County High School Wyoming
Occupation :
Industry :
Networth :

$ 40 Million
Want to Be Successful?
Learn Secrets from People Who Already Made It
Please enter valid Email