Brigid Kosgei Shatters Women's Marathon World Record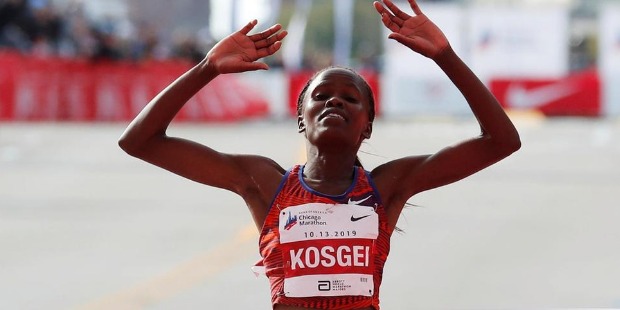 The world of Marathon has become really very interesting and fascinating in recent time as World Records are being broken consistently by the Kenyan distance runners. Kenyan distance athletes, male and female, have established their ultimate supremacy by breaking and establishing the Marathon World Records. On the 12th of October 2019, Eliud Kipchoge's 1:59:40.2 in Veinna, Austria created sensation all over the world indicating 'No Human is Limited'.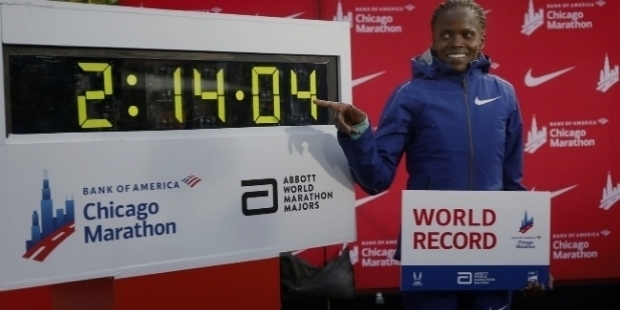 A day later, on the 13th of October 2019, Kenya's Brigid Kosgei broke Paula Radcliffe's 16-year-old Women's Marathon World Record by 1 minute 21 seconds clocking an amazing 2:14:04 at the 2019 Chicago Marathon. Brigid Kosgei not only broke the World Record, but also retained her title at the Chicago Marathon. She clipped an amazing 4 minutes 31 seconds from her 2018 title winning time of 2:18:35. Having won the 2019 London Marathon, the win was Brigid Kosgei's second 'Major' Marathon title this year. In London, she had clocked 2:18:20.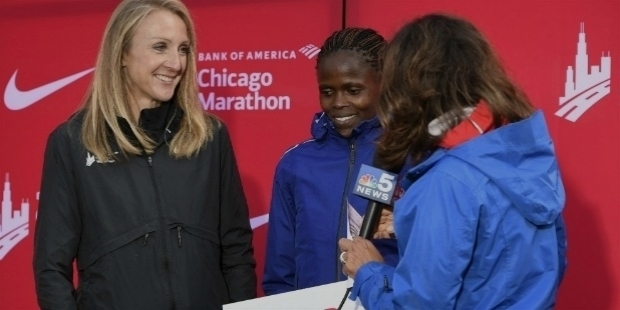 Marathon running would take the centrestage of the world athletics in less than 15 days was unheard of before. On the 29th of September 2019, Ethiopian greatest distance runner Kenenisa Bekele ran the second fastest Marathon at the 2019 Berlin Marathon clocking an amazing 2:01:41, missing Eliud Kipchoge's 2018 Marathon World Record by just 2 seconds. The INEOS 1:59 run on the 12th of October 2019 saw Kenya's Eliud Kipchoge breaking the sub-2 hour marathon. And Brigid Kosgei put her indelible signature by breaking 16-year-old Paula Radcliffe's Women's Marathon World Record. How fascinating these 15 days had been!
IAAF's Callous Justification
One cannot forget or forgive how the IAAF President Lord Sebastian Coe put the women marathoners in danger by holding the midnight Women's Marathon at the IAAF World Athletics Championships, Doha 2019 in a high temperature of 32.7 degrees Centigrade with a higher level of 73% humidity. It was catastrophic to watch elite women marathoners struggling to drop out of the World Athletics Championships' Marathon due to severe heat and high humidity.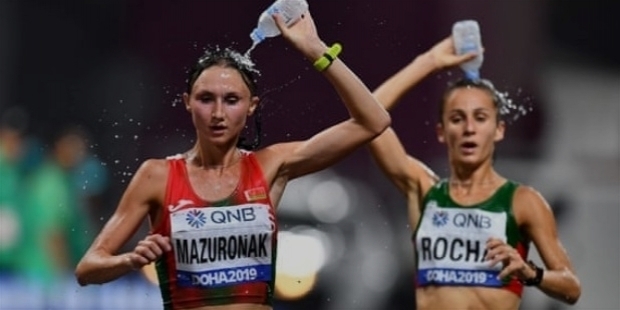 It was more pathetic to see the IAAF President Coe justifying his callous action and decision by claiming it was a huge success, when 28 of the 68 women marathoners dropped out from the Doha Marathon due to severe heat conditions. When elite marathoners of the world are breaking new barriers in Marathon running, Sebastian Coe is justifying awarding Doha the World Athletics Championships, where there is no culture or love for athletics.
Due to heat, the 2:32:43 women's winning time and 2:10:40 men's winning time was way beyond expectations for World Championships marathon winners. The 2019 Doha disaster will remain forever as the BLACK SPOT in the IAAF President Lord Sebastian Coe's resume.
Olympic Committee's Sensible Move
The IAAF World Athletics Championships Doha 2019's disaster and backlash by world athletes, sparse spectators and press has made the IOC – International Olympic Committee's President Thomas Bach to shift the 2020 Tokyo Olympics marathon venue 800km away from Tokyo, which he announced soon after realizing the disaster the IAAF President Coe created at Doha.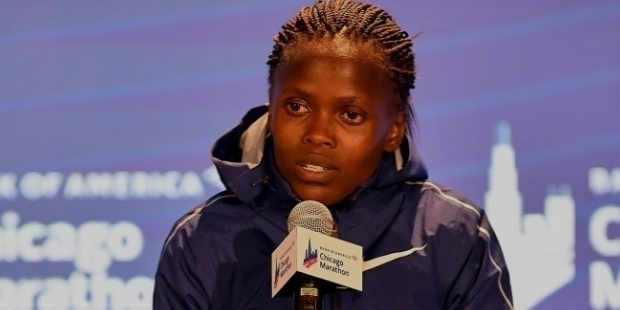 Thomas Bach disclosed, "Athletes' health and well?being are always at the heart of our concerns. The Olympic Games are the platform, where athletes can give once-in-a-lifetime performances, and these measures ensure they have the conditions to give their best." The Olympic Marathon, 20km and the 50km race Walking have been shifted to Japan's northern most island of Hokkaido to avoid the famous "Coe's Disastrous 32.7 Degrees Doha Marathon". It is really a sensible move by the IOC.
The 2020 Tokyo Summer Olympics Marathon would be really interesting to watch these three superb distance athletes along with other elite marathoners.
Breaking the World Record
Kenya's Brigid Kosgei was the hot favourite at the 2019 Chicago Marathon, because she was the defending champion, winner of the 2019 London Marathon in April 2019 and was in splendid form. She had set her sight to break Paula Radcliffe's World Record. No one knew she would eclipse the record by an outstanding 1:21 minutes clocking 2:14:04 to Radcliffe's 2:15:35.
As the race began, a bunch of elite runners ran at lightning speed the first mile. Kosgei loved the high-speed beginning and accelerated further hard much to the amazement of her competitors. She covered the first 5 miles in 25:10 inside the World Record pace. Brigid was so confident with her blistering pace that she never looked back as she covered miles after mile. The two male pacers were surprised, when Kosgei urged them to increase their pace.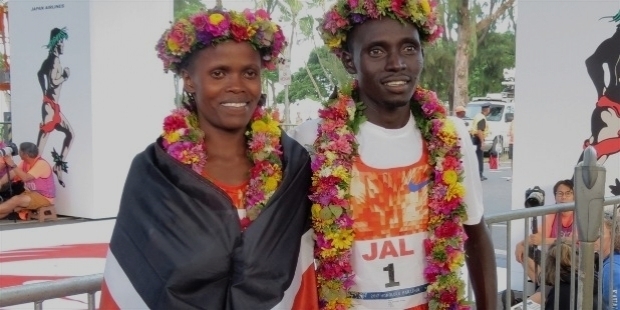 Brigid Kosgei covered the first 21km more than a minute faster than Radcliffe's World Record timing clocking 1:06:59. She increased her speed further realizing the World Record was within her grasp. Kosgei was untouched by her fellow competitors as she was inching closer to the finish line. She raised both her hands in triumph as she crossed the finish line breaking the 16-year-old Women's Marathon World Record, Chicago Marathon Course Record and defending her title for the consecutive years.
Kenya's Brigid Kosgei joined the Wheelchair Champs – American Daniel Romanchuk and Swiss Manuela Schar in defending their titles. The new Women's Marathon World Record from Kenya collected the prize money $100,000 plus an added $75,000 bonus for beating the Course Record. After the race, Kosgei enthused, "I was not expecting this. But, I felt my body was moving, moving, moving so I went for it. This is amazing for me!"
Paula Radcliffe was present at the finishing line to congratulate the newly crowned Women's Marathon World Record. Needless to say, Radcliffe was shocked and in awe to watch her World Record being shattered after 16 long years. Both the great marathoners shook hands in joy.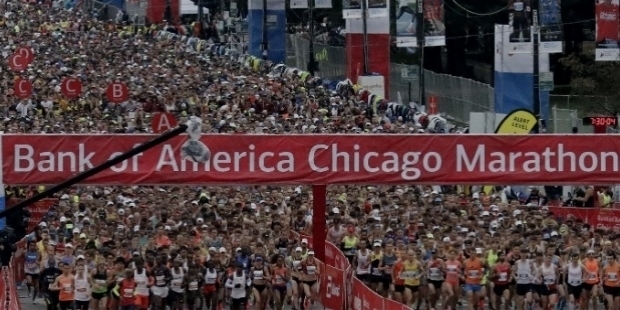 Radcliffe revealed the bittersweet moment stating, "If you had told me, when I set it in 2003, that it would last that long, I wouldn't have believed it. But, I always knew this time would come and when I saw how fast Brigid was running, I knew the record would go if she could maintain her pace." It was so wonderful to see a great and kind compliment being showered for the great Kenyan by another great British athlete.
One can imagine how fast the race was run by Kosgei, who clocked 2:14:04. Ethiopian Ababel Yeshaneh crossed the finish line clocking 2:20:51 for the second spot followed by compatriot Gelete Burka in 2:20:55. In her post-race interview, the 25-year-young Kenyan enthused, "I can go quicker. I think 2:10 is possible for a lady. I am focused on reducing my time again." Her super confidence is indeed infectious and inspiring for many around the globe.
At the 2020 Tokyo Olympics, it would be interesting to watch how the World Record holder Brigid Kosgei will perform. The pressure of winning an Olympic Gold medal is the dream of every single athlete in the world.
EARLY LIFE:
Brigid Jepscheschir Kosgei was born in Sinon, Kapsowar, Kenya on the 20th of February 1994. At the age of just 21, Kosgei made her presence felt at the international marathon stage by winning the 2015 Porto Marathon in Portugal in her debut run clocking 2:47:59. This was Brigid Kosgei's first Marathon title of her career. In a short span of 4 years, Kosgei has stamped her dominance in the women's marathon world.
In total, Brigid Kosgei has won 7 international marathon titles out of 11 races she has competed since 2015. After winning the 2015 Porto Marathon, Brigid Kosgei won the 2016 Milano City Marathon on the 3rd of April 2016 in Milan, Italy. Kosgei improved her previous time by an amazing 20 minutes clocking 2:27:45. In the month of October 2016, she competed at the 2016 Lisbon Marathon in Portugal. Her confidence reflected her timing as Kosgei clipped another 3 minutes clocking 2:24:45 to earn the second spot.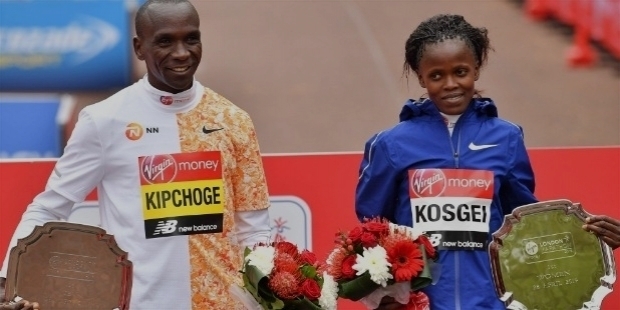 The Kenyan new marathon machine was enjoying her run and gaining rich experience about the racing tactics watching other elite competitors. On the 11th of December 2016, Brigid Kosgei entered the 2016 Honolulu Marathon in Hawaii. She won the race clocking 2:31:11. It was an impressive and successful year for the 22-year-young Kenyan. Brigid Kosgei won two titles and was runner-up in one.
The year 2017 started bad for Kosgei. At the 2017 Boston Marathon, on the 17th of April 2019, she clocked 2:31:48 to finish 8th in the race, which was won by compatriot Edna Kiplagat with an impressive time of 2:21:52. The huge loss made Kosgei train harder for her next outing.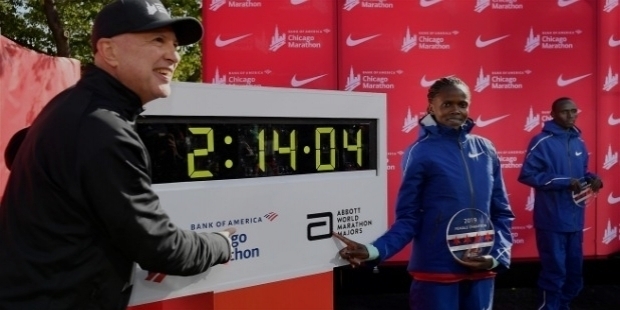 On the 8th of October 2017, Brigid Kosgei made her first entrance at the Chicago Marathon. She gave a tough challenge to the ultimate winner Tirunesh Dibaba from Ethiopia, who clocked 2:18:30. Kosgei clocked 2:20:22 to improve her Personal Best by nearly 4 minutes 20 seconds. Little did Brigid knew then that losing the race at the 2017 Chicago Marathon will be the ultimate venue, where she would establish a new Women's Marathon World Record one day.
On the 10th December 2017, Brigid Kosgei defended her title at the 2017 Honolulu Marathon clocking 2:22:15. In the year 2018, Kosgei came second at the 2018 London Marathon clocking her Personal Best of 2:20:13. At the 2018 Chicago Marathon, she avenged her last year's loss to win the title bettering her Personal Best of 2:18:35. The 25-year-young Kenyan Brigid Kosgei is a new breed of marathon legend, who will rule for many more years.
Want to Be Successful?
Learn Secrets from People Who Already Made It
Please enter valid Email