BIANCA ANDREESCU: First Canadian Woman to Win a Grand Slam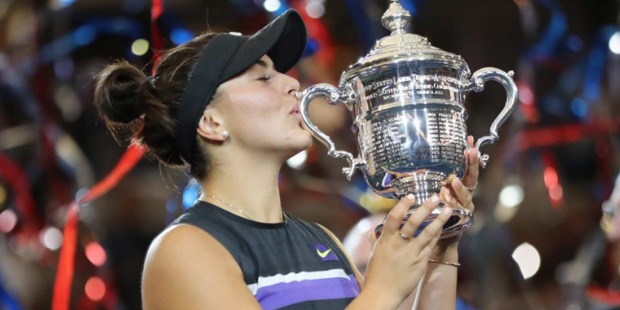 The newly crowned women's U. S Open Champion Bianca Andreescu exclaimed in total awe and ecstasy, "It's so hard to explain what the win means in words!" Bianca Andreescu etched her name with golden letters in history record books as the 'First Canadian Woman to win the U.S Open title'. This momentous occasion came after a lot of hard work, persistence and sacrifice for the 19-year-young teenager.
Bianca revealed about her struggle, "Last year wasn't an easy period in my life. I was going through a lot with injuries. I kept on believing in myself, worked hard and I just kept that momentum and confidence." It certainly indicates that Bianca is here to stay and win more grand slams in her promising career, which has just started in a spectacular manner.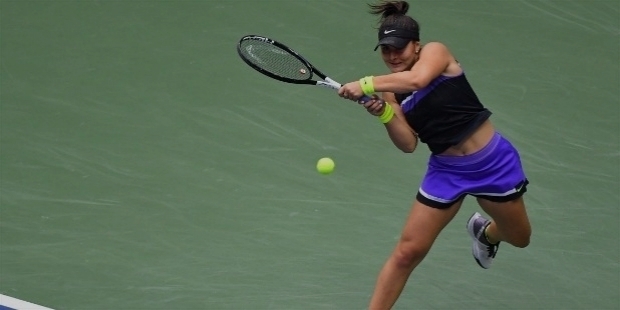 The U. S Open Champion Bianca Andreescu has displayed great character as a true champion, knowing the pitfalls of instant stardom. She enthused about her stupendous win over Serena Williams, "I just don't want to take anything for granted, because there is going to be weeks where you are going to lose. So right now I am just on cloud nine! I don't think I have lost a match since March, so my confidence is sky-rocketing right now."
Bianca's practical approach towards greatness in sports was evident, when she stated, "You are never going to have 'ups' all the time. So, I think in those moments, you just have to deal with it the best that you can, which is to just keep fighting for your dreams and just stay as persistent and persevere as much as you can. I think it builds you as a character." She has indeed spoken like a true champion.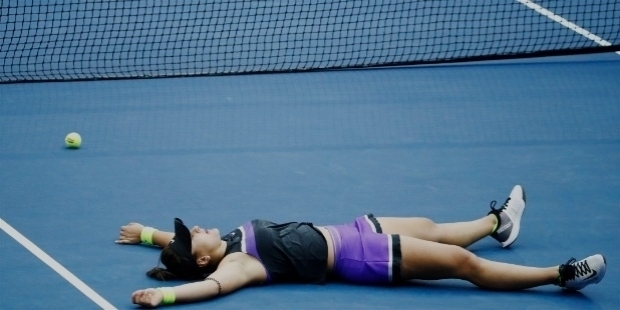 Speaking after her amazing victory, Bianca cherishes the feeling exclaiming, "I love this feeling way too much! I am really looking forward to what I can do in many years to come. I am just beyond grateful and truly blessed. I have worked really, really hard for this moment and I cannot complain. This year has been a dream come true moment for me." Bianca collected her prize money of $3.85 million.
ROAD TO THE FINAL
Bianca Andreescu started her U. S Open campaign with a superb win over American Katie Volynets. She trounced Volynets 6–2, 6–4 in the first round. In the second round, Bianca triumphed over Belgian Kirsten Flipkens 6–3, 7–5. In the third round, Bianca faced the former World No. 1 Carolina Wozniacki from Denmark. Bianca displayed no nerves at all and went onto win 6–4, 6–4 to enter the quarter-final. Her next opponent, for the round of 16 encounter, was American Taylor Townsend.
Bianca won the first set convincingly with the score 6–1. Taylor Townsend bounced back in the second set to win 6–4. The loss in the second set was the wake-up call for Bianca. She was fierce in the third set and trounced Taylor 6–2 to enter the quarter-final. In the quarter-final, Bianca defeated Belgian Elise Mertens 3–6, 6–2, 6–3. Bianca was the hot favourite to win the U. S Open title with her consistent wins and superb performance.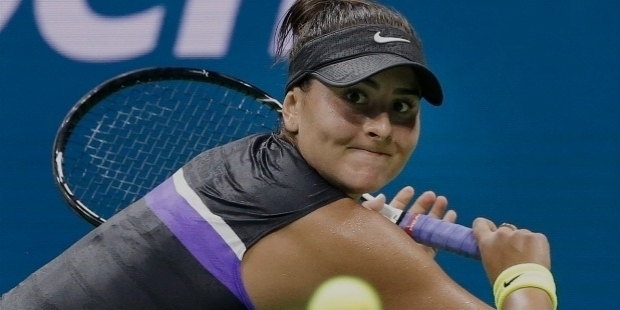 In the semi-final, Bianca met her Swiss challenger Belinda Bencic. The semi-final encounter was the first tough match Bianca played at the 2019 U. S Open. Belinda Bencic gave a tough fight to Bianca. She was stretched to a tie-breaker in both the sets. However, as destined to become the ultimate Champion, Bianca triumphed 7–6, 7–5 to enter her maiden Grand Slam final.
THE FINAL
In the final, Bianca Andreescu's opponent was 23 Grand Slam winner Serena Williams. Bianca was not even born, when Serena won her first Grand Slam in 1999 – the U. S Open. Bianca was born on the 16th of June 2000. The duel was between the novice 19-year-young versus the 37-year-old 23 Grand Slam winner. The crowd was against the teenager, because of multiple factors – Serena Williams was eyeing for her 24th Grand Slam win to equal the records of the legendary tennis icon Margaret Court. Serena is an American.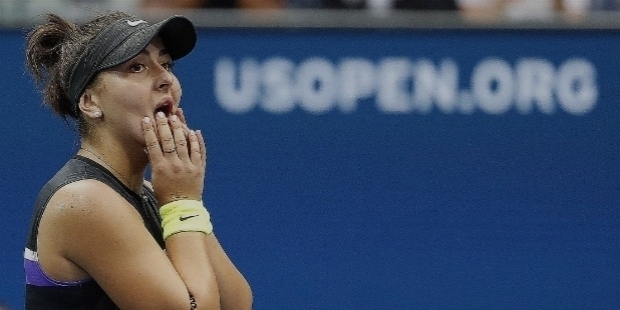 Bianca Andreescu showed no nerves whatsoever to face Serena Williams. In fact, the Canadian was super confident of her form. She won the toss and elected to receive Williams in the most fearless manner. Bianca's nerve of steel did put pressure on Williams from the onset. It was a great ploy of the teenager to up her ante. Winning key points during the duel, Bianca charged her up shouting 'come on'. She pushed Williams on the back foot with her powerful forehands. Williams kept making silly errors and double faulted on set point.
Bianca trounced Williams in the first set 6–3. Bianca had brilliantly dug Williams' grave with her outstanding play. She led the second set 5–1. Desperate Williams fought back to level the score 5–5. However, Bianca made it difficult for Williams to win each point. The Arthur Ashe Stadium crowd was behind Williams. Bianca, like a true champion, wasn't unnerved with all the crowd support to Williams. Her steely composure sealed the set and game in her favour with a forehand winner winning 6–3, 7–5.
It was great moment to see the emotions of the 19-year-young teenager celebrating her win throwing her raquet with a 'Yeeeeeeeeeah' shriek and pumping her fist in joy towards her team. After the celebratory hug with Williams, Bianca kissed the court and lied down on the court for few moments. During the presentation of awards, Bianca echoed last year Champion Naomi Osaka's words, "I know you guys wanted Serena to win. I am so sorry."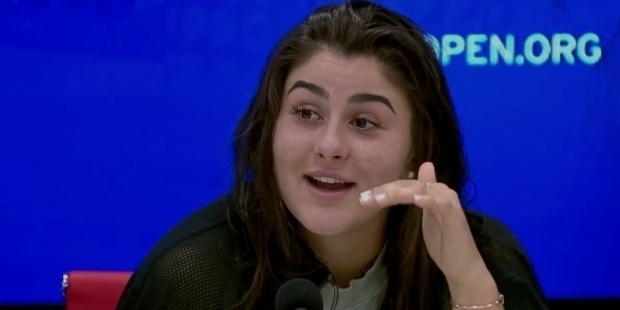 Serena Williams was thrashed last year by the 20-year-young Japanese sensation Naomi Osaka and once again this year she was trounced by the 19-year-young Canadian teenager Bianca Andreescu. Fortunately, this year Williams did not create any scene to accept her defeat to steal the show from the U. S Open winner.
Bianca Andreescu became the first Canadian woman to win a Grand Slam title. She also happens to be the first Tennis player in the world born in 2000s to win a Grand Slam title. Bianca Andreescu also is the first woman to win the U. S Open title in her debut appearance. She improved her WTA rankings to No. 5 in the world after her superb win.
CANADA HONOURS THE NEW CHAMPION
Bianca Andreescu's superb success has written a new leaf in Canadian Tennis. Her win was celebrated throughout Canada in the most amazing manner. From being inspired by other Tennis greats, Bianca Andreescu has now become an inspiration for the millennials. Prime Minister Justin Trudeau honoured Bianca Andreescu – the new Champion in her hometown Mississauga in Canada in a grand rally. Thousands of Canadian joyfully celebrated her magnificent success.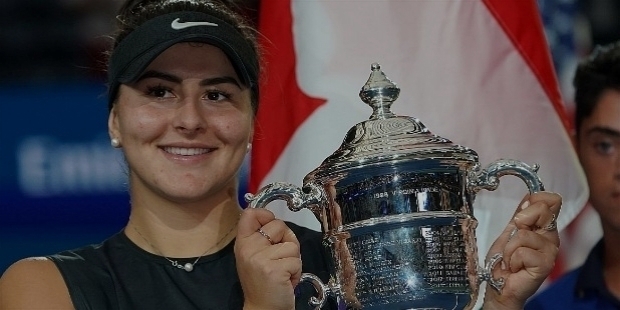 Mississauga Mayor Bonnie Crombie named a street "Andreescu Way" and presented the U. S Open Champion Bianca Andreescu with the 'Key to the City'. It was indeed a great moment for the new Canadian Tennis legend in the making. Ecstatically, Bianca said, "Well, this is crazy! This is crazy! I never thought, I would have my own parade before, let alone the 'Key to the City' and a street named after me. I am truly blessed! Bianca Andreescu's magnificent win at the U. S Open is indeed a great achievement for Canada. This is just the beginning for women's tennis in Canada.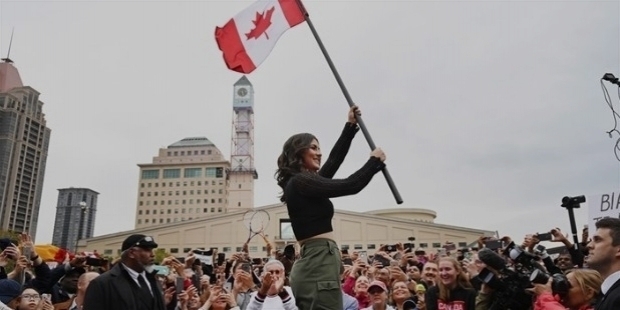 I did not get here overnight. There has been a lot of hard work and sweat that went into it, a lot of downs, a lot of ups. I am really glad I never gave up, because I wouldn't be standing here with everyone. If I can do it, if Serena can do it, if Roger Federer can do it, if the Raptors can do it, so can you." Her words spoken from her heart will inspire a lot of teenagers not only in Canada, but also all over the world. Toronto Mayor John Tory had announced 16th September as "Bianca Andreescu Day" in Toronto in her honour.
EARLY LIFE:
Bianca Andreescu was born in Mississauga, Ontario on the 16th of June 2000. Father Nicu Andreescu works as an Engineer. Mother Maria works as a Chief Compliance Officer at Global Maxfin Investments Inc. in Toronto. Little Bianca started playing Tennis at a tender age of 7 in Pitesti, Romania. She trained under Coach Gabriel Hristache in her parents' native Romania. The family moved to Canada after few years.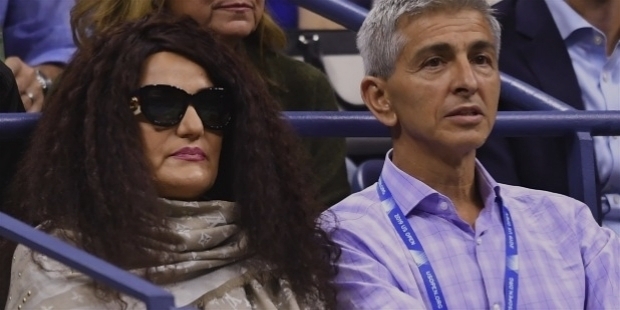 In Canada, Little Bianca trained at the Ontario Raquet Club in Mississauga. At the age of 11, she joined the Tennis Canada's National Training Program in Toronto. Destined to achieve greatness, Little Bianca became more serious about her career in Tennis. Little Bianca's childhood idol was Belgian World No. 1 Kim Clijsters. In recent times, she has been inspired by Simona Halep, who had advised her to turn professional during the 2016 Rogers Cup.
Full Name :

Bianca Vanessa Andreescu
Born :

16th-Jun -2000
Zodiac Sign :
Birth Place :

Mississauga
Ontario
Canada
Occupation :
Industry :
Want to Be Successful?
Learn Secrets from People Who Already Made It
Please enter valid Email