The Legendary Visionary of Athletic Footwear Design: Tinker Hatfield Story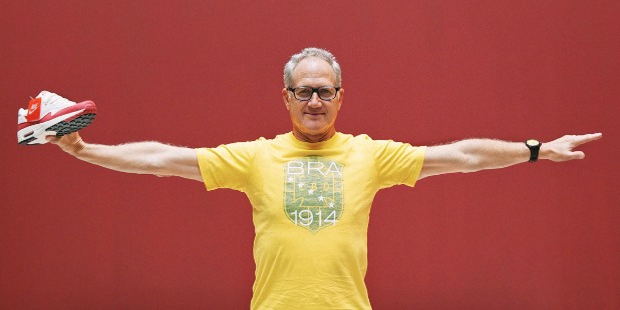 Profile
Over the years, the design of footwear has been constantly changing and evolving, often taking turns that you wouldn't normally expect in its form and, sometimes, function.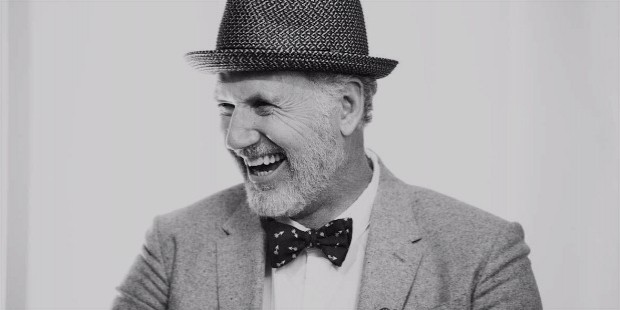 While there are many people who work on redesigning and reinventing the timeless articles of clothing, there are few people who have truly put their name on the top of the list and left their mark on history. American vice-president of Nike and footwear designer Tinker Hatfield is one of the few people who have found their success in the world of design and creation in athletic shoes and related apparel.
Early Life
Not even starting out anywhere near design, Hatfield grew up as an athlete, excelling in sports such as basketball, track-and-field, hurdles, and pole vaulting. With his talent in sports earning him a the distinction of being named the top individual high school athlete in the state of Oregon, it wasn't a big surprise to learn that he soon found himself with a full athletic scholarship to the University of Oregon. It was there in the university where Hatfield was privileged to meet one of the few men who would help him shape his life for the better, and that person was Bill Bowerman.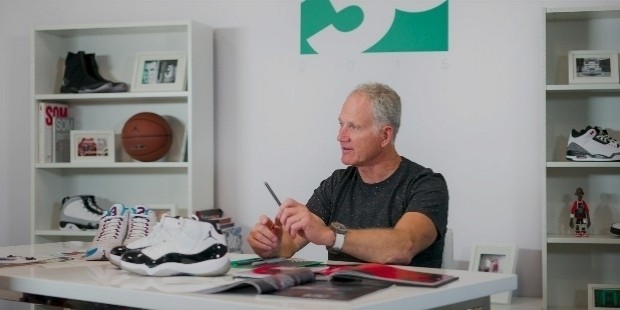 Bill Bowerman was the track coach of the University of Oregon at the time Hatfield had entered the university. Not liking to be called 'coach', he preferred to be called by his name or the title that he liked, which was "Teacher of Competitive Response". As one of the two founders of Nike, Bowerman also worked on designing athletic footwear while doing his job coaching, often letting students test out his designs from a small cobbler shop he used to own right under the grandstands.
One of Hatfield's athletic events was the pole vault and Bowerman believed that Hatfield had the potential to become a national champion—of becoming an Olympian. The athletic world, however, isn't kind and taxes the body; demanding things that dangerously pushes the limit of what it can handle. Pole vaulting, like anything else in the world of athletic sports, is filled with perils that can harm the human body and, unfortunately, Hatfield fell to such dangers of the sport.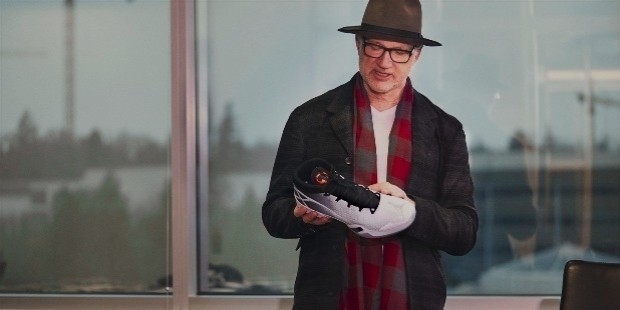 On one particular pole vault, Tinker fell from a height of about seventeen feet and hit an uneven surface on his sophomore year, tearing his ankle. Nearly becoming depressed at hearing that his career as an athlete was over, he was rescued from the throes of despair by what his mentor Bowerman did for him. Because Hatfield was limping and had difficulty walking, Bowerman built him special track spikes with a heel lift on one side. It greatly helped Hatfield by preventing him from being dismissed from the team and losing his scholarship, and, at the same time, helped him understand the process of solving difficult problems or challenges. It was then that Hatfield moved to architecture and found his talent in drawing. Discovering his talent in drawing in his college years, he found himself doing some work with Bowerman himself as well, putting his talent to good use.
Career Beginnings
Hatfield didn't immediately start off as a shoe designer. He, at first, was doing designs for trade shows, displays, and retail. It wasn't until the aerobics craze during the 1980s that Nike had felt the need to upgrade their design team and started a twenty-four hour design competition which Hatfield had been invited to do. He joined the competition and worked hard on it, not going to bed for the duration of the contest. While most of the other designers were submitting designs on works they were already doing, Hatfield went with a choice that was different. He designed a shoe that was perfect for a motor scooter and could be used to get out and jog or walk around in. His career then started two days after the competition ended; Hatfield had been told that he had become a footwear designer for Nike which, after a short period of time, came to lead the design team.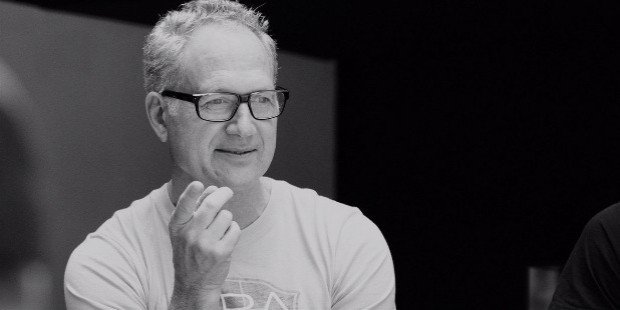 One of the first shoes he had worked on was the Air Max; taking thematic inspiration from the Georges Pompidou Center in Paris, he made a radically different design from what they had planned. Hatfield chose to expose the airbag, that had been used as cushioning in the midsoles, which—at the time—drew extremely negative impressions from some of his fellow designers. Fighting against their choice, Hatfield went forward with the design, launching the Air Max one which then became an immediate hit that revolutionized footwear design.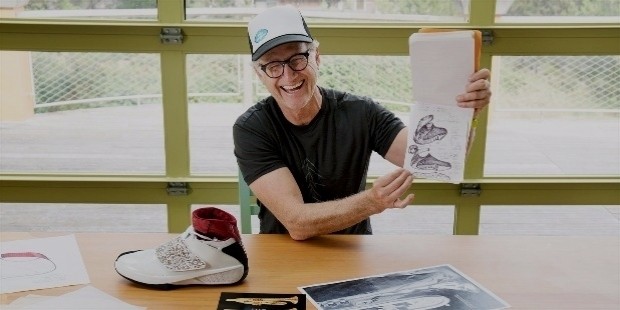 After the release of the Air Max, Hatfield realized that people were using the wrong shoes for the wrong sports, and this breakthrough revelation pushed him to think of a footwear design that would work for multiple sports, in order to lessen the risk of people hurting themselves in the process. Thinking of a way to remedy this, Hatfield had quickly found himself working on the world's first cross-trainer which John McEnroe had helped push into the limelight. During his career, Hatfield was also involved with the Back to the Future film franchise from 1987. It was then that he designed the first shoes that would lace themselves. It wouldn't be until much later, however, when these iconic self-lacing shoes became a reality.
Career Heights and Achievements
The heights of Hatfield's career started when he started working with Andre Agassi. Hatfield designed a shoe that, with the help of the legendary tennis star, revolutionized the perception of the entire sport. In the late 1970s and 1980s, basketball was growing more and more popular with athletes that the biggest names of the sport often got their own signature sneakers and turned themselves into central figures in urban fashion. When this phenomenon hit, Nike had partnered with Michael Jordan to create the Air Jordan shoe line that we all know today. With the early shoes, Jordan felt deeply unsatisfied with the design and was on the verge of leaving Nike completely. It was during this time that Phil Mike pushed the job to Hatfield where it was then that he learned that the shoes were six months behind schedule.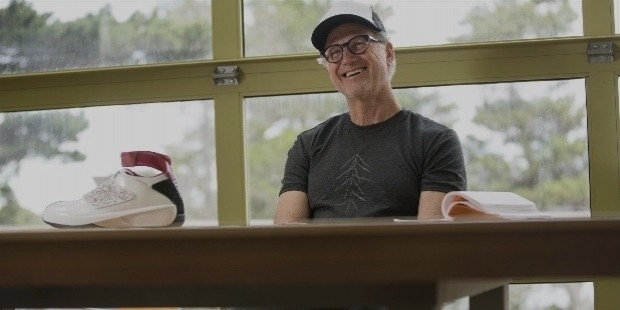 After weeks and months of sleepless nights, flying back and forth between America and Asia as well as talking with Jordan himself, he had completed the design for the shoes. When the meeting came to unveil the shoes, however, Jordan didn't appear for the first four hours. When the superstar basketball athlete eventually did come in for the meeting, he was in a foul mood and asked what they had for him. Once the shoes were unveiled and everything was explained, Jordan had been won over and the start of the Air Jordan's success grew from then on. Several more years passed before technology had advanced enough to complete the self-lacing Back to the Future shoe. Upon the fictional shoe's transition from screen to reality, Hatfield had taken a step forward into creating the first automatically adapting shoe using the E.A.R.L. or Electro Adaptive Reactive Lacing technology, making breakthroughs in the realm of footwear design.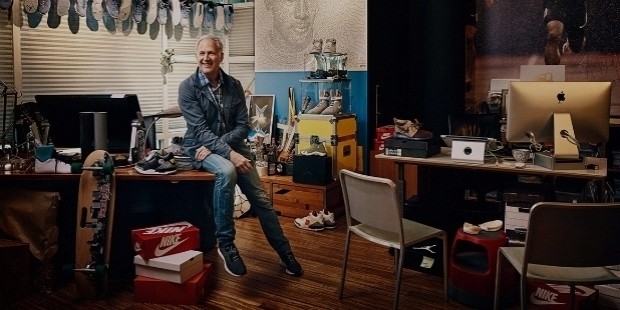 With the things he had done, Hatfield had received a number of accolades to meet his achievements:
He was featured on Sportstyle Magazine's list of Most Influential People on the business side of sports twice, in 1993 and 1996.
He appeared on Fortune Magazine's list of 100 Most Influential Designers of the 20th Century in 1998.
He was bestowed the Ellis F. Laurence Medal by his alma mater, the University of Oregon School of Architecture and Allied Arts in 2008.
He was inaugurated into the Oregon Sports Hall of Fame for Special Contribution to Sport in 2008.
He was featured in the first season of Netflix's show entitled Abstract: The Art of Design, a documentary series that profiles famous designers of various disciplines, which included the likes of British stage designer Es Devlin and Danish architect Bjarke Engels.
With his achievements to match his feats, there is no doubt in anyone's mind that Tinker Hatfield's story is a success story that anyone can be proud of.
Want to Be Successful?
Learn Secrets from People Who Already Made It
Please enter valid Email