Jeff Bezos Success Story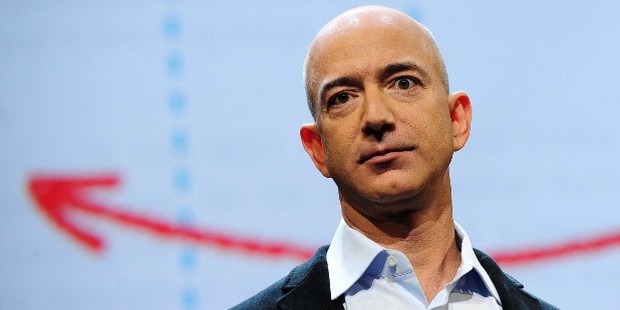 Profile
Jeffrey Preston 'Jeff' Bezos is one of the most successful technology tycoons and investors in the world currently. He is the Founder and CEO, Amazon.com, the largest retailer on the World Wide Web. It has become a role model for every online retailer in the world. Bezos has even acquired 'The Washington Post'. Standing on the 'Fifth Spot' on the Forbes List of Billionaires of the World, Bezos is simply unstoppable!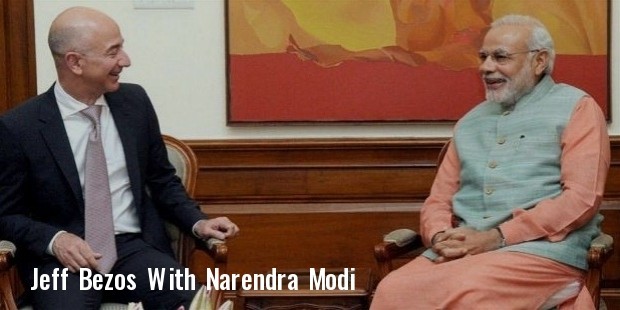 Jeff Bezos With Narendra Modi
Bezos is one among the top leading private investors of the world to be a part of the "Mission Innovation" at the 2015 United Nations Climate Change Conference, in Paris. Powerful Global Leaders along with well-known established investors from 20 countries are joining hands to be part of the "Mission Innovation". The sole aim is to boost and accelerate the modernisation process of global clean energy and make it widely affordable.
Bezos had foreseen the future of Cloud Computing way back before anyone else. AWS (Amazon Web Services) is minting in multi-billion dollars.
Bezos' spaceflight company Blue Origin successfully launched its first rocket "New Shepard" recently. The Company aims at developing a 'reusable' vehicle with a seating capacity of six passengers for space travel.
Childhood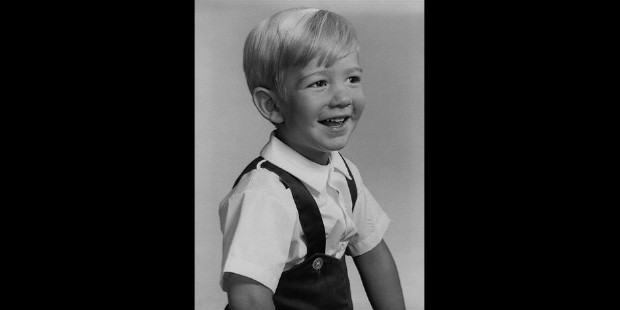 Jeffrey Preston Jorgensen (Bezos) was born on January 12, 1964 in Albuquerque, New Mexico to Ted and Jacklyn Jorgensen. Bezos' mother left his father and married a Cuban immigrant, Mike Bezos and moved to Houston, Texas. Jeffrey studied at the River Oaks Elementary School, Houston and later at the Miami Palmetto Senior High School, when the family shifted to Miami. Jeff enrolled in the Student Science Training Programme at the University of Florida.
He was accorded the 'Silver Knight Award' for his brilliant performance. He excelled in academics, becoming a National Merit Scholar and a high-school valedictorian. He graduated summa cum laude in Electrical Engineering and Computer Science from Princeton University. His interest and aptitude for science and technology was apparent from a very young age. Jeff was a member of Phi Beta Kappa and Tau Beta Pi 'honour' societies at Princeton. He was the President of the 'Chapter of the Students for the Exploration and Development of Space'.
Early Career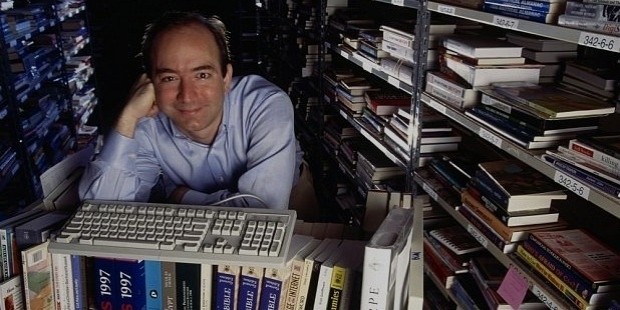 Jeff Bezos worked in the field of computer science on Wall Street. He developed an international trade network for the company, Fitel. Jeff was employed with Bankers' Trust. His rise in the business world was meteoric. Jeff was the youngest senior Vice-President at D E Shaw, an investment company. Four years down the line in 1994, he shifted base to Seattle and launched Amazon.com, a virtual bookstore. Amazon.com is currently the largest retailer on the World Wide Web.
Heights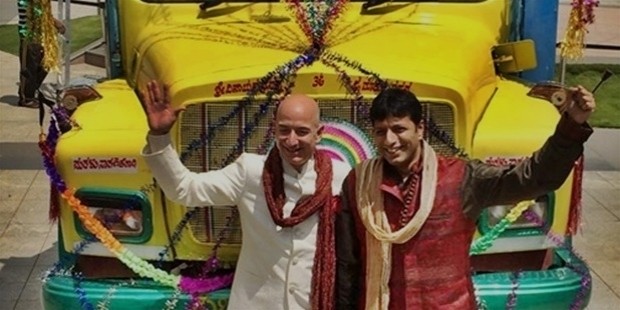 What started as a small venture in Bezos' garage is now a symbol of internet sale. He may rightly be called a pioneer in e-commerce. Amazon.com, which derives its name from the South American river, Amazon, was launched in 1995. The site became an instant hit! The company was made public in just two years of being started. Bezos expanded his business and several other products were added to Amazon.com through retail joint ventures. Growing from strength-to-strength, Amazon.com launched 'The Kindle'. It is a digital book with multiple features. Amazon enjoys an unchallenged position among other similar e-commerce sites.
AWS is now the envy of all tech giant companies. Bezos' visionary abilities to take big risk have fetched him an enviable position today. Amazon Web Services (AWS) will remain unchallenged in near future.
Bezos established the 'Blue Origin', a human space-flight start-up company in 2000. The objective of Blue Origin was to facilitate 'space travel', cost reduction and prioritise the safety factor.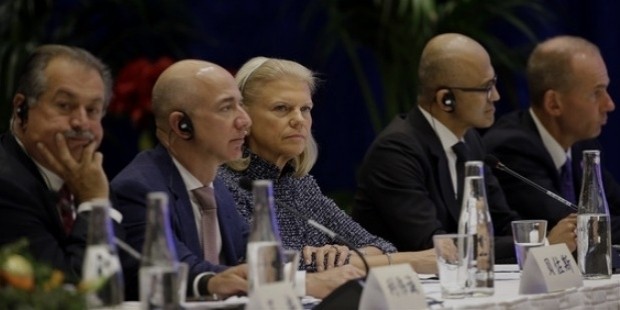 Bezos made global headlines when he procured The Washington Post and other publications associated with The Washington Post Co in 2013. A year later, he removed the online pay wall for subscribers of some local US newspapers.
Bezos was in the news when he announced a new experimental project, "Amazon Prime Air". The project would develop 'drones'- remote controlled machines that would perform an assortment of human tasks.
Bezos and his company, Amazon.com is committed to climate change initiatives and research. The Company features charitable schemes on 'disaster relief fundraising' on its home page. Its features, "Wish List" and "Amazon Smile" facilitate non-profit donations. Amazon.com helps to sustain writers.
Bezos is an active member of the Bilderberg Group. He was a part of the Executive Committee of The Business Council for 2011 and 2012.
Personal Life
Bezos is married to MacKenzie Bezos. They had met when he was employed with D E Shaw. The couple is blessed with four children; three sons and a daughter they adopted from China.

Recognition
Bezos was declared "Person of the Year 1999" by Times. He was chosen as one of "America's Best Leaders 2008" by the US News & World Report. Bezos was bestowed an honorary doctorate in Science and Technology from the Carnegie Mellon University in the same year. He shared the "Innovation Award" with Gregg Zehr for the Amazon Kindle, awarded to him by The Economist in 2011. Bezos was affirmed the title, "Business-person of the Year 2012". With his net worth of $59.4 billion, he is ranked as the 'fifth' wealthiest person in the world. He was declared the 'Second Best CEO in the World' by the Harvard Business Review.
Awards
2012

Gold Medal
2011

Innovation
2008

Honorary Doctorate
2001

Golden Plate
2000

Freedom of Speech
1982

Silver Knight
Success Secrets of Jeff Bezos
Full Name :

Jeffrey Preston Jorgensen
Born :

12th-Jan -1964
Zodiac Sign :
Birth Place :

Albuquerque
New Mexico
Education :

Miami Palmetto High School Pinecrest,
River Oaks Elementary School Houston,
Princeton University New Jersey
Occupation :
Industry :
Networth :

$ 46.7 Billion
Want to Be Successful?
Learn Secrets from People Who Already Made It
Please enter valid Email