Ed Sheeran Quotes
Ed Sheeran's early life is considered to be full of inspirations and influences. From the age of four, he used to sing in local church choir. Ed Sheeran has been an inspiration of thousands of his fans. His quotes are really popular and are being followed by mass.
Life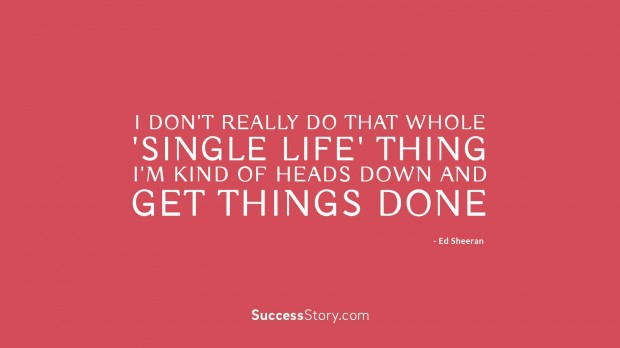 "I don't really do that whole 'single life' thing. I'm kind of heads down and get things done"
One of the things that impressed a lot of people most about Ed is his absolute honesty. There was a discussion about the music video for ed Sheeran Photograph from his latest album. He was asked about what contribution he made to the final editing for the video and he answered "absolutely nothing whatever." He stated that his dad worked with the director and contributed to the process. Here you not only see Ed's honesty remarkable but also his personality in giving his dad credit for helping in the production of the video.
ed-Sheeran, always believed that it is significant for any person to have control over the whole thing as much as you can. This young songwriter and singer have played shows generously, In the year 2011, he played more than 300 shows alone. A hard working musician with his talent for lyrics, prominent melodies, and an expressively charged live show will forever have a fan base. His brilliant sayings and quotes and related to live, music, getting things done at much morel help mankind on the path of achievement and success. His Quotes are factual words of intelligence. They are meaningful thoughts and deep it definitely completes shake deep inside each one's heart. Ed Sheeran has always been millions of people's admiration
Want to be Successful
Learn Secrets from People who Already Made it
Please enter valid Email