Chen Lihua aka Chan Laiwa SuccessStory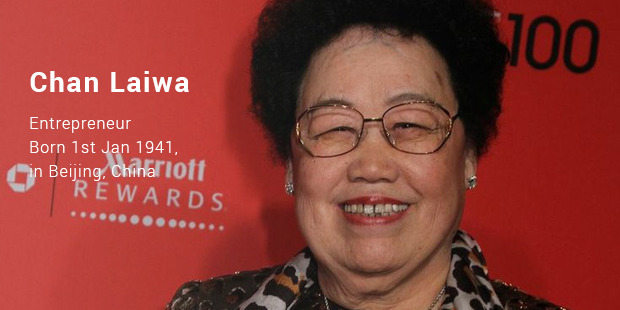 Although Chan Laiwa was born in a royal family, she did not see the riches in her childhood, and had to build her own fortune. Joining the top league of commercial real estate owners in China, Chan is one of the richest self-made women across the globe. She is the honcho of Fu Wah International Group, Beijing, which owns some of the most popular properties, including Jinbao Tower, Regent Beiing, Chang'An Club, Beijing Hong Kong Jockey Club etc. She is also the founder and curator of China Red Sandalwood Museum, one of the biggest privately owned museums in the country of China. She is also known as the wife of actor Chi Zhongrui.
Personal Life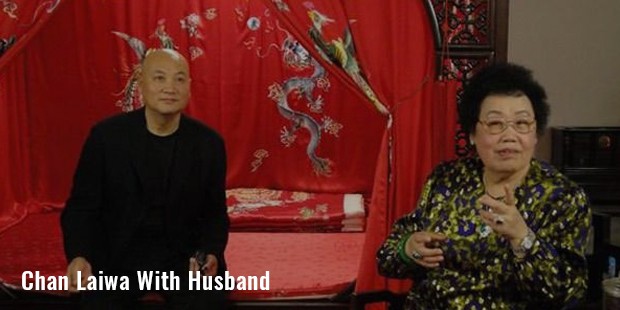 Born in the Summer Palace, Beijing, China, Chan is a descendant of the royal family of Manchu. She was born in the times when Japan's armies advanced across China, and her Qing dynasty had witnessed a major fall 3 decades before. This means that although she was born in a royal family, she saw poverty in her childhood. Consequently, her story is a perfect example of going from riches to rags, and then again rags to riches. At present, she is running an empire of properties, and achieved her royal status with her own efforts. Although she has a rich husband, she has not mixed his wealth with hers, and has attained her wealth all on herself.
Early Life and Business Venture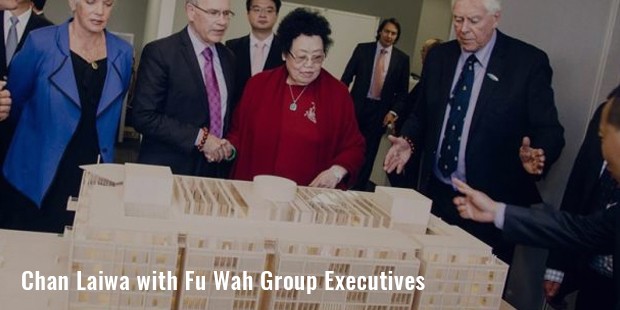 Born into poverty, Chan was forced to leave her studies at high school, and pursue a business in furniture repair. She later moved to Hong Kong, and started purchasing and reselling furniture. With this business, she gathered great wealth which she used to purchase 12 villas. This move was a phenomenal success in the British colony of that time, and a rare achievement for a mainland migrant. Later, she returned to China, and continued her activities in the Chinese real estate market. Chan founded Fu Wah International Group in the 90's, and expanded her portfolio in varied fields. These include hospitality, tourism, production, electronics and production of red sandalwood. Today, her company is the biggest real estate groups in Beijing.
Arts and Philanthropy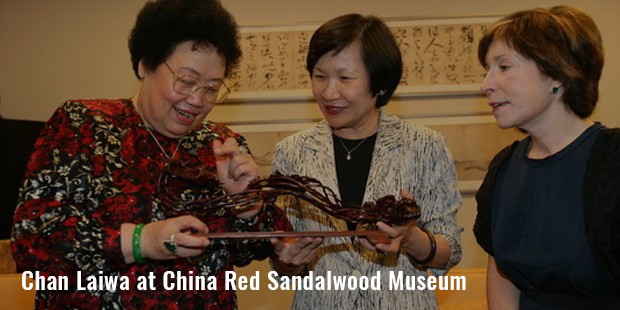 Other than business, Laiwa has also interests in arts and philanthropy. She has deep love for Chinese arts, not only because she was born in the Summer Palace, but also because of her respect for motherhood. In an interview to the China media, she said "My mother's blood runs through my own veins and therefore I have a filial obligation to comport myself with grace and determination throughout life to honor her".
In the recent years, Chan Laiwa has handed over her business management ventures to her son, and prefers to concentrate instead on her museum. She made this museum in 1999 after investing 20 billion yuan, and covers a 25,000 sq. mtr. of area. Chan is also popular for her philanthropy and social responsibility works. She made a donation of 265 million yuan in 2004, and 130 million yuan in 2005 for disaster relief.
Full Name :

Chen Lihua aka Chan Laiwa
Zodiac Sign :
Birth Place :

Santiago
Education :

University of Chile
Occupation :
Industry :
Networth :

$ 2.7 Billion
Want to Be Successful?
Learn Secrets from People Who Already Made It
Please enter valid Email