Mukesh Ambani, India's Richest Businessman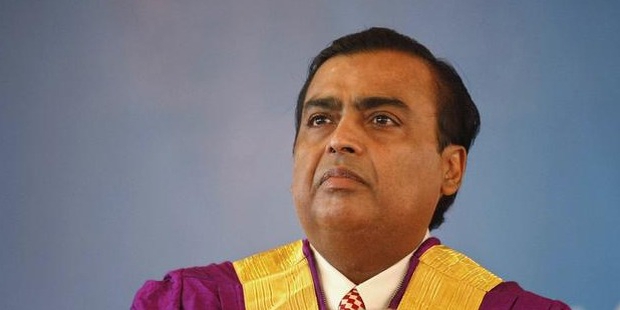 The richest person in India and MD and chairman of Reliance Industries, the largest Indian private sector enterprise, Mukesh Dhirubhai Ambani is a worthy example of business tycoons carrying forward legacy.
Biography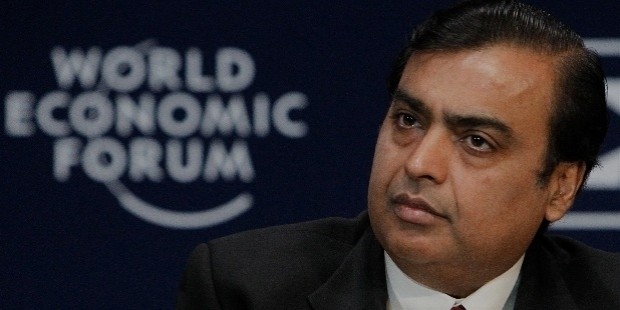 The elder son of Legendary business leader late Dhirubhai Ambani, he has played a pivotal role in taking Reliance Industries Limited to zenith of success in his illustrious career. Despite the steep competition from rival tycoons like Tatas and Birlas and allegations of business malpractice, Mukesh Ambani continues his success in various spheres of business.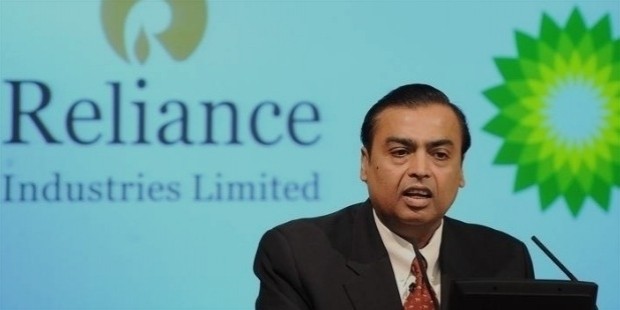 Along with the tremendous growth of his Fortune Global 500 company, Mukesh Ambani has often hogged headlines for his lavish lifestyle and diversification into other industries. Located in South Mumbai, his skyscraper home Antilia has been rated as the world's costliest residential property by prestigious Forbes Magazine. He held the position of the richest Indian for 6 years.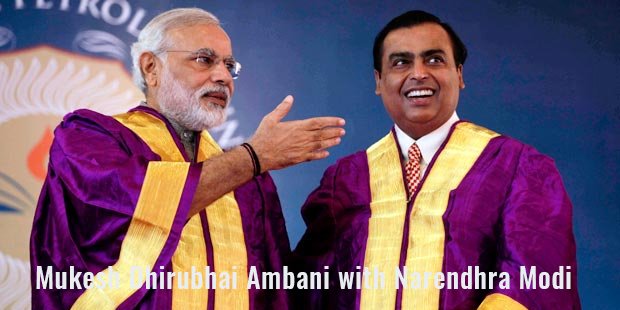 Mukesh Ambani with Narendra Modi
Early Life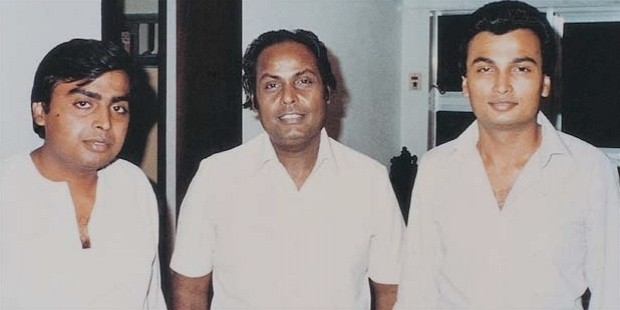 Mukesh Ambani was born on April 19th, 1957 to Indian Business Legend Dhirubhai Ambani and his wife Kokilaben Ambani. He has three siblings, one younger brother, Anil Ambani and two sisters, Deepti Salgaocar and Nina Kothari.
The family lived in a modest two-bedroom apartment till the late 1970s in Bhuleshwar, Mumbai.
Education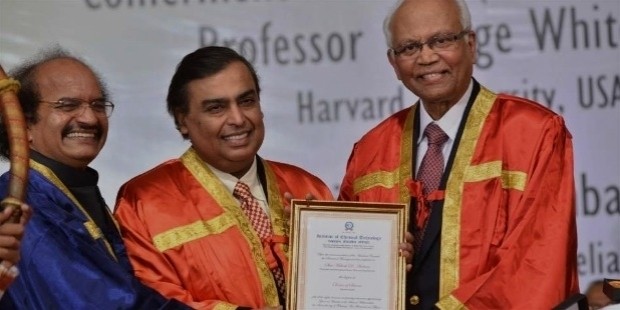 Mukesh attended the Hill Grange High School at Peddar Road in Mumbai where he was a classmate of Anand Jain, who is his close associate now. His brother also attended the same school as him.
After completing his high school in Mumbai he got a BE Degree in Chemical Engineering from Institute of Chemical technology at Matunga. He also started his MBA at Stanford University but he had to discontinue his studies to assist his father in the family startup company, Reliance, which was growing fast at the time.
Beginning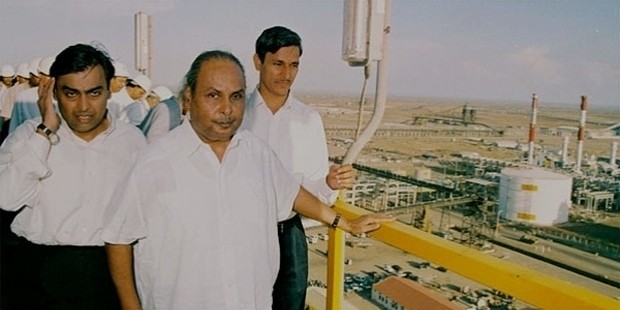 After joining the business, Mukesh Ambani played a pivotal role in growing the business legacy and diversified into new sectors. Under his leadership, Reliance Industries made a foray into sectors like petroleum refining, petrochemicals and gas exploration. He also set up Reliance Infocomm Limited (presently Reliance Communications Limited).
Career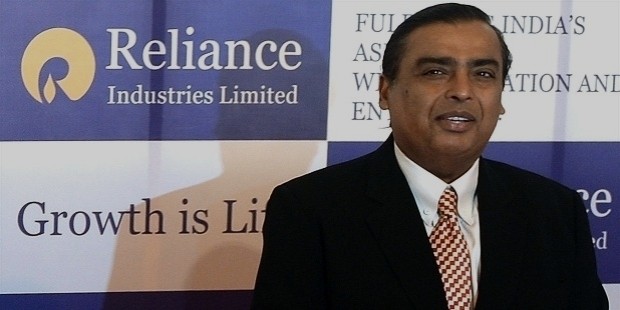 In 2010, Mukesh Ambani set up the biggest grassroots petroleum refinery plant in Jamnagar. With his initiative, manufacturing capacity of Reliance's Petrochemicals has grown substantially as per industry sources. The company has also become a leading player in the retail sector, under his leadership and endeavors.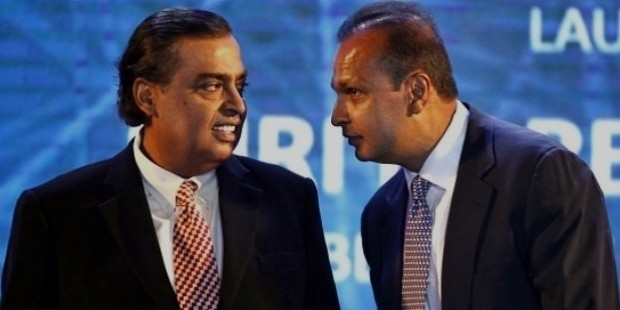 In his successful and enviable business career, Mukesh Ambani has gone through some turbulent times, too. His rift with sibling Anil Ambani, another business tycoon and chairman of Reliance ADA Group, hogged media attention post the demise of their father. In recent times, the NDA government slammed a $579million fine on RIL for gas production shortfall.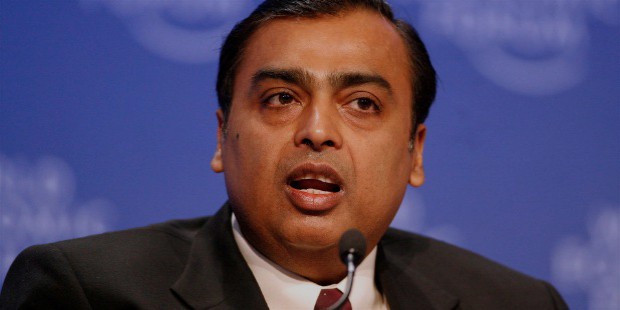 Mukesh Ambani faced hurdles in the form of business malpractice allegations too. His detractors, including AAP founder Arvind Kejriwal, accused him of interfering in the governance of the country. RIL as well as Mukesh Ambani himself have denied the allegations strongly. The company has also resorted to legal actions over the controversy.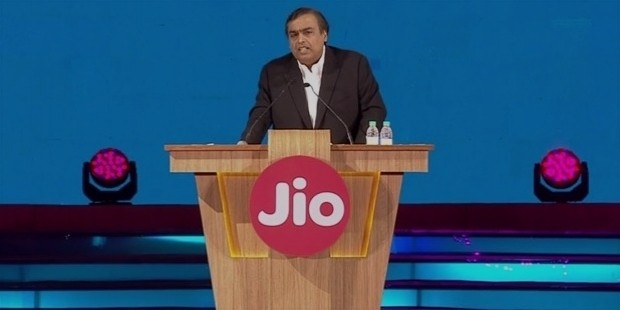 The numerous acquisitions made by RIL, the acknowledgment from leading business entities, and his firm hold on the throne of India's richest person has not made Mukesh Ambani complacent. Reliance Jio Infocomm, his telecom arm is all set to roll out 4G services in alliance with his sibling Anil Ambani's company.
" Essentially, whoever is successful, whoever is going to do things that make a difference, is going to be talked about." - Mukesh Dhirubhai Ambani
Mukesh Ambani announced a few months back that Reliance Jio Infocomm will launch 4G services in the commercial capacity in 2015, incurring a whopping 70,000 crore investment in India. It will use the pan-India BWA spectrum for the 4G service rollout, which will cover almost 90 percent of urban regions and more than 215,000 villages. It is being deemed as an aggressive move by industry analysts at a time when telecom companies are vying for 4G dominance.
Family and Personal Life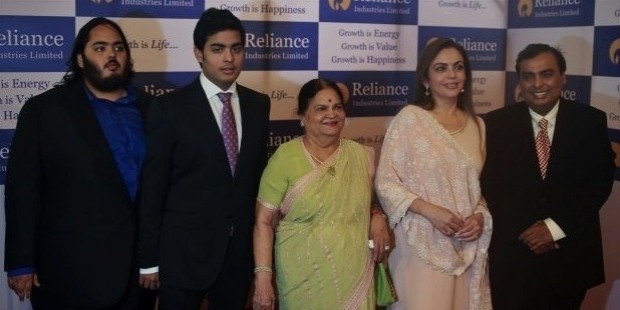 Mukesh Ambani is married to Nita Ambani and they have three children. Two sons, Akash and Anant and a daughter Isha. He lives with his family in Mumbai in an apartment of a private 27 storeyed building named Antillia.
His residence is known to be one of the most expensive residential places ever built in the world. It is currently valued at over $ 1 billion.
Awards
2013

Millennium Business Leader of the Decade
2010

Global Leadership, The Business Leader of the Year, Global Vision, Business Leader of the Year, Businessman of the Year
2000

Ernst and Young Entrepreneur of the Year
Mukesh Ambani about Reliance Future Plans
Full Name :

Mukesh Dhirubhai Ambani
Born :

19th-Apr -1957
Zodiac Sign :
Birth Place :

Aden
Education :

Hill Grange High School Mumbai,
Institute of Chemical Technology Mumbai,
Stanford University California,
Stanford Graduate School of Business California,
University of Mumbai Maharashtra
Occupation :

Businessman
Industry :

Business
Networth :

$ 20.8 Billion
Want to Be Successful?
Learn Secrets from People Who Already Made It
Please enter valid Email