Richest American actresses in Hollywood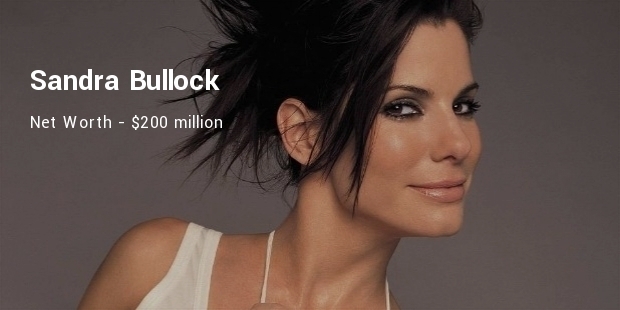 Showbiz & entertainment is one of the leading industry in the world and all its road leads to Hollywood the Mecca of entertainment industry. Hollywood has shaped up various actor & actresses' career and helped them to gain wealth and fame.
Celebrities have their own fan following across the globe and have made a whopping fortune by their sheer acting skills. Following are the list of actresses who are highly paid for portraying various characters in films/television/animation etc.
1. Jami Gertz : Net Worth - $2 billion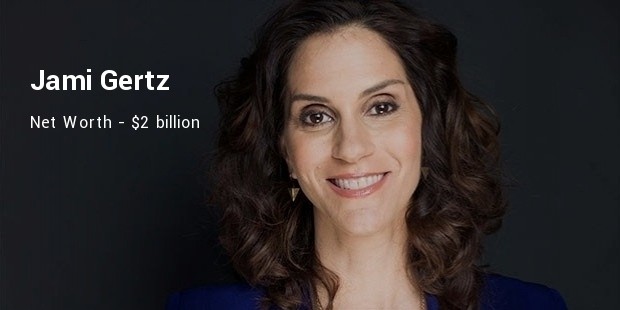 Known for her television and cinema projects like Sixteen Candles, The Lost Boys, Less Than Zero, Quicksilve Still Standing and The Neighbors – Jami Gertz is undoubtedly topping the list of richest actress in Hollywood. Her comic role in Less Than Zero had gained a huge traction among her fan followers.
2. Sandra Bullock : Net Worth - $200 million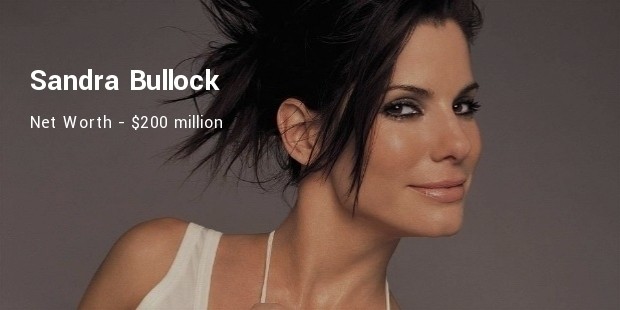 This stunning actress is known for her roles in some of the hit films like Speed, The Net, Hope Floats, A Time to Kill, Miss Congeniality, Crash, The Proposal and The Heat. However, her role in Demolition Man was a breakthrough character in her career & then there was no looking back.
3. Julia Louis Dreyfus : Net Worth - $200 million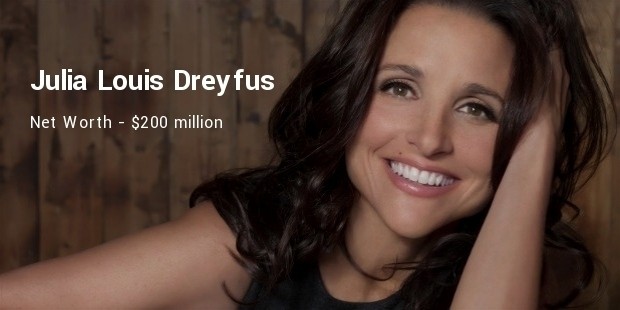 Known for her role in comedy series Seinfeld for which she has been critically and commercially gained success, joined Saturday Night Live as cast member in 1982 which continued till 1985 and later on appeared in many comedy series.
4. Jessica Alba : Net Worth - $200 million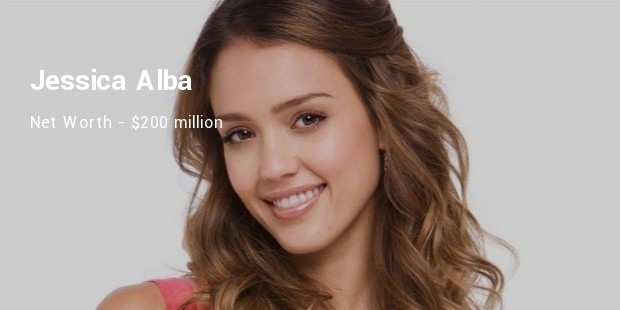 This 34 year old ravishing beauty has several films & television series up her sleeves. She had appeared in lead roles in Fantastic Four, Sin City, Honey, Awake, Valentine's Day, Escape from Planet Earth and Stretch. Born in California, she is recipient of various awards and accolades.
5. Julia Roberts : Net Worth - $170 million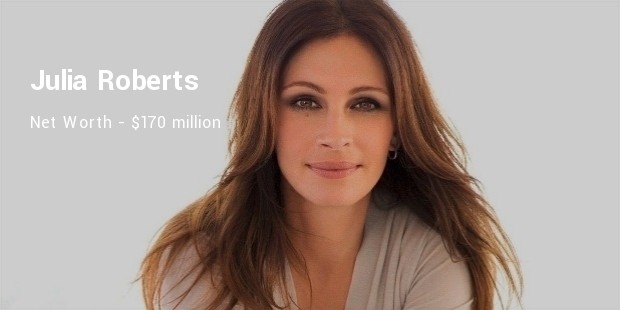 One of the successful actress of her times, Julia Roberts is an American actress & producer. She made her debut in a film titled Satisfaction while her first television appearance was in crime story series The Survivor. She was the highest paid actress in 1990s and 2000s while she also ranked among most beautiful and hottest women all times.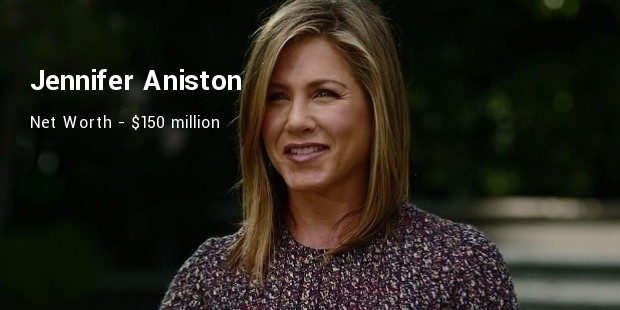 This multi-talented American actress gained prominence in the industry as Rachel Green in the television sitcom FRIENDS. With a successful career as actress, producer, director and businesswoman, she has been voted as Sexiest Woman of All Time.
7. Demi Moore : Net Worth - $150 million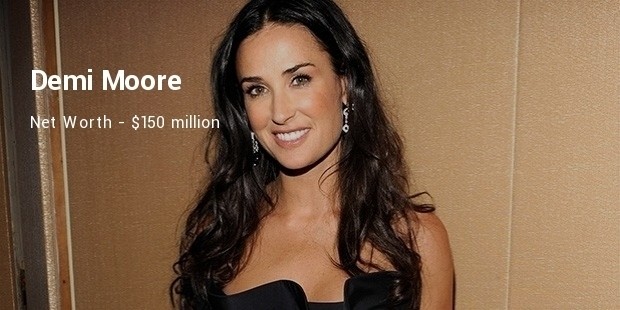 She started acting at an early age of 16 years and gained recognition for her roles in Blame It on Rio and St. Elmo's Fire. Her role in the movie Ghost (1990) brought her a Golden Globe nomination. Apart from acting career, she was an investor in the Planet Hollywood chain of themed restaurants & been executive producer of Austin Powers franchise.
8. Angelina Jolie : Net Worth - $150 million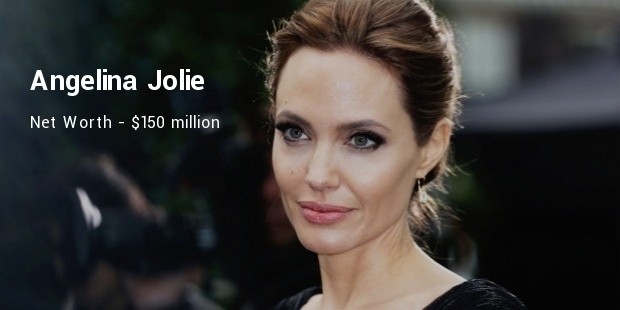 This prominent Hollywood actress made her mark as Lara Croft : Tomb Raider, followed by some box office hits like Mr. & Mrs. Smith, Wanted and Salt made her the most sought after actress among many directors. She has been named world's most beautiful woman, powerful woman and influential celebrity in the world & being one of the richest as well.
9. Drew Barrymore : Net Worth - $150 million
This American actress, author, director, model and producer, started her career at the age of 11, when she appeared for a TV commercial & later in 1980 made her film debut in Altered States. She successfully made the transition from child star to adult actress with a number of films including Poison Ivy, Bad Girls, Boys on the Side, Scream and Everyone Says I Love You.
10. Nicole Kidman : Net Worth - $130 million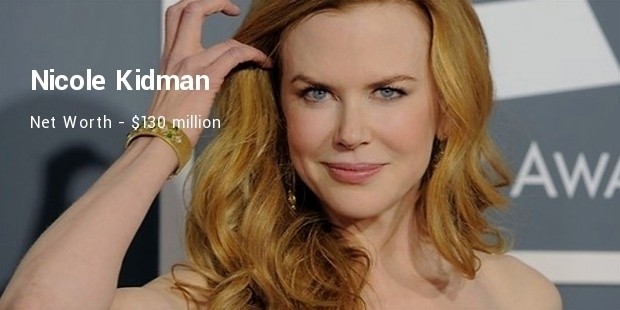 This actress & producer made her mark through the musical Moulin Rouge (2001) & bagged the Golden Globe Award for best actress. Born in Australia, she has dual citizenship of the US & Australia. She has been a Goodwill Ambassador for UNICEF since 1994 and for UNIFEM since 2006.
While being in that list is a prestige factor, being treated as ultra-high net worth individual. But reaching there and achieving it is not that easy. It takes immense hard work & consistency in performance to remain in the top list. These actresses have been casted across various genres of movies, accepting challenging roles, winning highest honours in the industry and thereby entertaining huge audiences worldwide & the result of which is a great fortune.
Want to Be Successful?
Learn Secrets from People Who Already Made It
Please enter valid Email