Most Expensive Castles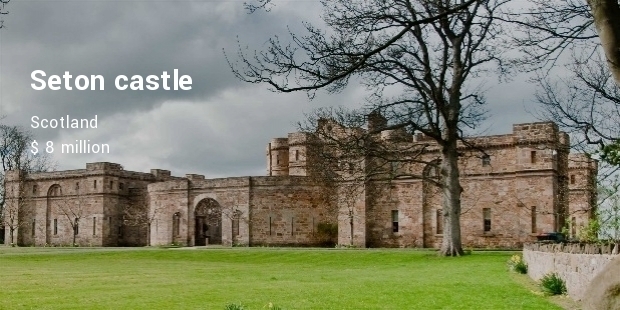 Ever wondered how life would be on a hill top castle over-looking meadows? It sounds like a fairytale. There are castles, which are architectural masterpieces and sought-after tourist destinations.
The panoramic view from the world's most expensive castles are worth every penny that one pays to spend some leisure moments in these luxurious castles-cum- hotels. Businessmen and architects invest in these historic monuments as heritage symbols as well.
1. Ashford castle, Ireland $ 68 million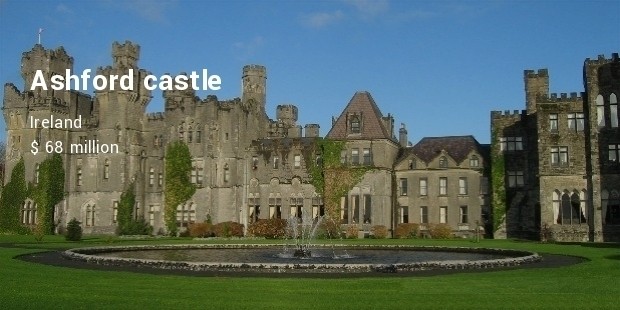 This gigantic medieval castle, located in Cong, near Ireland's border, is the oldest in Ireland. Its origins can be traced back to 1228. Over the years, it has grown into a monumental master-piece. After the estate was purchased in 1852 by Sir Benjamin Lee Guinness, two large Victorian extensions were added to the structure.
Under the supervision of Irish architect John Mulcahy, the property was completely restored, It transformed from a medieval castle into a luxury hotel. In 2012, Ashford castle earned the stature of the best resort in Ireland and the third best in Europe.
2. Seton castle, Scotland $ 8 million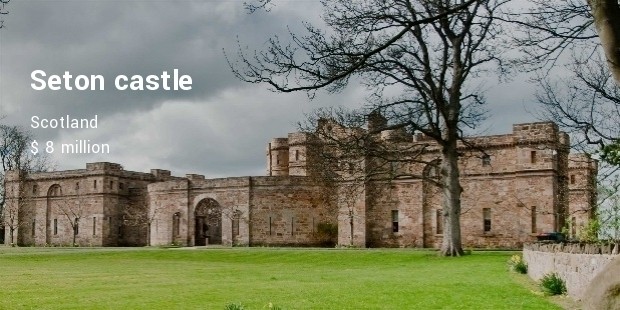 The majestic Seton castle was built by architect Robert Adam in the18th century. Formerly known as Seton Home, the castle stands tall and made it in the top 50 most expensive homes list in 200. According to real estate pundits, the property's value would be double in the next few years.
The castle is sprawled over a 20-acre woodland. It has a library, gallery, billiard room, nursery, staff quarters, six reception rooms, 14 bedrooms, a 440 square foot master bedroom, stables, as well as a coachman's cottage.
3. Belcourt Castle, Newport $ 3.6 million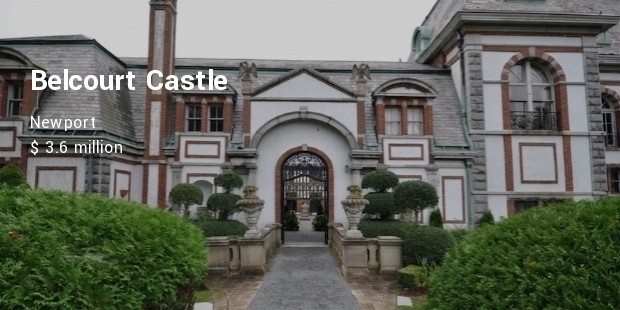 Located in Newport, Rhode Island, it has the infamous reputation of being haunted, the Belcourt Castle is a beautiful summer cottage designed by architect Richard Morris Hunt. Exquisitely decorated in French Renaissance and Gothic style, it has an English library, banquet hall, music room, Empire-style dining room and French Gothic-style ballroom.
It is adorned with antiques and armors.Earlier in 1957, Belcourt Castle served as a museum where 10 rooms were accessible to the tourists. A ghost tour would also be conducted.
4. Devizes Castle,Wiltshire $ 3.2 million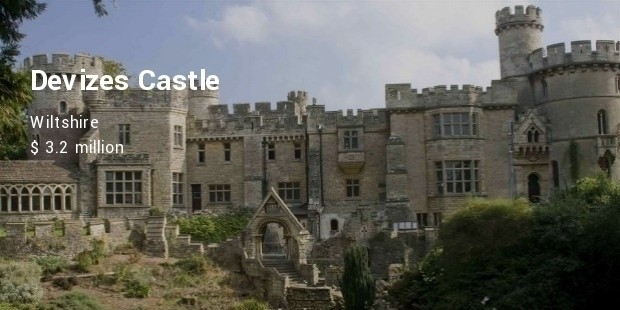 The spectacular Devizes Castle was built at the beginning of the 12th century. It was the property of Catherine of Aragon, the wife of Henry VIII. During the Civil War in 1645, under Oliver Cromwell's orders, major parts of the fortification were destroyed. The estate as it exists today is only a fraction of its original size.
The construction on the modern castle began in 1838. The castle consists of seven bedrooms, four bathrooms, six reception rooms and a drawing room. According to the plans, one of the tower rooms would be converted into a dressing room, and the 'Orangerie would be renovated and transformed into an indoor pool.These castles form part of the historical heritage and serve as excellent travel destinations. Make sure to visit it with your near and dear ones and enjoy a memorable vacation.
Want to Be Successful?
Learn Secrets from People Who Already Made It
Please enter valid Email