16 Most Popular Inspirational Quotes from A.P.J Abdul Kalam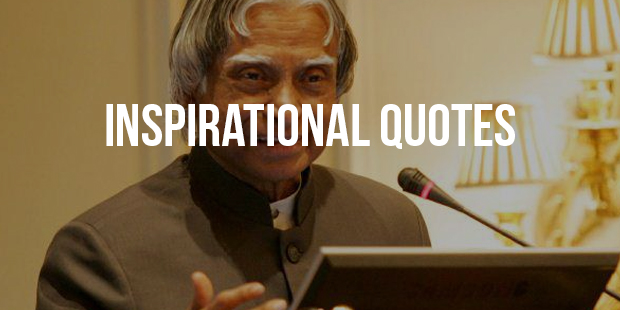 Known as the Missile Man of India, respected APJ Abdul Kalam's contribution to science goes beyond all the material recognition bestowed upon by the society. Kalam's significant achievement in the field of science into aerospace is well known all over the world.
1. Failure will never overtake me if my determination to succeed is strong enough.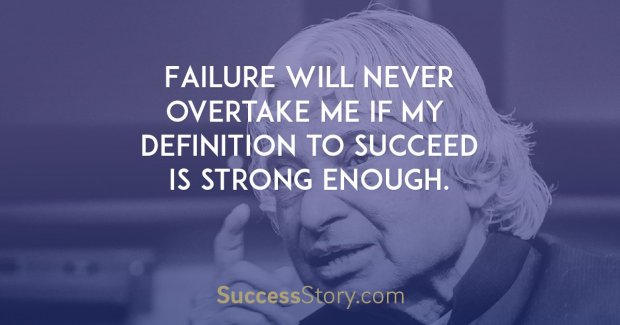 2. "Don't take rest after your first victory because if you fail in second, more lips are waiting to say that your first victory was just luck." - A.P.J Abdul Kalam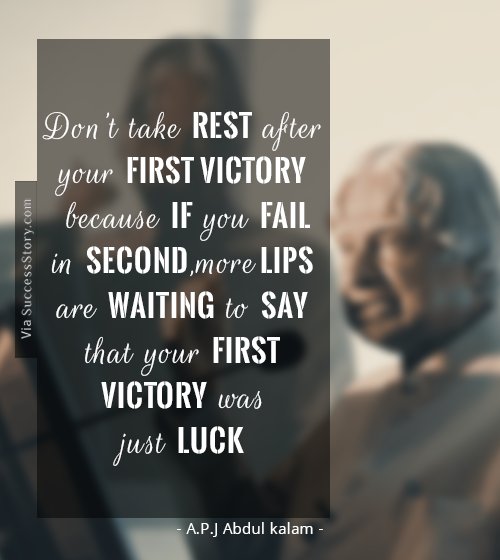 3. "All Birds find shelter during a rain. But Eagle avoids rain by flying above the Clouds." - A.P.J Abdul Kalam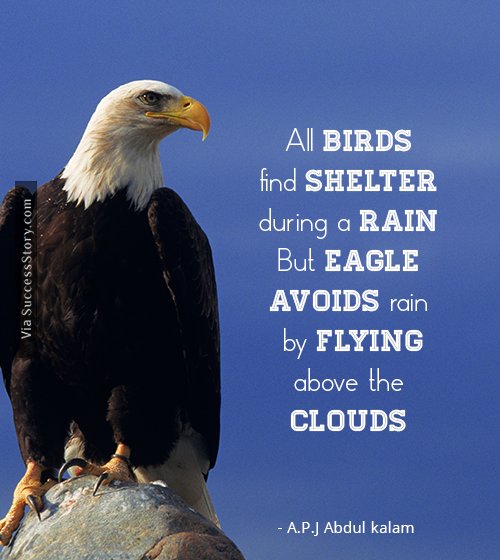 4. "Man needs difficulties in life because they are necessary to enjoy the success." - A.P.J Abdul Kalam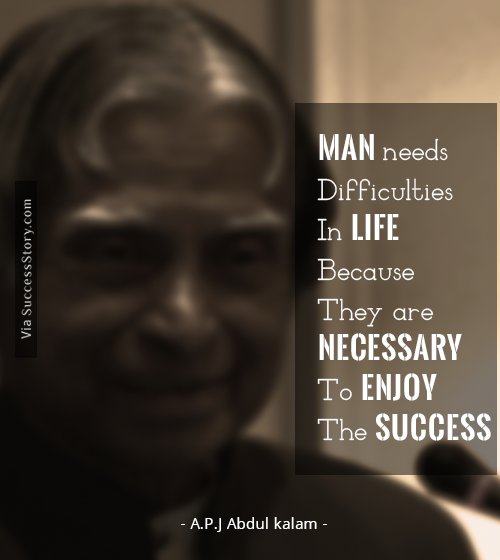 5. "If you want to shine like a sun. First burn like a sun." - A.P.J Abdul Kalam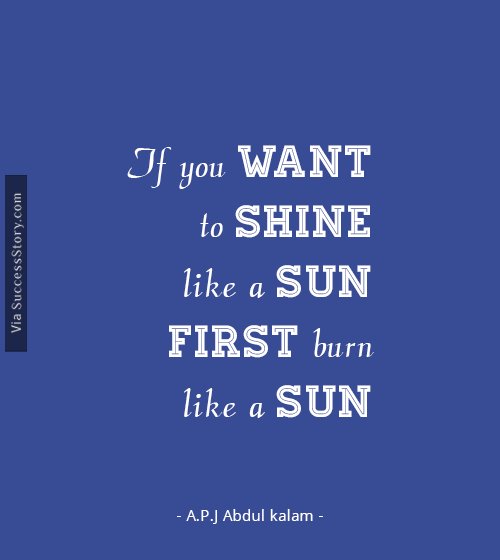 6. "All of us do not have equal talent. But , all of us have an equal opportunity to develop our talents." - A.P.J Abdul Kalam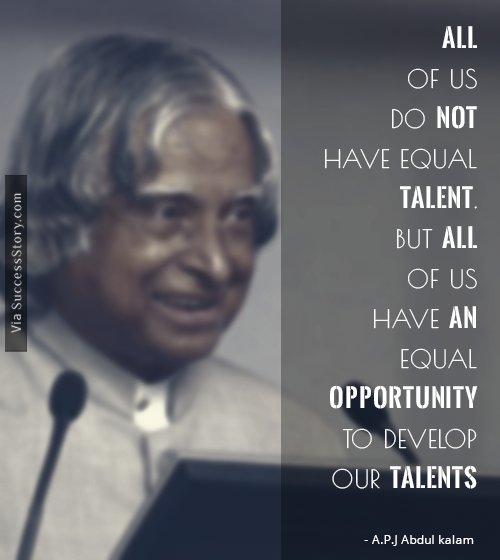 7. " Be more dedicated to making solid achievements than in running after swift but synthetic happiness." -A.P.J Abdul Kalam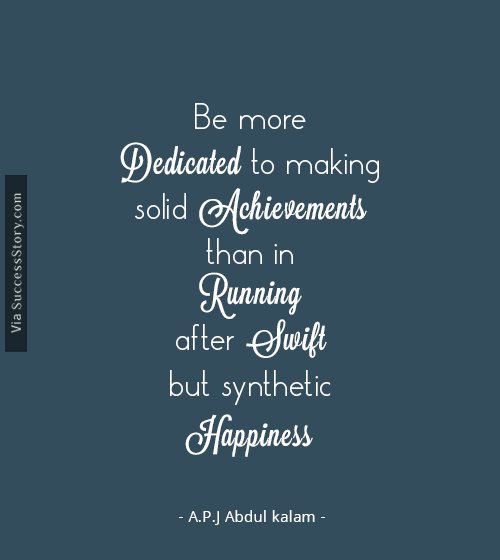 8. "Thinking should become your capital asset, no matter whatever ups and downs you come across in your life." - A.P.J Abdul Kalam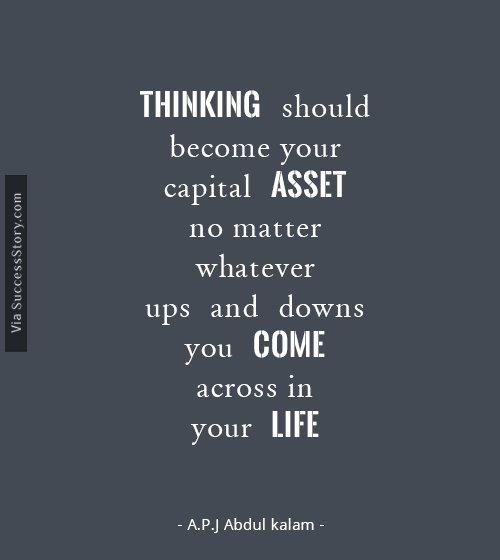 9. " Without your involvement you can't succeed. With your involvement you can't fail. " - A.P.J Abdul Kalam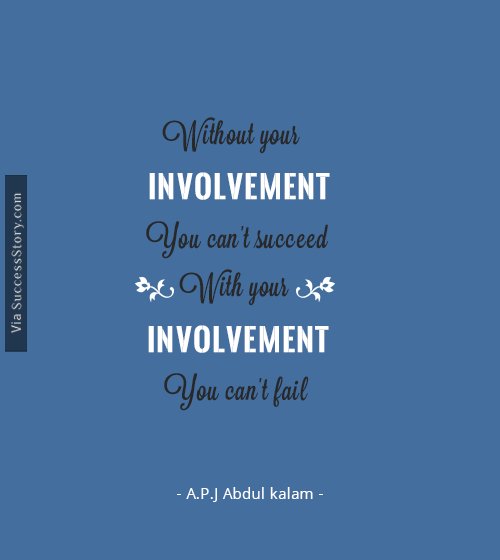 This great man with modesty, simple thinking and great living sets a standing example of innovation in the thought process for decades. Abdul Kalam also served as the 11th President of the Country for five years.
APJ had massively contributed his knowledge and observations during the nuclear tests of Pokhran – II that were done in the year 1998. Kalam also penned a popular book, India 2020, where he laid foundation for the vision to see a developed India by the year 2020. His thoughts and words of inspirational quotes are very famous among youngsters who dream of reaching heights in life. The student community of India is heavily motivated with Kalam's many speeches and interactions.
Abdul Kalam Motivational Speech to Students
India Interacts with Abdul Kalam
Abdul Kalam always believed that science should be applied for the greater good of mankind rather than in commercial sense. Many a times, he had offered unanimous assistance to the research done by the Government of India. Abdul Kalam was awarded the country's highest civilian honour, Bharat Ratna in the year 1997.
Want to Be Successful?
Learn Secrets from People Who Already Made It
Please enter valid Email