Technology Quotes
KWs: dhirubhai ambani, bill gates, jeff bezos, reliance industries, industries limited, mukesh ambani, fortune 500, real estate, technological advancement, 21st century, information technology, reliance infrastructure.
1. Internet and Technology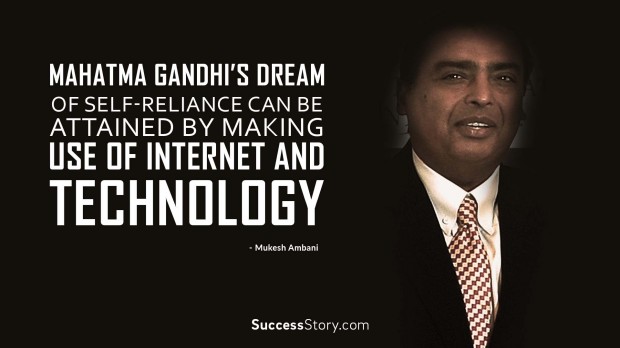 "Mahatma Gandhi's dream of self-reliance can be attained by making use of Internet and technology"
2. Technology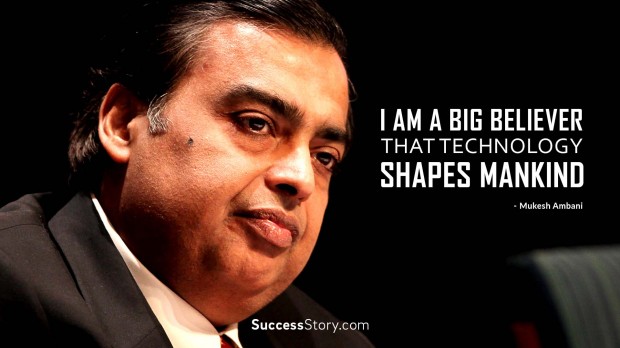 "I am a big believer that technology shapes mankind"
3. Broadband and Digital Services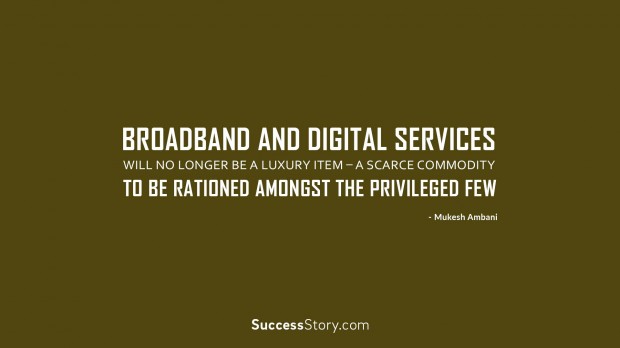 "Broadband and digital services will no longer be a luxury item – a scarce commodity – to be rationed amongst the privileged few"
4. Technology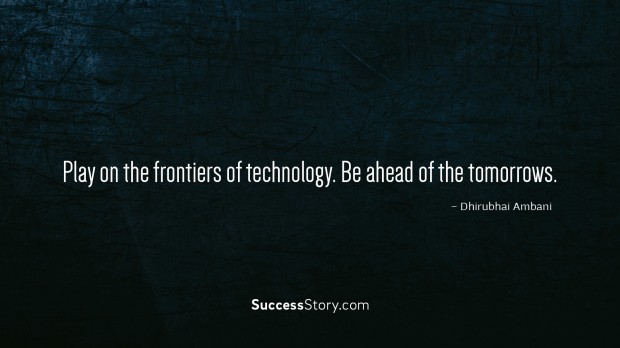 "Play on the frontiers of technology. Be ahead of the tomorrows."
As the founder and current chairman of Indian conglomerate Reliance Industries Limited (a Fortune 500 company), Mukesh Dhirubhai Ambani is the richest man in Asia having a net worth of $7.98 billion. Under Ambani's watch, Reliance Industries grew exponentially with the company now becoming India's most valuable firm by market value. Ambani has always acknowledged technology as one of the reasons for his company's steady growth over the years, investing heavily in technology to improve operations and maximize revenue.
Mahatma Gandhi's dream of self-reliance can be attained by making use of internet and technology.
It's not surprising for Ambani to correlate technology to one of India's most prominent philosophers Mahatma Gandhi, specifically using the internet and technology as a means to achieve Gandhi's dream of self-reliance. Although Gandhi was mostly a freedom fighter, he also had an eye in economics, preaching the value of self-reliance so that regular Indians earning low salaries can still support themselves and their families. He mainly cited that the urgent need to develop the country's agricultural industry as well as the use of technology so that self-reliance will be achieved faster.
Ambani may help Gandhi realize his dream sooner through one of the companies listed under the Reliance Industries umbrella: Jio Platforms, one of the largest tech companies in India. Jio Platforms is the holding company of Indian telecommunications company Jio and is also a big player in the country's information technology sector including broadband connectivity, cloud computing, data analytics, and artificial intelligence, among others. With Ambani playing a significant role in developing India's tech industry, self-reliance for millions of his countrymen is something that will no longer be out of reach.
I am a big believer that technology shapes mankind.
Despite Jio Platforms controlling a large part of India's tech industry, the company is only a small part of the country's march towards becoming a tech powerhouse. Ambani understands that the value of tech and how it can power not just private and public institutions but also improve every person's well-being. Ambani is truly a believer as evident in his investments in Reliance Industries, consistently investing in tech in the hopes of benefiting multiple stakeholders 10 to 20 years in the future. He also intends to replicate what Bill Gates has done in Microsoft and Jeff Bezos in Amazon, two entrepreneurs that have maximized technology to grow their companies and also shape the way how people use and access different forms of hardware and software.
Whether it be manufacturing, retail, education, agriculture, medicine, or sports, technology has always been the answer to making things more efficient and effective. And with more advancements being developed at a faster pace these days, it will only produce better results for everyone involved in the long run. For example, technology has been responsible for helping scientists develop medications for diseases that were deemed incurable a century ago. Another example is tech helping shift education to a more online or remote setup, allowing teachers to impart knowledge and students receiving learning anywhere in the world.
Broadband and digital services will no longer be a luxury item— a scarce commodity to be rationed amongst the privileged few.
Ambani deserves all the praise for bringing broadband and digital services to millions in his country. Much like any developing country, India is experiencing difficulties in providing access to technology mainly due to limited resources. But Ambani, with the help of the national government, managed to bring the internet to working-class citizens, eventually launching Jio in 2015. It even plans to grow even further as it has forged a partnership with foreign tech firms such as Intel, Oppo, and Google.
As of May 2021, Jio has over 400 million users, the most for any telecommunications company in India. Aside from providing 4G and fiber internet, it also provides other services such as messaging (JioChat), web browsing (JioPages), online payment (JioMoney), video conferencing (JioMeet), and music streaming (JioSaavn). The company is currently in partnership with tech giant Intel to develop 5G capabilities not just for Indian consumers but also for smartphones from around the globe. It is set to face stiff competition from 5G operators such as Huawei, Nokia, and Ericsson but Ambani is confident that it will eventually overtake its competitors sometime in the future.
Play on the frontiers of technology. Be ahead of the tomorrows.
Although the quote is originally from Ambani's father, Dhirubhai, it still comes from the Ambani family no less, both sharing the same mindset when it comes to technology. The elder Ambani established Reliance Industries in 1960, originally manufacturing polyester and synthetic fabrics. Before his death in 2002, Dhirubhai had been the recipient of multiple international recognitions including the Corporate Excellence for Lifetime Achievement Award from the Economic Times and "Man of the Century" from Chemtech Foundation and Chemical Engineering World.
Dhirubhai was truly a man ahead of his time and it wasn't long before his son Mukesh took over the family business and turned it into the billion-dollar conglomerate it is known today. Even with technology limited during his time, Dhirubhai utilized what he had to grow his synthetic fabric business substantially. His entrepreneurial desire allowed him to create opportunities with limited resources, eventually allowing Mukesh to grow the company well until the 21st century and expand to other industries such as telecommunications (Jio Platforms), retail (Reliance Retail), logistics (Reliance Logistics), and real estate (Reliance Infrastructure), among many others.
In closing
Technological advancement has always been one of the key factors in Reliance Industries' unprecedented success. It helped the company as it started out during his Dhirubhai's leadership and it continues to help the company today with Mukesh in charge. And as long as the younger Ambani remains as the driving force of his company, tech will continue to play a big role not just in bringing in more revenue for Reliance Industries but also improve the lives of millions of Indian consumers.
Want to Be Successful?
Learn Secrets from People Who Already Made It
Please enter valid Email