Christopher Success Story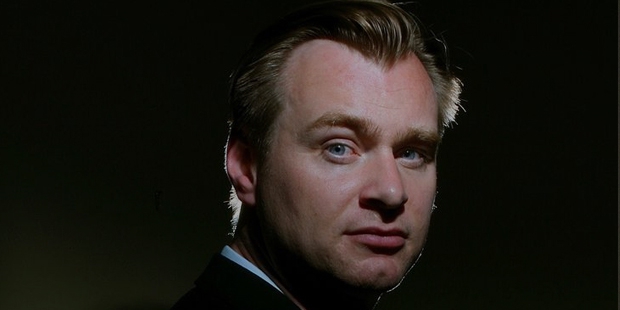 Childhood
Christopher 'Edward' Nolan was born on July 30, 1970 in London, England. Nolan took interest in filmmaking from the age of 7. He liked to take his father's Super 8 camera and shoot short movies with his action figure toys. He went on to study at the Haileybury and Imperial Service College in Hertfordshire after which he went to study at the University London College (UCL). Here he pursued his B.A. in English Literature while using all his free time to make short films and documentaries. His work made him to be chosen as the Union' Film Society President. During his college years he made two films, 'Tarantella' (1989) and 'Larceny' (1995). After his third short film called 'Doodlebug' in 1997, he made his first feature film called 'Following' which was released in the year 1998.
Early Life
The film 'Following' was made on a budget of just £3000 and was shot on weekends over the course of a year. The story was about a young writer who trails strangers through the streets of London. Nolan did the photographing, editing and scripting himself. This film went on to win several awards in the festivals it participated in. This got him the chance to direct a high budget Hollywood with a budget of $5 million. The movie was 'Memento' which released in the year 2000 and was considered as one of the best films that year. This went on to reach cult status getting various awards and also went on to gross $40 million. With this success, Nolan became the new poster boy of Hollywood.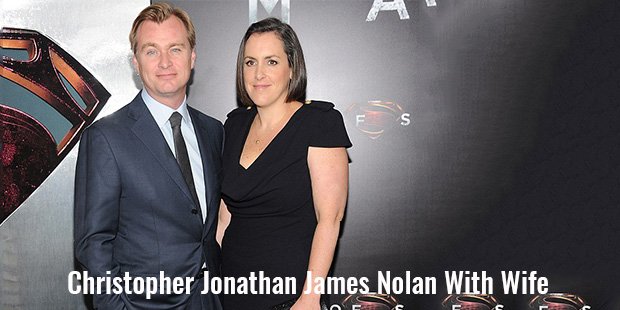 Career
With his first movie being such a massive hit, he went on to be careful about his choice of films as there were huge expectations on him. His next film was 'Insomnia' in 2002 which starred veterans like Al Pacino and Robin Williams. This film went on to gross more than $100 million and made him an overnight celebrity. He released his next film 'Batman Begins' three years later in 2005. This film was a critical success and also went on to make more than $350 million at the world wide box office. His next film 'Prestige' (2006) again opened to high critical acclaim. At such a young this director was able to make films that were both critically and commercially successful which was a rare skill.
"The best actors instinctively feel out what the other actors need, and they just accommodate it." - Christopher Nolan

His next directorial venture was the sequel to 'Batman Begins' called 'The Dark Knight' (2008). There were huge expectations on this film but Nolan was able to exceed all expectations. The film went on to gross more than $1,000,500,000 at the worldwide box office. It was also critically acclaimed as one of the best films of the decade and went on to secure 8 Academy Award Nominations. His next film 'Inception' (2010) went on to gross more than $800 million and became one of the best movies of the year. Nolan wrote the script, directed and produced the film himself. He had become the top director in Hollywood within the space of a few years.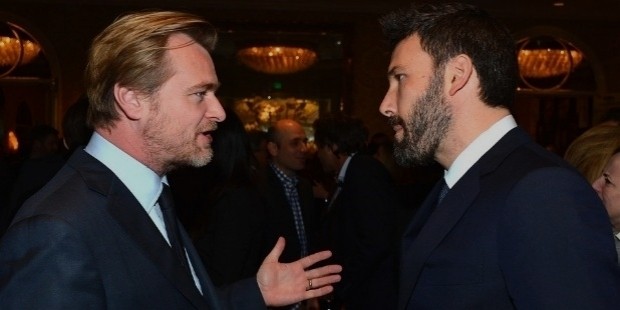 Christopher Nolan with Ben Affleck
His next film 'Dark Knight Rises' (2012) again shattered records by collecting in excess of $1 billion at the world wide box office. Again this movie was a critical success with numerous positive reviews for the performances and story. He was the producer of the Superman movie 'Man of Steel' which went on to gross in excess of $600 million. From being a struggling film making enthusiast just a few years back, today any film associated with Nolan is considered a blockbuster even before it reaches the theatres. Today Christopher Nolan is one of the biggest figures in Hollywood with personal fortune in excess of $200 million. At such a young age Nolan has become one of the most admired and respected directors in the world.
Awards
2015

Empire, Empire Inspiration, ADGs Outstanding Contribution to Cinematic Imagery
2013

AFI Movies of the Year
2011

Hugo, Writers Guild of America, Robert, Italian Online Movie
2010

Critics Choice, Saturn
2009

Empire
2008

Critics Choice, Saturn
2002

Broadcast Film Critics Association, Independent Spirit, MTV Movie
2001

Critics Choice
Christopher Nolan Documentary
Want to Be Successful?
Learn Secrets from People Who Already Made It
Please enter valid Email