Boy George Success Story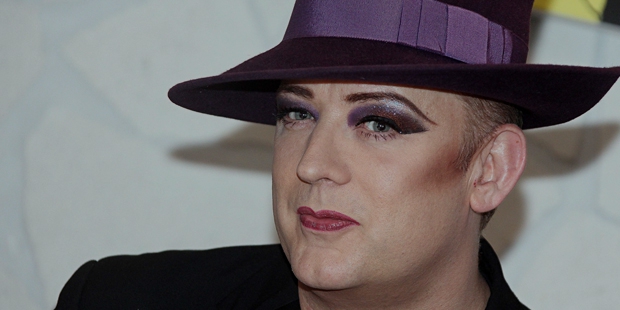 Synopsis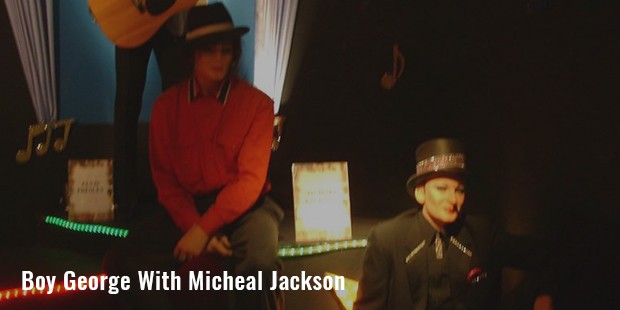 Boy George With Micheal Jackson
Boy George is a British Songwriter, fashion designer and photographer. He was also a part of the English New Romantic Movement. His music is influenced by rhythm & blues and reggae. George was the lead singer of the pop band "Culture Club" in 1980's. His band has produced hit songs like "Do You Really Want to Hurt Me", "Time" and "Karma Chameleon."
Childhood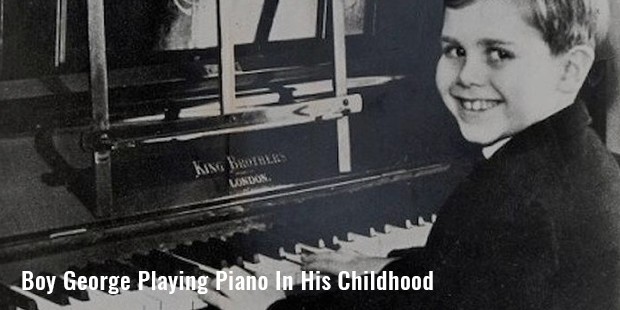 George was born to Jeremiah and Dinah O'Dowd on 14 June 1961 in Kent. He was an avid follower of the New Romantic movement in Britain in 1980's. He lived in squats around Warren Street in London. He and his friend Marilyn were regulars at The Blitz. The Blitz was one of the Trendy night clubs in London run by Steve Strange.
Early career
George's style of dressing caught the attention of music executive, Malcolm McLaren and arranged for him to perform with Bow Wow Wow. George eventually left the group and started his own band with bassist Mikey Craig. They were joined by Jon Moss and Roy Hay. Keeping the cross-dressing in mind they decided to name the band "Culture Club." George and Moss were in a romantic relationship unbeknownst to other band members. They released their first album in "Kissing to Be Clever" in 1982.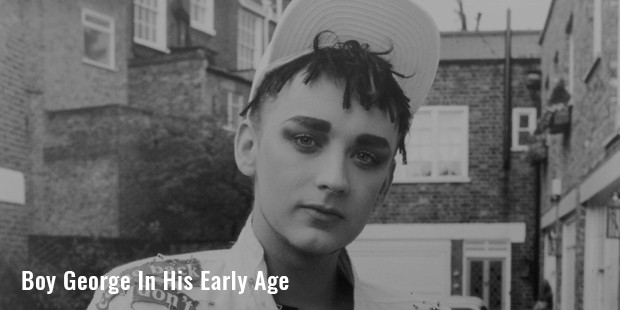 The single from the album "Do You Really Want to Hurt Me?" became an instant hit and reached no. 1 position in several countries. Culture Club's next album "Colour By Numbers" was also an enormous success and topped charts in UK and made to the second position in US. The singles "Church of the Poison Mind" became a Top 10 hit and "Karma Chameleon" became and international hit. The bands third album "Waking Up With the House on Fire" received a mediocre success when compared to their previous albums. George performed a cameo in the television series "The A-Team" in 1986.They moved to their fourth album "From Luxury to Heartache" but there after disbanded after the death of one of the team member.
Career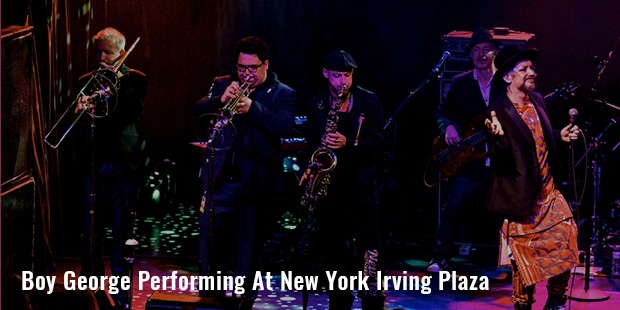 George released his first single in 1987 titled "Sold." It garnered mild success in Europe. He composed the soundtrack of the movie "Hiding Out" and made in the US Top 40. He later released "Headache" in 1988 and "Boyfriend" in 1989 but could not be distributed in the US. He released several underground hits in 1990's such as "After The Love", "Generations of Love" and "Bow Down Mister."
George even presented chat and music show on the Power Station satellite channel called Blue radio from 1990 to 1991. George stayed in the public eye by starring in the musical "Taboo." In 2002 George released "U Can Never B2 Straight" which contains the unreleased tracks from the previous albums. In 2012 he appeared in the Melbourne International Arts Festival as a guest DJ.
Career highlights
George is known for his songs "Karma Chameleon" and "Boyfriend." He performed a cameo as "Cowboy George" in the television series "The A-Team." He has won accolades for his composition for the movie "Blue Radio."
Reputation
During the release of the fourth album of Culture Club, tabloids began circulating that George was addicted to drugs and was arrested for possessing cannabis in Britain. George's sexuality has always been a question in the media. He has given various answers during various interviews.
Personal Life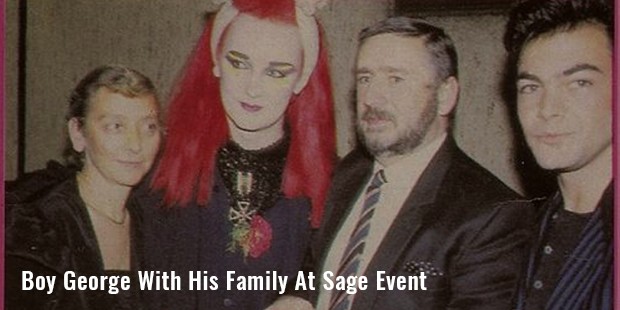 George was in relationship with the band member of Culture Club Jon Moss during the early days of the formation of the band. He recently stated that he is not into any relationship anymore. He just doesn't feel that way about anyone.
Awards
1999

Grammy
1998

MTV Video Music Award
1994

Grammy
Boy George Interview Part 1
Full Name :

George Alan ODowd
Birth Place :

Bexley
Kent
Occupation :
Industry :
Networth :

$35 Million
Want to Be Successful?
Learn Secrets from People Who Already Made It
Please enter valid Email