Edinson Cavani: Uruguay's Striking Hero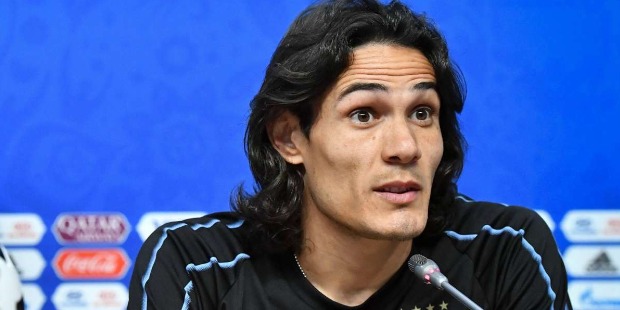 "Happy for what happened today. I hope we can go further. It's exciting... there are no words to describe this. Really, really, really happy - look at our fans! I want to continue dreaming," stated Uruguay's striker Cavani, after the triumph over Portugal.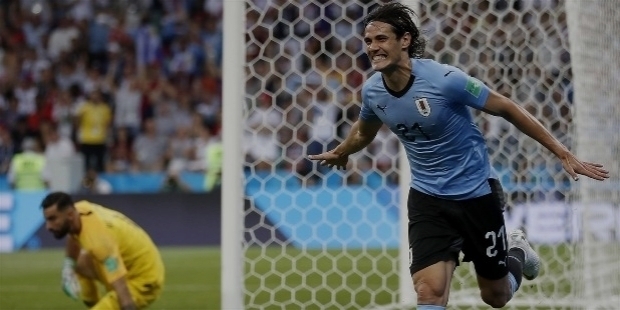 Edinson Cavani's two goals left European Champions Portugal gasping with exasperation, because they were sent home with a 2-1 loss in their World Cup Round of 16 Clash in Sochi. Uruguay will play France in the quarterfinals. Cavani was declared the 'Man of the Match' with two goals. So far, he has scored 3 goals in the World Cup.
Cavani's brilliance penetrated the Portugal's defence twice in the match. In the 7th minute, Cavani evaded the Portugal defence to meet Luis Suarez's pinpoint cross, with a bullet-like header at the far post. However, in the 55th minute, Pepe scored for Portugal to level the score 1–1. Seven minutes later, Cavani curled a brilliant first-time shot past Rui Patricio from the edge of the penalty area.
Oscar Tabarez, Uruguay's long-serving Coach, is worried about Cavani's injury in the game. After the game, the Coach revealed, "Cavani sustained an injury tonight and we will have to see how that evolves, as it's not clear at this stage how serious it is."
Early Life:
Edinson Roberto Cavani Gómez was born on the 14th of February 1987 in Salto, Uruguay. Father Luis Cavani and mother Berta Gomez's three sons – Walter Guglielmone, Christian Cavani and Edinson Cavani are all professional footballers. Little Edinson's favourite was Argentine striker Gabriel Batistuta. Cavani has two sons – 7-year-young Bautista, named after his idol and 5-year-young Lucas from his first wife Maria Soledad Cabris Yarrus.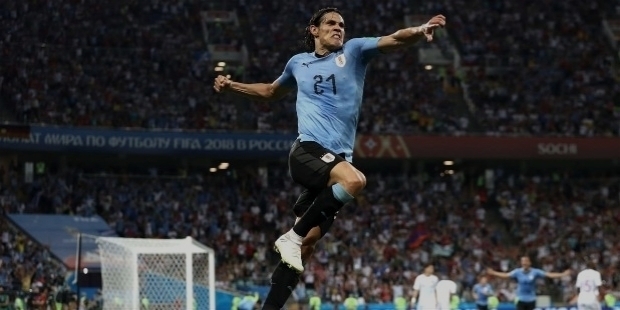 The Journey of Success:
Edinson Cavani commenced his professional career in 2005 with Danubio F. C. in Montevideo. Two years later, he moved to Palermo. In four Seasons, Cavani scored 34 goals in 109 league appearances. His skills grabbed Napoli's attention. In 2010, Napoli signed him for €17 million total fee.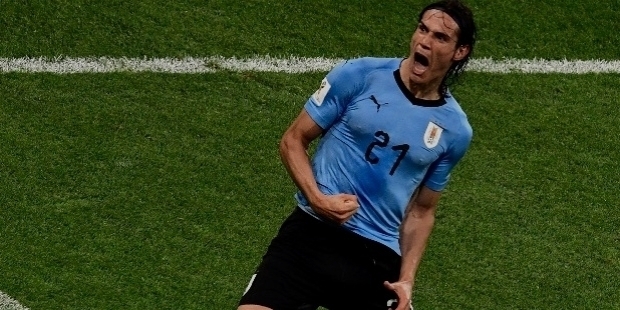 In his first match, Cavani scored 5 goals to start the 2011–12 Season. In his first two Seasons with Napoli, Cavani scored 33 goals in each Season. During the third Season, he topped the Serie A scoring 29 league goals and a total of 38 goals. His magnificent goal scoring conversion ratio grabbed Paris Saint-Germain.
Cavani became the most expensive player in French Football History, when he was signed by PSG for €64 million transferred fee on the 16th of July 2013. The Uruguayan striker scored 157 goals for PS-G by January 2018 to become the Club's all-time top scorer.
Cavani has won 4 'Ligue 1 Championships', 5 'Coupes de la Ligue' and 4 'Coupes de France' with PS-G. In the 2016–17 Season, Cavani was named 'Ligue 1 Player of the Year'. He has become a prized possession for any club and Uruguayan National team.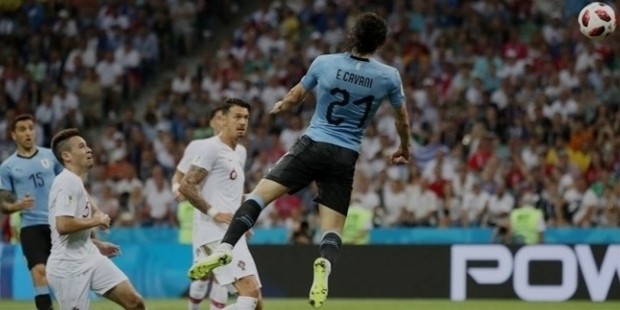 In 2008, Cavani made his international debut opposite Colombia in National colours. In 105 matches, Cavani has scored 45 international goals for his National side. His striking goals are second to Luis Suarez's.
Edinson Cavani has represented team Uruguay in the 2010 FIFA World Cup, 2011 Copa America, 2013 FIFA Confederations Cup, 2014 FIFA World Cup, the 2015 Copa America, Copa America Centenario and has become a sensation of the 2018 FIFA World Cup in Russia. Scoring 11 goals, he finished as the CONMEBOL 2018 World Cup qualification top scorer.
When Cavani joined the French Champions Paris Saint-Germain on a 5-year contract for €64 million fee on the 16th of July 2013, he broke Radamel Falcao's €60 million move to Monaco. It is believed to be 6th largest transfer in French football history.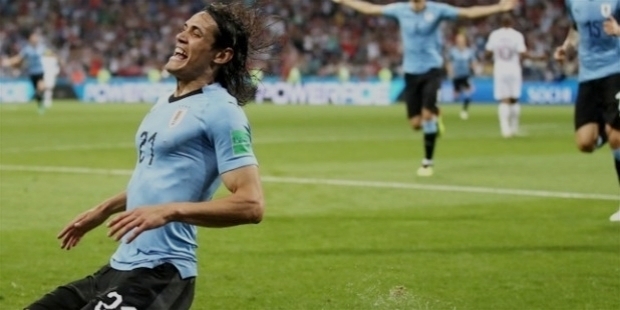 Cavani was joined by Neymar and Kylian Mbappe prior to the 2017–18 Season. The indomitable trio's attacking skills became cynosure of PS-G football fans. At the 2017–18 UEFA Champions League Cavani scored 4 goals in PS-G's opening three games in the group stage.
In October, Cavani scored twice in PS-G's 7–1 win over Celtic. The score was PS-G's new record by breaking the record for the most goals, 24 in total, scored by a Club in the group stages of UEFA Champions League.
Cavani became the 3rd player to score 100 times in two of Europe's 5 best Leagues, after Ibrahimovic and Gonzalo Higuain, during the 5–0 win at Angers. A 4–0 home win over Montpellier on the 27th of January 2018 made Cavani PS-G's all-time top scorer. He broke Zlatan Ibrahimovic's record with his 157th goal in 229th match. Just before the commencement of the FIFA World Cup 2018, Cavani scored to his Club's win against Les Herbiers V.F. to lift the 2017–18 Coupe de France title.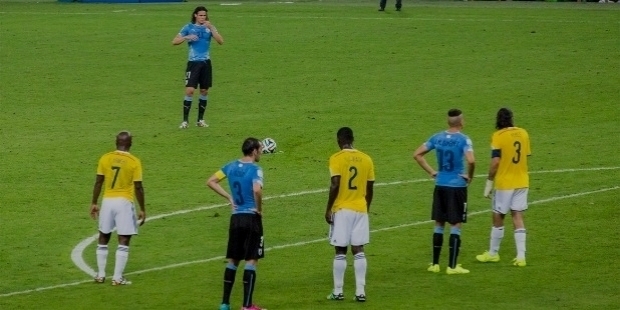 Team Uruguay:
Edinson Cavani represented the Uruguay National Under-20 team to play in the 2007 South American Youth Championship in Paraguay. He scored 7 goals in 9 games. Uruguay finished third to earn them a place in the 2007 FIFA U-20 World Cup.
A year later in 2008, Cavani made his debut in Uruguayan Senior Team against Colombia. He made his presence felt with his goal scoring performance. Two years later, on the 10th of July 2010, Cavano scored against Germany to make the score 1–1. However, Germany went onto win 3–2 in the third place match in the 2010 FIFA World Cup.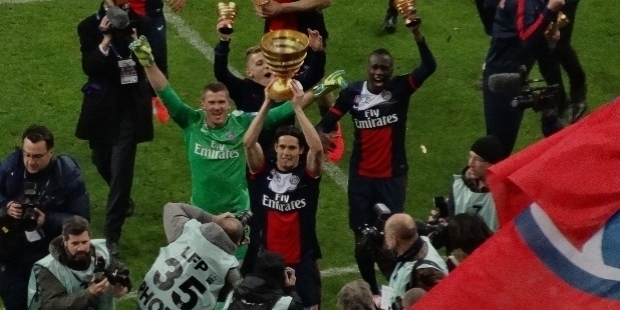 Cavani scored his first hat-trick against Indonesia on the 8th of October 2010 in a friendly match. Uruguay won 7–1, in which Luis Suárez also scored a hat-trick. In the 2011 Copa América in Argentina, Cavani was injured in his second game against Chile. Uruguay went onto win the record 15th title beating Paraguay 3–0.
At the CONMEBOL 2018 FIFA World Cup qualification, Cavani finished as the top scorer with 10 goals. Cavani was part of the Uruguay squad, which won the China Cup in March 2018.
Cavani is quick, strong, opportunistic and prolific forward with skillful technique. These combinations make him very dangerous for opponents and a great modern striker. His ability to score impressive goals, both in the air and with his feet, and work tirelessly as an accurate set-piece taker makes Cavani unmatched.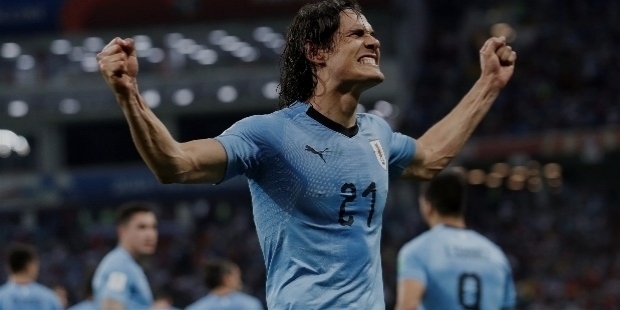 Full Name :

Edinson Cavani
Zodiac Sign :
Birth Place :

Salto
Occupation :
Industry :
Want to Be Successful?
Learn Secrets from People Who Already Made It
Please enter valid Email