Most Expensive Lighters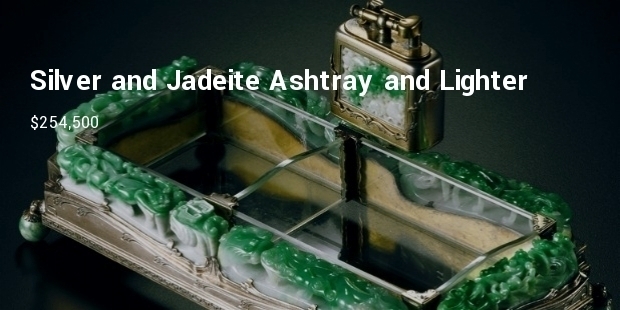 A Lighter is generally used to light a cigarette & adds to a Man's style quotient. The first lighters were converted flintlock pistols that used gunpowder. One of the first lighters was invented by the German chemist named Johann Wolfgang Döbereiner in 1823 and was often called Döbereiner's lamp. This lighter worked by passing flammable hydrogen gas, produced within the lighter by a chemical reaction, over a platinum metal catalyst which in turn caused it to ignite and give off a great amount of heat and light.
The device was very large and highly dangerous and fell out of production by the end of the 19th century. After that, a Lighter has travelled a long way, it has become small pocket size, it has become flameless, catalytic what not. And yes it has become expensive luxury item too.
Let's now take a look at some of the most expensive lighters around the world.
1. Silver and Jadeite Ashtray and Lighter- $254,500

With an archaic-style design, this lovely piece of jewellery is beyond perfection & is a collector's item. It was sold by Sotheby's in 2011 for a jaw-dropping $254,500. The bright green and celadon coloured piece is decorated with jadeite Kui dragon belt hooks, which frame the silver tray with engraved decorations and two glass compartments. A lighter holder in the centre holds the exquisite silver lighter with jadeite plaques carved with persimmon scrolls. This particular silver and jadeite ashtray and lighter feature the work master's mark of Edward I. Farmer, New York, and was most likely handmade around 1920.
2. Faberge Imperial table lighter- $136,000

Sold by Christie's auction house in 2012 for no less than $136,000,this particular Faberge table lighter in the form of a seated monkey is a precious piece of Russian art and history. It was most likely handmade between 1899 and 1904. The realistically shaped monkey holds its tail in its right arm, while its surface simulates fur. The five inch tall monkey opens up to reveal a lighter liquid reservoir, while the tail provides the outlet for the taper.
3. S.T. Dupont Ligne 2 Champagne- $79,000

This Parisian luxury goods brand, managed to break records of their earlier realized versions. It is currently the world's most expensive non-antique lighter, with a price tag of $79,000. S.T. Dupont's loveliest jewel comes in four varieties: solid gold, white gold, diamond, and rose-pink gold lighters. Each lighter is carved into 18 karat white gold and is decorated with 462 diamonds summing up 5.2 carats, all GVS quality.
4. Faberge Yellow Enamel Lighter- $65,650

This Faberge Yellow Enamel lighter, the very definition of glamor and elegance, is enough to make anyone jealous of its owner. Stamped with the workmaster's mark of Vladimir Soloviev, St. Petersburg in Cyrillic, it was handcrafted sometime between 1908 and 1917. This extremely rare vintage Russian lighter is the perfect example of simplicity. Rectangular shaped with rounded corners, it features fine translucent yellow color sparkles in the reflections of its fine wavy design, all topped by a spring-hinged lid.
5. 75th Anniversary Zippo lighter- $37,000

6. Cartier Black Enamel and Diamond lighter- $34,375

7. Faberge Jeweled & White Enameled lighter- $30,000

8. Cartier Watch Lighter- $18,988

9. 1933 Zippo lighter- $18,000

10. Dunhill Gold Apex lighter- $13,000

These master pieces can't be believed until its seen. Unique combination of craftsmanship & style is definitely neighbour's envy & owner's pride. Moreover it adds an extra feather to your lifestyle quotient.

Want to Be Successful?
Learn Secrets from People Who Already Made It
Please enter valid Email