Carhartt SuccessStory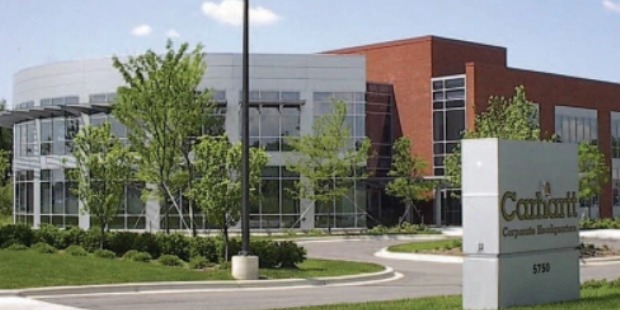 Carhartt SuccessStory
Carhartt plays a major role in shaping the clothing industry in the US since 1889 by providing rugged but durable clothing for people of all walks of life – from farmers to ranchers to construction workers and even to outdoor activities aficionados. It is being worn by people worldwide!
Company Profile
Carhartt has been supporting American workers for more than 100 years. It is continuously giving employment to more than 5,500 associates in different countries. From its initial product of overalls, it now manufactures other workwear such as coveralls, jackets, jeans, and other items favored mostly by those in the farming and construction companies. In the '90s, its products were picked on by popular rap artists and hip-hop bands leading to workwear fashion.
History
It was in 1889 that Hamilton Carhartt & Company was founded by Hamilton "Ham" Carhartt in Detroit, Michigan. The company started producing overalls with just two sewing machines and five workers. Ham, as the founder was fondly called, collaborated with railroad workers to make sure that his company's overall bibs meet their needs.
In 1910, Carhartt expanded by including mills in Georgia and South Carolina and opening facilities in San Francisco, Detroit, Dallas, and Atlanta. International facilities were first realized in Canada's four places namely Vancouver, Toronto, Liverpool, and Ontario. These were followed by a facility in Paris and an office and a warehouse in New York.
Carhartt backed the US government in two world wars. In World War I, seven of the company's facilities were used by the US to produce military uniforms. In World War II, Carhartt made coveralls for soldiers and army personnel and jungle suits for marines.
The legendary Carhartt chore coat was added to the product line of the company. An advertisement for the product published in 1917 is being kept in the Carhartt Archive.
In 1929, the Great Depression brutally affected the businesses in the US and Carhartt was not spared. Thanks to the ingenuity, passion, and tenacity of Ham and his sons, Carhatt was able to weather the challenges and continue supporting for workers' rights.
Hamilton Carhartt's son Wylie Carhartt assumed the top post in the company upon Hamilton's death in 1937. Wylie spearheaded the "Back to the Land" program, an initiative that brought forth the opening of new opportunities in Kentucky. During Wylie's leadership, Carhartt created its first hunting lines in the 1930s: the Super Fab and Super Dux.
Robert Valade, the husband of Wylie's daughter Gretchen Carhartt, became the president of the company in 1957. In 1972, Valade made a big move by collaborating with Don Rasines, Executive Vice President of Marketing and Gust Feles, Vice President of Sales that changed the landscape of Carhartt. The trio started operation of production facilities that led to the creation of private-label business that had tie-ups with many stores like Montgomery Ward, J.C. Penney, and Sears.
With the company's steady revenue shoot up, Carhartt was able to expand its product line and in 1975 introduced Active Jac, a heavy-duty hooded jacket that to this day remains the number one selling Carhartt jacket.
The construction of the Alaskan Pipeline in the 1970s robustly contributed to Carhartt's brand growth. It has shown that its products could thrive and withstand most rugged conditions bringing satisfaction to wearers.
The Carhartt brand was originally a byword among blue-collar industries but soon it caught up with the hip-hop industry and the consumers in Asia and Europe in the 1980s and 1990s. Its popularity in Asia and Europe led to the creation in 1989 of its label Carhartt Work In Progress.
In 1998, Carhartt launched flame-resistant garments, women's apparel, and many Carhartt-owned retail stores across the US with the leadership of Mark Valade. He was the brain in securing a strong foothold in Europe and venturing into E-commerce business globally.
Linda Hubbard, the first non-family member to assume Carhartt's leadership in 2013, continues to uphold the legacy of Hamilton Carhartt. Today, the company has global operations in the US, Europe, and Mexico specializing in high quality products including Made in the USA line.
Founder
Carhartt, originally known as Carhartt Company, is a family-owned business founded in 1889 by Hamilton Carhartt in Dearborn, Michigan. He was born in Macedon Lock, New York on August 27, 1855 and raised in southern Michigan. He got his inspiration of producing his own products from initially managing a furnishing business. His talk with a railroad engineer at that time sparked an idea that there was a need for a rugged but durable workwear, thus, his first line was high-quality overall bibs designed for railroad workers.
His timing in launching his business was perfect because at that time, the US was flourishing in industrial boom. His mantra "Honest value for an honest dollar" is one of the factors that kept the company ahead of its competitors till today.
Hamilton Carhartt died on May 13, 1937 in Grosse Pointe, Michigan due to a car accident. His wife, Annette Welling Carhartt suffered the same fate.
Revenue
The estimated revenue of Carhartt is pegged at $640.7M annually.
Products
Carhartt designs, manufactures, and markets its products worldwide that include:
For Men and Women: outerwear, bib overalls and coveralls, t-shirts and work shirts, hoodies and sweatshirts, pants and shorts, accessories, boots, personal protective equipment (PPE)
Children (from 0 month to 16 years old): bibs overalls, shirts, sweats, accessories, bottoms
Accessories: socks, hats, gloves, belts and suspenders, thermals and base layers, underwear, bags, coolers, wallets, seat protection, tool belts, safety glasses, repair kits
Collections: Yukon Extremes Gear, Super Dux, Washed Duck Gear, Winter Essentials, Rugged Flex, Rain Gear, Pet Gear
Global Brands: Carhartt Company Gear, Work In Progress, Uniform Rental
Competitors
The top three business competitors of Carhartt include Duluth Trading Company, Jack Willis, and Levi Strauss & Co.
Duluth Trading Company
Duluth Trading Company manufactures lifestyle brand workwear, casual wear, and accessories for men and women. Its line of functional wear includes Buck Naked Underwear, Fire Hose work pants, and Longtail T-shirts.
Jack Willis
Jack Willis is a manufacturer of textile apparel that designs clothing and accessories for men and women. Its products include coats, cardigans and jumpers, dresses, jeans, leggings, loungewear, playsuits, shirts and tops, skirts, t-shirts, and underwear. Bags, boots, gloves, hats, jewelry, scarves, wallets, and shoes comprise its line of accessories.
Levi Strauss & Co.
Levi Strauss & Co. is a well-known apparel company for its jeanswear. It also markets own-designed casual wear and accessories for all genders and ages. It sells its products under the brands of Denizen, Dockers, Levi's, and Signature by Levi Strauss & Co.
Final Thought
Time has changed people's preference for clothing but producers of clothes like Carhartt will continue to chart history now and beyond not only in the US but in all corners of the world. Carhartt will remain steadfast in its mission of being an honest company: "I believe that when a man wears an article that I manufacture, his self-respect is increased because he knows that it is made by an honest manufacturer, who is honest with his employees. - Hamilton Carhartt "
Full Name :

Carhartt
Founded :

1889
Founder :

Hamilton Carhartt
CEO :

Mark Valade
Industry :
Sector :
Country :

USA
Want to Be Successful?
Learn Secrets from People Who Already Made It
Please enter valid Email